So today was awesome. As you can see I got my back-tacking goodies from my secret someone in Maine (yay, I love Maine, hi Pinecliffe people)! I got some seriously cool fabric, great ric-rac, a zipper, some cool buttons, and lots of candy. Even Mentos… someones been reading my blog! So if you don't know back tack is a swap of sorts. You send fabric to one person, you in turn get fabric. Then the next part is making a little bag thingie out of the fabric you received (you are allowed to add extra or whatever if you like), then you too get a bag. I think we have until the end of June to make something out of this and send it along. It's all secret and then at the end it will be revealed who is who. The list of blogs on the back-tack website is really cool because everyone on it is super crafty, check it out.
Today I went with my mom to get a few of the many presents for all the fun things I get to go to this summer (graduations, weddings, bridal showers, and bachlorette parties). It's fun to see what people register for. Of course I'll be adding my own touch and making somethings for all the newlyweds… 🙂 Then my mom and I just had to get in the pool because it was so so hot (really it's really hot, kind of unbelievable hot (91 degrees) after all the rain we've been having. I managed to pop out a few more freckles and get my cheeks just a little pink, it was nice. I came back to another package as well as the back tack one… my Blythe is here!!!! She is so awesome. I am going to make her a whole bunch of cute little outfits and take pictures of her everywhere. I ended up ordering a remake of the old Blythe because they are way cheaper (the 1972 ones go for a bunch, so I'm hoping some day to just stumble across one that might need a little love). The one I got is called Smash (she's a tennis player). Blythe's bodies are the size of vintage Skipper doll's (so if you've got any of those clothes hanging around let me know), but her head is much bigger. He eyes change color, which is the coolest thing. Bj and I took a little walk to the park to take photos, check it out:

Bj was reluctant at first, but then he was all "try this, and this…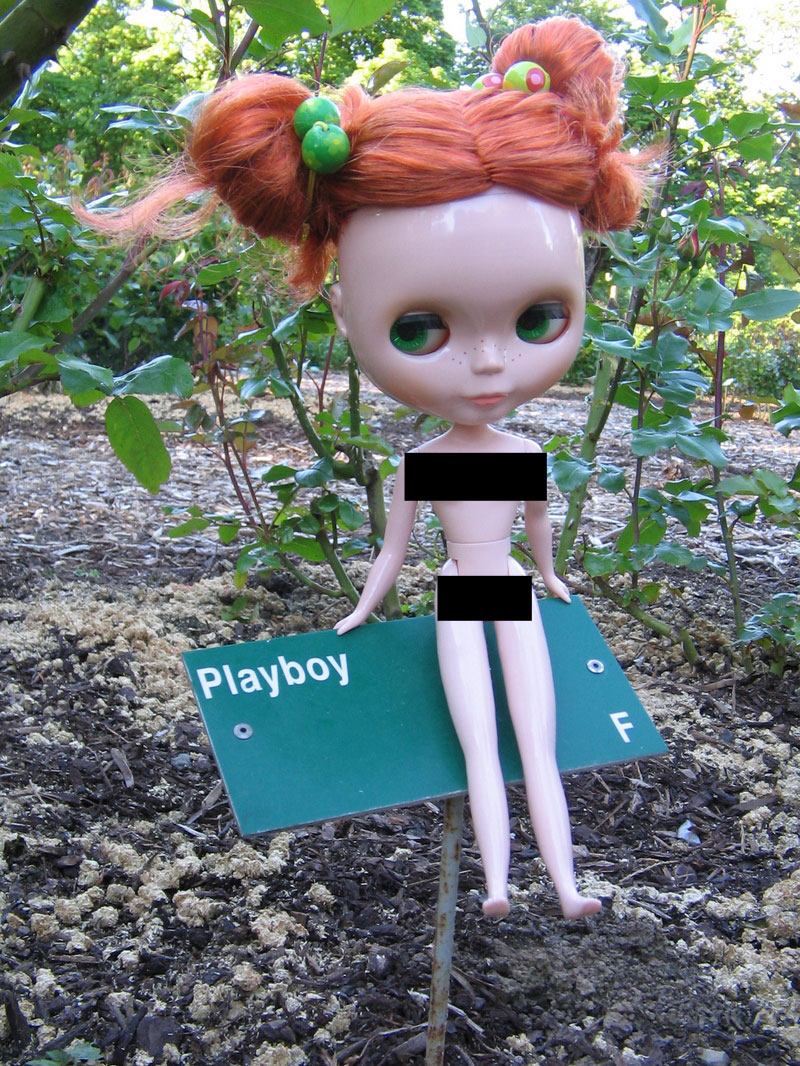 Leave it to a guy to come up with this.

A lot of the pictures were with the green eyes, I think they're my favorite.


I am just in love with her expressions.
There is still lots to figure out with her, I think I need to wash her hair to get it moving a little bit more. I know some people think she's a little creepy, I did at first actually. I think my mom thinks I'm a little nuts for getting a doll, but hey, I can't help myself! So now what should I name her? I was thinking Scully, I don't know…