Found some good photos, kinda small though:


An over view, now while this is flooded Corvallis is kinda an island because there isn't a bridge across the Willamette for another twenty miles (in Albany), so the back roads are packed with people trying to go around. That golf course is where our (OSU's) team practice's, and right next it it, close to the river is the boat house and stuff.



If you go straight on that wider road you would get to the townhouse I lived in, and then little driveway by the golf course is to get to the crew docks and boathouse.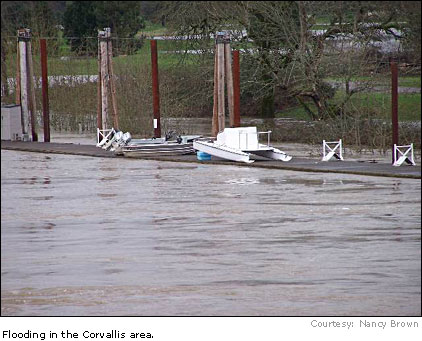 This is our dock, that we usually walk, DOWN a ramp to get to (down like 14-20 feet depending on the height of the river). Hey, when did we get that new launch?
Just a note: it is still pouring hard core here in Salem, the really loud ploppy rain, okay well gotta go hit up some estate sales in this weather, hopefully most people will stay in and I can get some good deals!
-UPDATE FROM MY FIELD REPORTER KATIE-
alp-
intense flooding is upon us in the Corvallis stretch of the Willamette river. hwy 34 is causing quite the problems as they are having traffic go towards i-5 via the median lane until you reach the stoplight by the mini-mart. the whole place is pretty much flooded- the ramp is out of control and there is no water action for the crew.
over and out
Katie