Love it, love it all.
Clockwise from top left: Super cool letter game with neat vintage chipboard letters; X-Files card game, it's the starter pack and Sciarrino and I can't wait to play (okay maybe this one is not THAT vintage, but hey); awesome apron with kick ass fabric (see the picture of the day for a close up); some funny buttons, I love the kiss me one, was that an ad or something?; old labels and advertisements, cool graphics, future project; the find of the day, a four drawer card catalog; little globe bank, too cute to pass up; another bank (no I don't collect them, coincidence) this one is a miniature jar!!! It's less than four inches tall. I love it.
Wanna see another shot of that card catalog?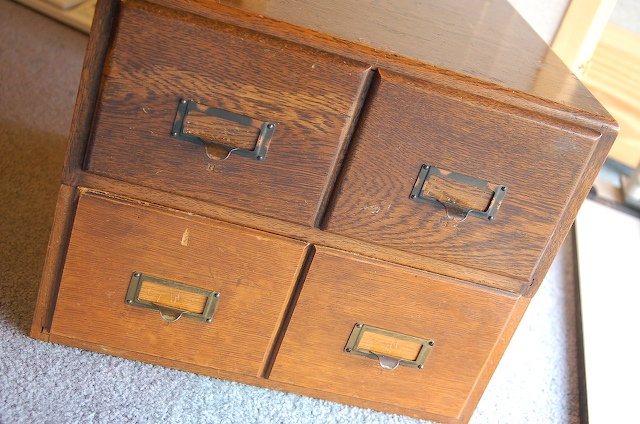 I've already pulled out the metal stuff on the bottom and cut mat board to fit. Someday (when I have my own place) I am going to get a huge one of these. Oh and a grain display (for my fabric, how sweet would that be?) But for today I am very happy with these finds.