More happy things, love happy things.


1)This seriously cool shirt Bj got me to support Invisible Children.
2)I'm tan. Okay not really, but I look tan because of my new favorite beauty product:
Vaseline Healthy Body Glow Daily Replenishing Moisturizer & Touch of Self Tanner (phew long name). I got this at Target because it was the cheapest one (4.84) and can't believe how good it works. Let's face it, I live in Oregon and need a little jump start!
3)Bike riding 2 days in a row. Tonight with Sciarrino. All around, through the community gardens. Ahh. Thanks Bill for getting my seat position right, it's so much easier to ride!
4)Friends who take flattering pictures. Love ya Sciarrin.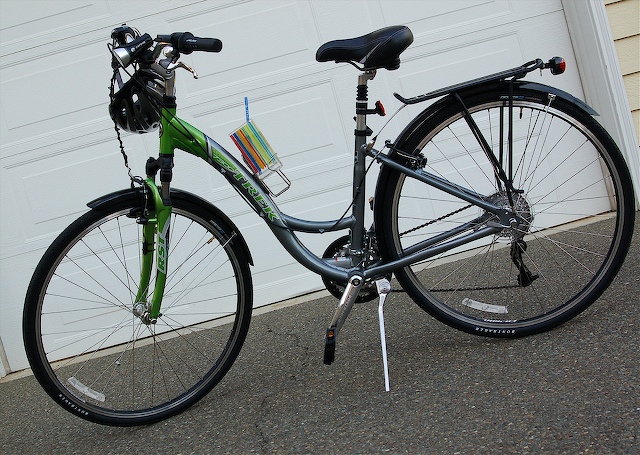 5)My bike. Actually purchased a few weeks ago. I got a Trek (in the lowstep baby, oh ya) and the guy was like, "oh, it also comes in this green color if you want." Um, if I want?!?!?! Yes please. I haven't really talked about the bike because I didn't want to until I got out and road it. I love it. I got it to ride to the post office (because Ribbon Jar is eco friendly like that), which is 3.5 miles away, so 7 mile round trip. I have bags and stuff that hold all the packages, and I've done the trip twice. My goal is to do it everyday that is possible (some days have way too many packages).
6)Nora's new cabinet. Oh and in case you did not notice, it is exactly the same as the one in the beginning of Ghostbusters, which I just happen to get today from NetFlix.
7)Movie quotes: "Symmetrical book stacking, just like the Philadelphia mass turbulence of 1947." "You're right no human being would stack books like this." "Listen!… Do you smell something?"
8)The finished project high. Still feeling good about my EBK project. I forgot the to add the details, here they are now: Debbie Bliss, The Baby Knits Book, Dress with Lace Edging Pg. 92
8.5)Library books (above mentioned book is on loan to me). Free = more money for yarn people.
9)Lace, is it really this easy!?!?!?
10)Links. Isn't bloggin fun. 🙂