I got up super early for the second day in a row, why? To thrift of course. Sciarrino and I headed up to Portland to hit up some sales, not something we usually do, in fact I've only been garage/estate/church sale shopping up there a few times before. It's so hard to figure out which ones to hit, where to go to get to the next one, everything seems to be so spread out. But we stuck to one corner of the city this time and had some luck. Also I know I keep going on and on about it, but the iPhone really made things easier with it's map function. We just put in the first sale, and then after that put in the next one leaving from the one we were at. Easy directions! My finds:



I didn't think I got that much, a few things here and there but we hit a record number of sales, I think like 10 or so and a Goodwill, so the things added up. My favorite thing might be the free thing, that chair. It actually looks nice in the picture, but it is in pretty bad shape, but still sturdy. I'm going to paint it up and put that outdoor fabric (not thrifted, we stopped at Mill End) on it. I want to paint the chair frame green, Bj says black. Thoughts? A set of four juice glasses and ten more snack trays (that exactly match my

I don't know what came over me at this one estate sale but I saw this little dog figurine and had to get it. It's probably not even worth the six dollars I paid for it, but I love it. I want to be little again and play pretend with it. Also picked up some Monet glass beaded jewelry, a turquoise bangle I wore all day, some photo negative sleeves and another set of index dividers, now that I've come up with something to do with them (see

I used it for Sciarrino's sister's graduation card. It is totally sick ill cool, big fun letters and numbers, it was 50 cents. I have no idea what it was for. It has three types of dials, one is number/fraction combo, number/punctuation combo, and letters. It has a strange pattern too. From the left: number/fraction, number/punctuation, number/fraction, letters A-M, letters N-Z, number/punctuation, number/punctuation, number/fraction. I can not figure out what the heck it was used for, any ideas? So it was a very fun day, with my crazy friend: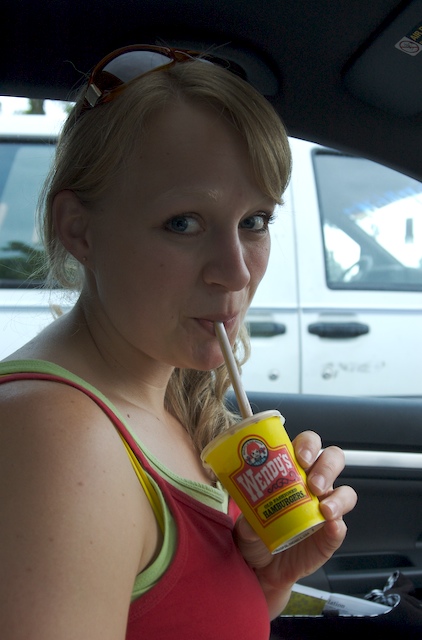 And her ridiculous small frosty.
Wendy's guy (clerk?): "What kind of drink would you like with that?"
Sciarrino: "Can I get the smallest frosty instead of a pop?"
Clerk: "How small?"
Sciarrino: "What is the smallest?"
Clerk: "We have these mini junior ones."
Sciarrino: "That's what I want."
It's the shot glass size frosty! Obviously Sciarrino is slightly mental, so she must need her own blog. Plus don't you want to see what she finds at these sales? Hmm, don't you?