Thank you so much for all your kind words. I just had to do that little vent, need you think that my life is all gumdrops and roses! Here's another thing that will make a down girl fill much, much better: friends! And lots of candy! Tonight was the annual ex-crew girl ginger-bread house making and gift swapping happy fun time (we're still working on the name). I whipped some lights on the tree, cleaned up a bit, added leaves and chairs to the table, set out lots of empty dishes, filled a bit barrel with pretty old-fashioned cokes on ice, started a fire, set cider on the stove, and whipped up some frosting (okay Sciarrino may have helped on those last two). I also finished my Santa swap present moments before the girls got there (not bad for some one who was still in paisley pajama pants and her "I only want juicy" T a quarter to noon):



That insane roof back there is my Rainbow Bright house:



Haircut coming next week (yikes!). Attempted a few group shots: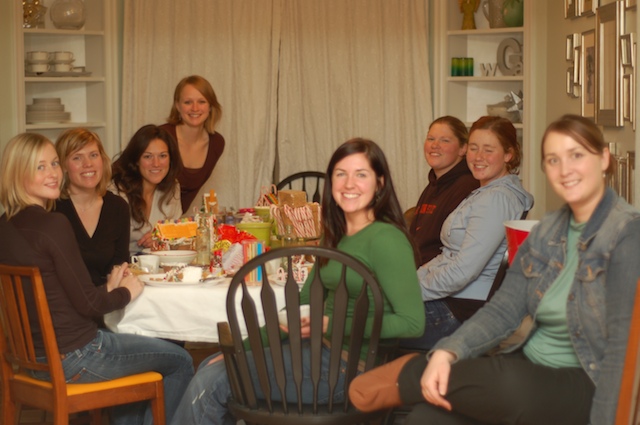 Sorry girls I don't know what I was thinking with the 50mm lens, duh!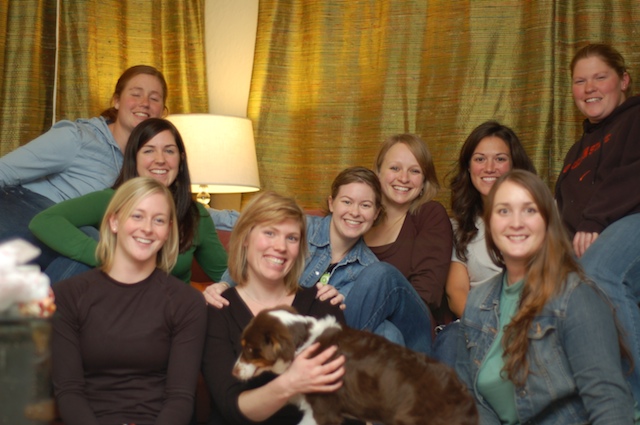 Lauren brought her puppy (awe!). It was a fabulous night and I love those girls, so so much! Oh and per Beachwood's request:



The advent tree I keep forgetting to show (I'll try to get another picture of it). Gnome Santa watches on. Found him at a little antique shop in town, so heavy! My mom got us the tree, it has candles on the ends, and Bj and I split the numbers in half to get tiny silly gifts for each other. We already have a nice pile going on under the tree, I'll try to get a picture of that soon. And tomorrow I get to see Michele and V, so you know, I think all WILL be right with the world!