I know, bad blogger. On Thursday Michele, V and I gave the tulip fields another try.



Cuteness all around. V learned to say my name!!! Well sort of, she calls me "Ambi" right now. It's super cute. When I left she was whining, "Ambi, Ambi!"And then she made that kissy face so I would come give her another kiss. Is there anything better? Me thinks not!



Glad we got there when there was tulips, and a little break in the rain.



Then of course I had to have a sausage. mmmm.
Since then I've been working around here because it did end up getting warm, and sunny. Unbelievable I know! I finally painted the two doors that I am not hanging (one was a hallway door, one went to a now-non existent room in the basement). Bj cleaned the hardware and hinged them together to make a screen for around the furnace. I am still going to look for some fun handles for them. I used one of the sets of glass knobs to fix my bathroom door (which someone had replaced in the 70s, ew), and the other one is missing. I want to find a purple one to remind me of my back door in college, it was a sweet lavender color (maybe from being outside all those years?) and I always loved turning it to walk into my place behind the dream (a pizza shop in town).
Bj and I also decided that enough is enough – no more eating out! I lost my ten pounds (yeah!). It was tough, but now that I'm in the maintenance plan of my healthy eating, I know it will be important to not fall back on grabbing chicken tenders (Burger King, mmmm). So we planned a weeks worth of meals on Saturday. I've already cooked three: Edamame Corn Chowder (yum!), BBQ Pork Sandwiches with Cabbage Slaw (Bj says, "4 out of 5"), and tonight Balsamic Vinegar and Dijon Mustard Strip Steak with Rosemary Potatoes and Green Beans. There all from my stash of M.S. Everyday Food magazines. It's nice too with the leftovers for lunch.
Also in line with the new healthy figure me I did a major clothes purge. My closet is now super awesome and fun because… I can wear everything!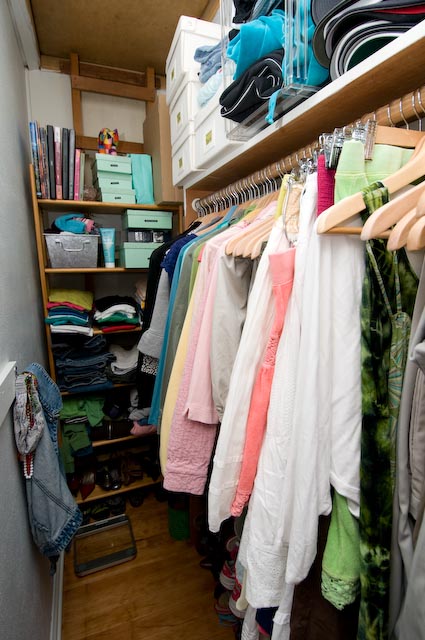 All my clothes, well minus the one bin that I put really heavy, winter clothes in. It better stay warm! I got rid of three big bags of clothes. It was liberating really. I don't see myself ever being much thinner than I am now, if I'm honest. And some things were from my early crew days, where apparently I did not have thighs, or hips. 🙂 I also pulled out all my summer shoes. Flip flops and sandals, welcome back! Now off to watch Bones!