So the upstairs is finally finished. There is touch up paint to do, but I'm like FORGET IT! I'll do it. I want my space worker free thank you. The alcove (in the little dormer at the front of the house) is finished: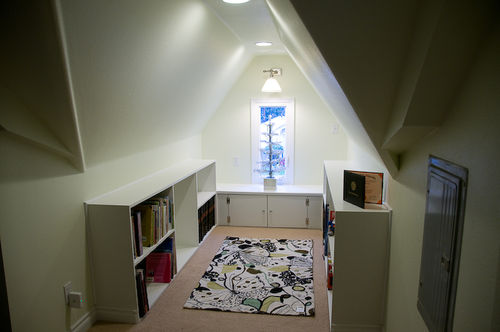 Of course not organized. It takes a very pregnant person a long to time get books and things up there I've found. Bj helped me last night, but then didn't want it too full. I did take up all my knitting books: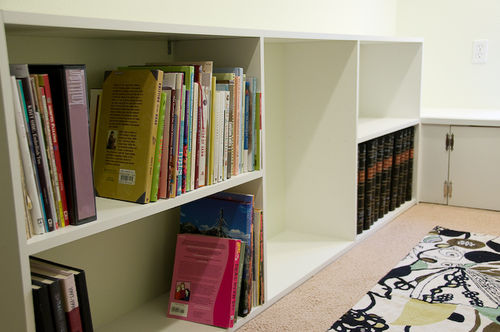 And my big photo storage albums, as the shelves are quite generous (I think 15 and 16 inches tall). I think I want to keep knitting projects in progress up here, maybe my wheel as well, it just seems like such a fabulous cozy spot. Well it will be once the little tree is gone and I have a cushion all made up for the top and lots of pillows. I think we'll keep toys in the little cupboards. The rug is from Anthropologie, Sciarrino originally got it, but it didn't fit right in her place, so we bought it from her. It was a good jumping off point for the colors upstairs. And when I was designing these cabinets I made sure it would fit in between there.
I'm also going to organize the other little thing they had to finish upstairs: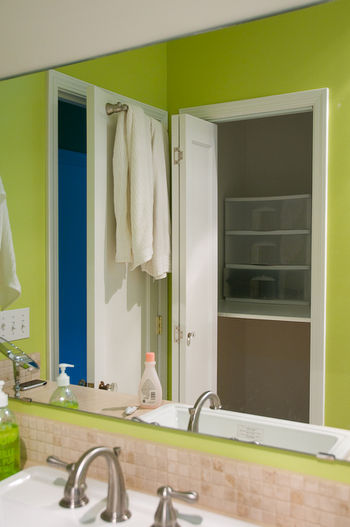 The master bath has a built in linen closet. It is sort of awkward to take a picture of being behind the door. Bj cleaned out this old plastic drawer thing he had and brought up all of our bath stuff so I can organize it. I love doing things like this. I might have to get out the label maker. The thing that cracks me up is the one thing Bj put in the drawer unit makes it so the drawer can't open (because he shoved in something bulky that doesn't really fit). Um, men, I still don't understand you people.
I'm going to take my belly and visit my neighbor's baby for the first time. Mmmm new baby I can't wait!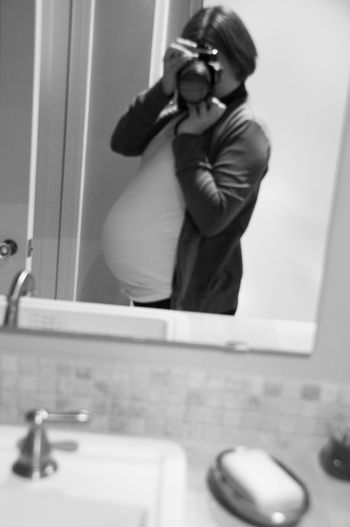 Hey I still have my belly button!