It is really heating up here in more ways than one… First of all the temperature has been hotter than ever – into the 90s. Hot weather calls for awesomely cute little outfits. Tutu wore this little number from my friend Stacy: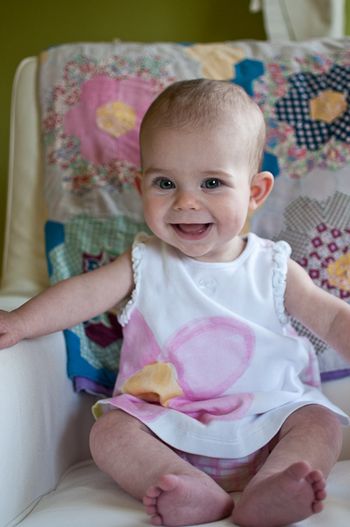 Doesn't she look cute? Thanks again Stacy we love it. Funny thing though, I showed Bj the outfit, and he was all, "ahh sweet." Then later I had her over my shoulder and Bj said, "what did you do with her dress?" It's a little onsie sort of with dress on the front – genius, because she's always picking up the hems of her dresses to pull them up. 
We stayed in the basement most of the day, nice and cool there. Here is her new jumpy device: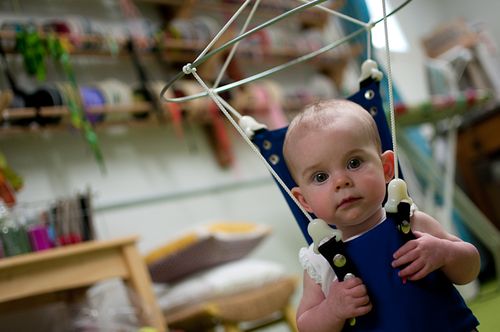 She would like to demonstrate it's wonderfulness for you:
It's called a
Merry Muscles
and I read about it on
Amanda's
blog. The other thing heating things up in here is our new range. Now I think Bj would be excited about this anyway, but it sort of marks the end of our remodel, so it makes him extra giddy.
Yes, Bj is the cook in the family, I am very lucky indeed.  Heres hoping things are heating up in your neck of the woods.