Bj asked as I came home from the farmer's market with another haul of cucumbery goodness: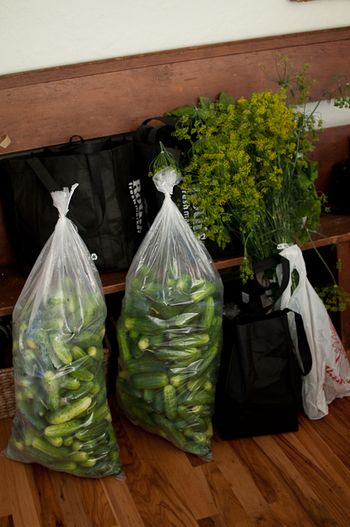 Well last week at the Wednesday market we (Sciarrino and I) talked about how we had wanted to do pickles last year, but didn't, so we just went ahead and bought a huge bag of pickling cucumbers. Thereby forcing ourselves to make pickles. A couple hundred dollars worth of spices and paraphernalia later (I'm a sucker for the pretty spice jars, such a sucker)…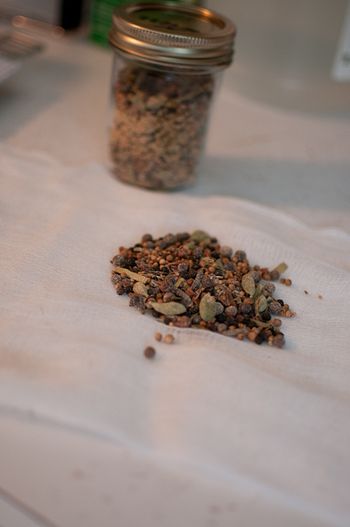 Mmmm pickling spice.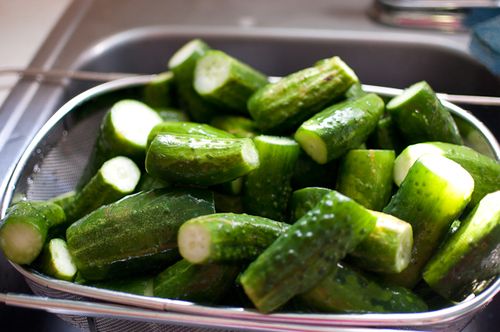 Ready for hot pickling liquid: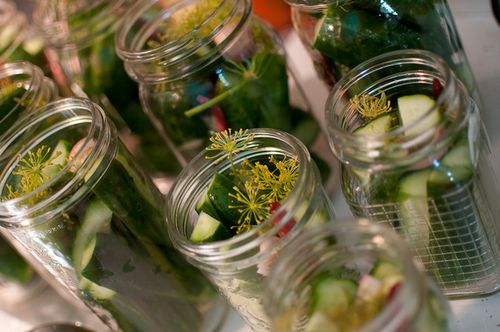 They are just so pretty like that! Of course I don't know (and won't know for weeks) if these turned out well. And I sealed them all up before realizing I didn't get mustard seeds in there, oops! I think we might have done a couple of things wrong, like not making enough pickling liquid at once, waiting too long between the step, etc. We'll see. That is not stopping us (Sciarrino and I) from getting two huge bags and giving it another go. I also got some darling Italian canning jars, so guess what? If you know me, you're getting something canned for Christmas (I'll let you know if it is going to be more decorative than edible). 
Bj decided we needed a freezer, so we finally got a stand alone, and I've been busy stocking that as well: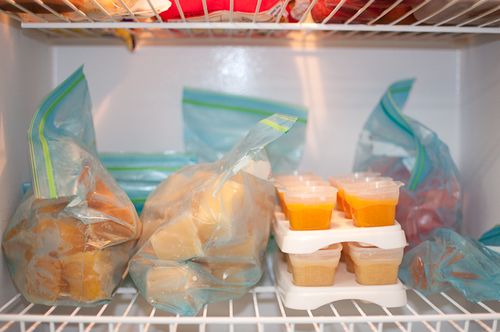 Each cube is two ounces. I'm using these for now, but they seem to be sold out most places, so I got some of these for the next batch. I hope they pop out as easy as the Baby Cubes. So far I've made plum (from our tree), pear (from our neighbor's), yam and apricot. I also froze some of the plum juice into ice cube sized pieces. Plus I have some of my milk back there, not that Tuesday's ever really warmed up to the idea of a bottle, right mom? I got one of these GlassLock containers to put in the fridge with a cube or two in it to defrost. Maybe I'll get another one and do a cube for breakfast and one for dinner. I'm not really sure when she is going to want to eat more. We are trying to have things on our plate she can eat, but I'm not always with it (see below), so I figured it would be good to have some back up food. My mom pointed out I should can a little in case the power ever goes out. 
I am having so much fun in the kitchen! And I'm rarely in there. I have been living off of Amy's Cheese Enchilada meals for a while (only 450 calories and mostly organic). But now that I'm making all this stuff for Tutu I'm wanting to make more for myself. My mom and I love the Smitten Kitchen blog, have you seen it? Yummy. I have been using this book for baby stuff, this one for canning (and I just got this one today). I'd love tried and true recipes though, if you have any I'd love it! I'll try pickling just about any thing: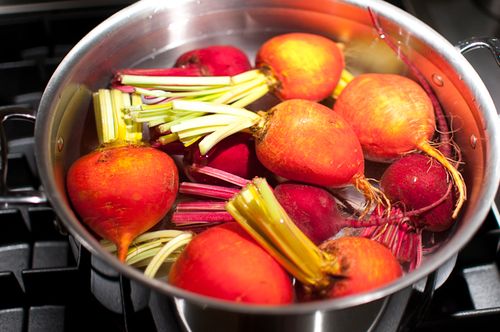 Beets! I don't even eat beets! My mom pointed out that I maybe should have made some smaller jars of these (I used the biggest I had). Hmm. So tips like that would be welcome too. I want to can some fruit too. I can do anything that just takes a water bath, but I have no pressure cooker. Ideas? Tips? Books? Stories?