That was what was written on Tuesday's shirt today. I feel like an elf in training too, trying to get all the little things done. This really is my favorite part though. I'm so glad we are all feeling better (and are staple free 🙂 so that we can spend these last few moments before Christmas enjoying each other and our little projects. 
I don't really know how to embroider, it was a total guess job. But Bj loved the results (this is the beginning of the fourth one of these I did). There is something about seeing plain text or objects embroidered that is so neat (speaking of, I love this).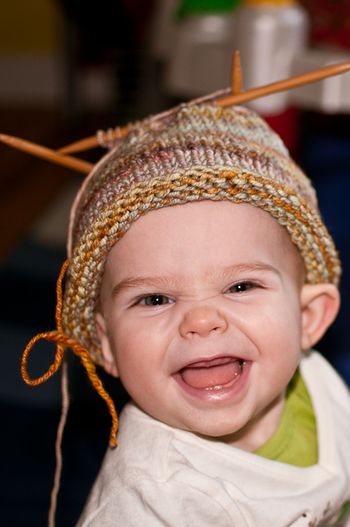 Checking hat sizes. Still no teeth on top, I can not believe it!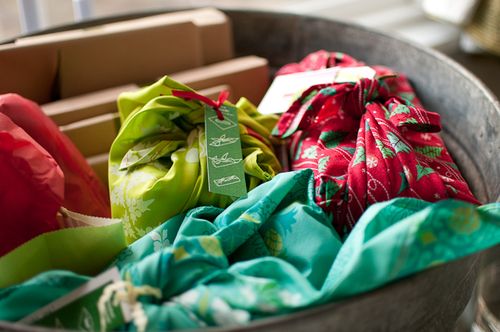 One new thing I started doing in the last few days is this method of wrapping gifts in fabric taken from the Japanese called Furoshiki. I made square pieces fabric from my stash and turned the edges under twice and sewed them down to make them nice and finished. Then used this guide to tie my packages up (I also printed it and cut out parts of the sheet for tags). I got the idea from a blog entry from one of my local fabric shops: Bolt. Check it out, they also list a cool book dedicated to the topic. Bj said, "Just when we have our cool wrapping figured out you come up with a new thing to try." It's true, I really do like our 29 cent a yard (from Paper Zone) kraft packing paper and simple re-usable ribbons (the idea is featured here on The Ribbon Jar ideas page), but there is still so much waste. This past weekend we got to spend time with Bj's parents, his step-sister and her family and when kids go at presents it can be mayhem! Plus where they live there is no recycling (which I still can not believe, it's terrible!) so even our un-printed, un-bleached paper got tossed, along with glossy plastic type paper and ribbons that will take a long time to break down. The fabric option is not going to work for everything, but for gifts with in the family, or people who you know would appreciate it, it works great. Plus I think it's super cute! Now off to wrap some more presents!