I am having serious trouble standing over my layouts and taking pictures of them straight on. Since my lovely daughter has been crazy beans lately and I haven't a chance to re-take these shots, here are some not so great pictures of my layouts. Gosh I bet that really makes you want to read on 🙂 I do need to figure out a better way though, ideas?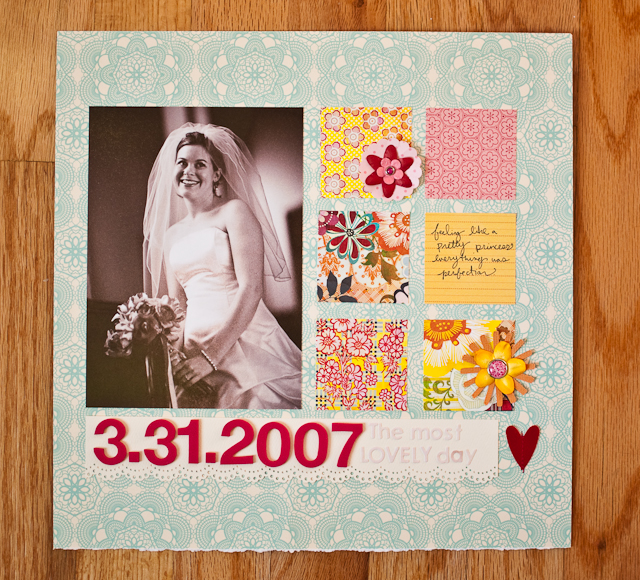 This was a quick one, not sure about the numbers, so bold. But I have this sheet of thickers that got used up in the worst way and now I have the most random things left on it. Maybe I should just let it go!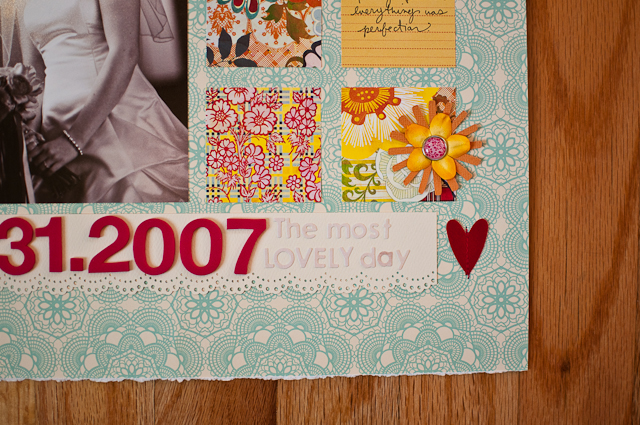 I do love these little Basic Grey stickers, so perfect for a subtitle or even journaling.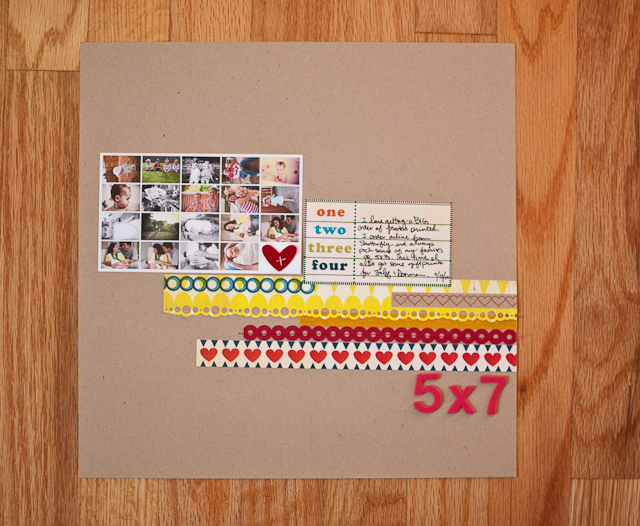 Trying to use more numbers 🙂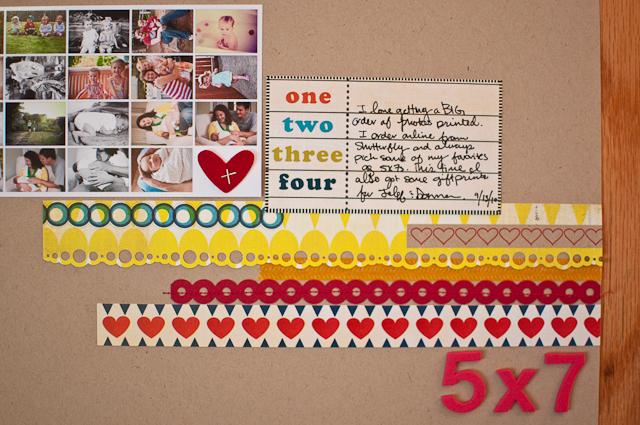 Most of these layouts are from a marathon weekend a while ago, but I just got around to sewing on them, because they needed a little bit more.


Did anyone else save their maternity labels from Old Navy? I loved them!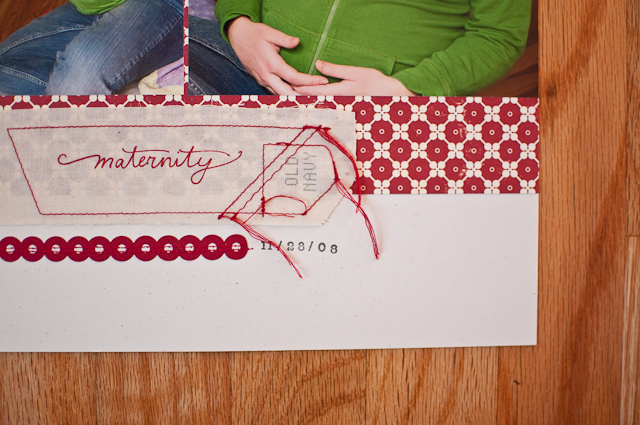 So I had to stitch to go with the tag. I love using up things like this I've had sitting to scrap, feels so good.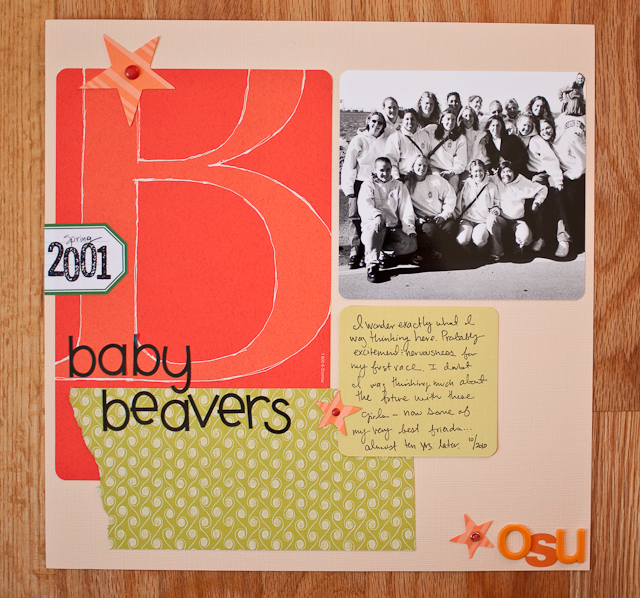 Another thing I've had around: the giant B that is a paper sample Sciarrino gave me. In the bottom right corner you can see me trying to stretch my favorite Heidi Swapp letters. I'm going to save that sheet until there is one brilliant plastic letter left.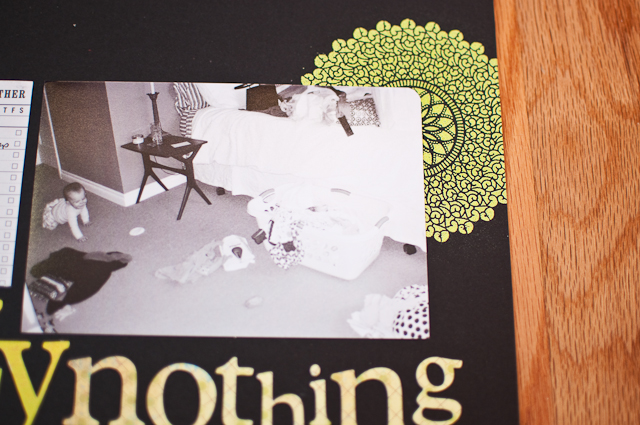 Love this stamp plus embossing powder, I just can't get a picture to do it justice, the texture is great.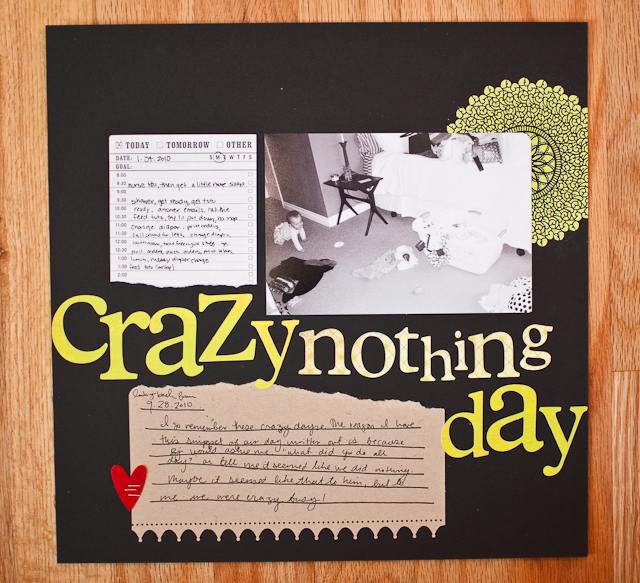 Having fun with my step-mom's Cricut. I found this feature called "real dial size" that makes all the letters the same height and liked the look. I also used some more memorabilia; the tally sheet of the day. One of those crazy days that nothing gets done but it seems like you are doing something every second!
And I finally caved an ordered a Silhoutte. If you (Nora) are thinking about one I got it off of Overstock for $175 with free shipping. Sign up for the newsletter and you'll get a 10% off your first purchase coupon. I'm super excited, I even ordered this fancy special metal blade housing thing so I can cut thicker things with it (something I was worried about a bit). I promise this blog won't turn into all die cuts all the time. It is knitting season after all. My second hat is already on the needles!
So tell me, are the pictures a bit annoying? Can you link me your favorite way to take layout pictures?