I'm sure I have more interesting things going on, but the one thing taking over my  mind right now is what to do about Project Life storage. When I put together the weekly layouts (well, not always a week, swear I will share soon), I tend to use my supplies much differently than when I scrapbook "traditionally". So I decided a rolling cart under my desk (in my craft room) would be a good idea. I got this one from Ikea, put it together and realized that it was too much of beast to try and keep in here. The thing I love about my craft room is how clean and simple it is, with not a lot sitting out.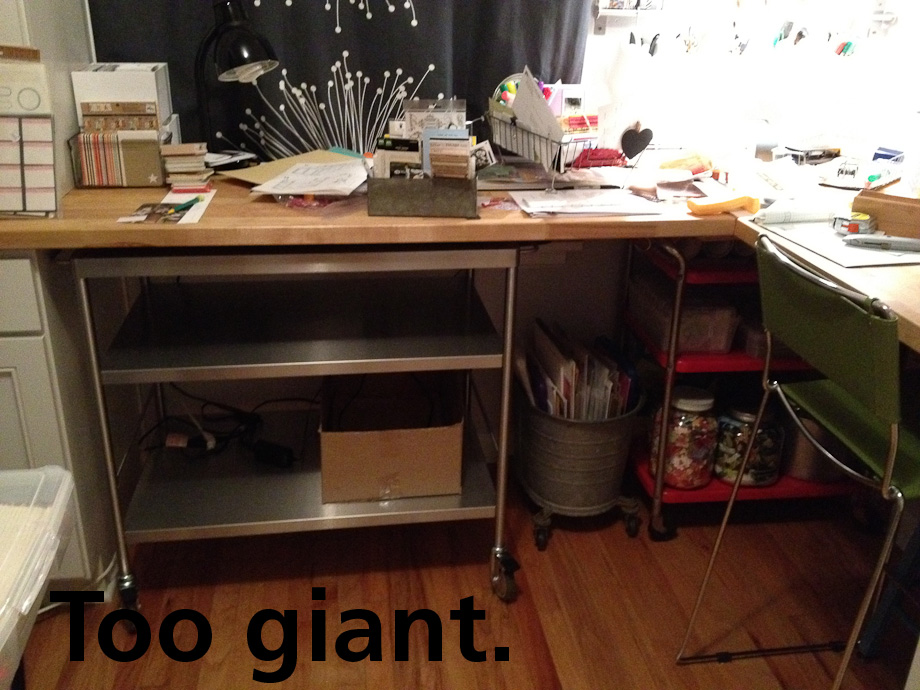 Then I was thinking that after I wrestle this one back to Ikea (blargh!) I would just get an Alex drawer unit, because it's shorter, and white, and wouldn't stick out as much. I was a little worried about the drawer size so I have been scouring the internet trying to find someone who would tell me. Well a 16 minute makeup video later I found out the drawers are only 1.75 inches tall and the bottoms ones a little taller. I don't know why I can't find exact heights of the things! And now I'm thinking maybe this would be better, but could I add castors to it (oh and it's doesn't hold 12×12 paper…)? Hmm. Of course I'd have to dress it up. And Sarah says just to go and measure, which would be easy if Ikea wasn't an hour away…
Have you started doing Project Life? Did it change how you scrapbook, or have to store you supplies. Do you obsess over organizational purchases?
p.s. how awesome is this?