This fall I was looking around for a dance place that would take Tuesday before 3, since her birthday wasn't until January. The regular studios said they were too strict for a two year old, and I was looking more for fun. I found the YMCA's program and we've been so happy with it. She goes once a week for a little half hour class. At first there were too many kids so they separated the classes and she ended up with just seven in hers, a perfect amount. Her teacher is the sweetest thing and Tuesday loves dancing. Midway through the program she had her "I don't want to go in there alone" moments. It was strange, because she had done so well. But we just left the door open for her and she walked into class whenever she was ready. She got over that and has been pretty excited about dance ever since.
Of course that was taken up a whole new level a few weeks ago when she got to get into her costume, make up (done by grandma) and get her picture taken for class. I was at my baby shower (will blog about it soon, it was so awesome it deserves its own post) so my mom and Bill took her. Bill has three boys, so he got quite the kick out of all the poofy skirt, eye shadow craziness.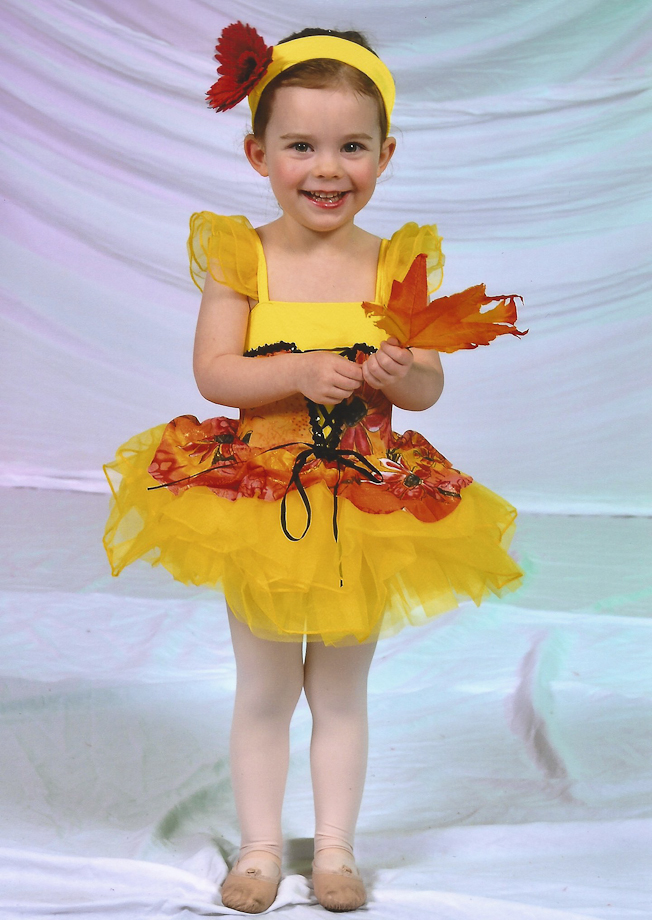 I'd say she was enjoying herself. I wasn't planning on putting much makeup on her, but after my mom did (Tuesday's request: 50 pounds of make up please), I acquiesced and I have to admit it was a big part of making her excited about dress rehearsal and recital nights.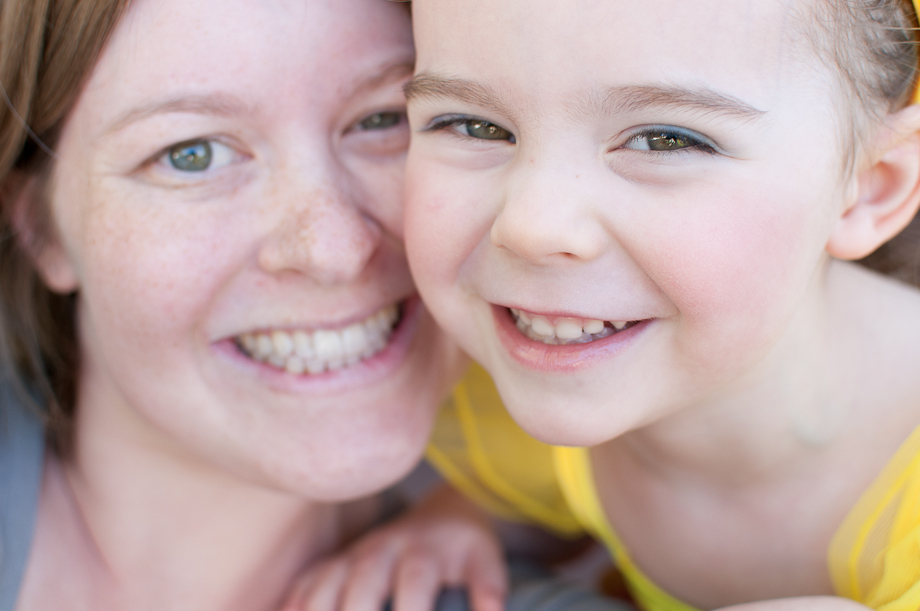 I rarely put any make up on so the lipstick I dug up was from my wedding… 5 years ago! Tuesday had fun picking some blues from a palette with tons of colors that I got talked into at Sephora a year ago.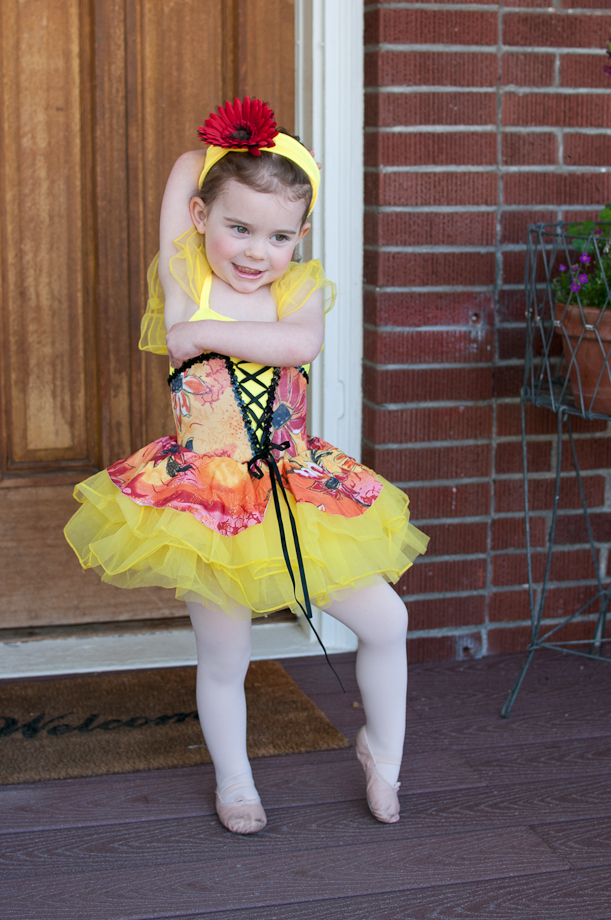 These are the poses she came up with for my camera (before the recital).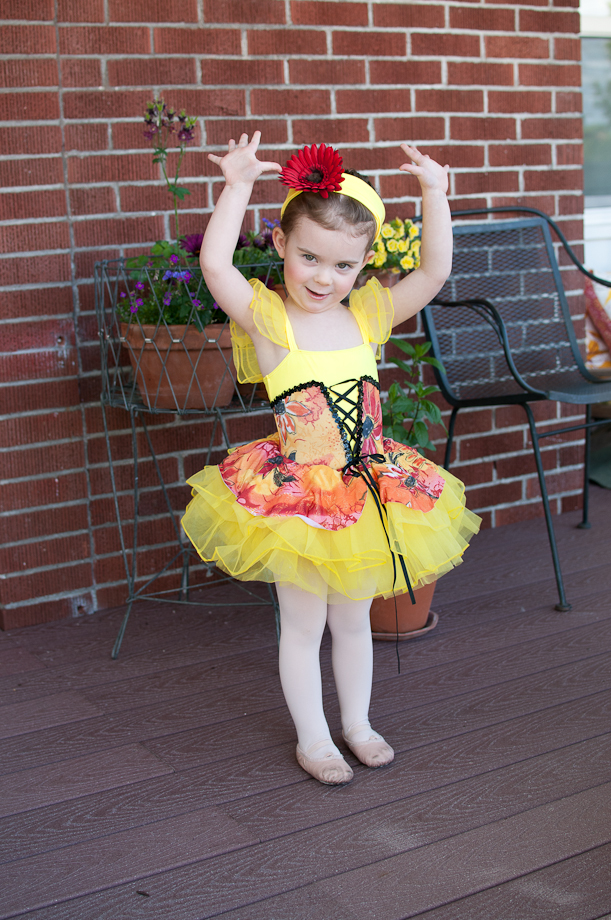 Hahahaha, I love them. They totally crack me up.
After this we took her and dropped her off at 5:15. The show didn't start until 6:30, and we didn't get to pick her up until intermission an hour later. I've never just dropped her off somewhere before so it was quite a shock to me how well she did. The night before, rehearsal, the parent helper  said she had to be taken to the bathroom three times! And there were no parents helpers the night of the show, but she did totally fine. She squealed with glee when I went to get her from her teacher, dangling a little cellophane bag in my face and exclaiming that it had, "two crayons, two balloons, and TWO CANDIES IN IT!!!!"
She got to see her grandparents and was so excited that her nana brought her the cutest little mini bouquet. She wanted to go sit back down and watch all the rest of the dances. After everyone she asked, "can we watch more dance?!?!"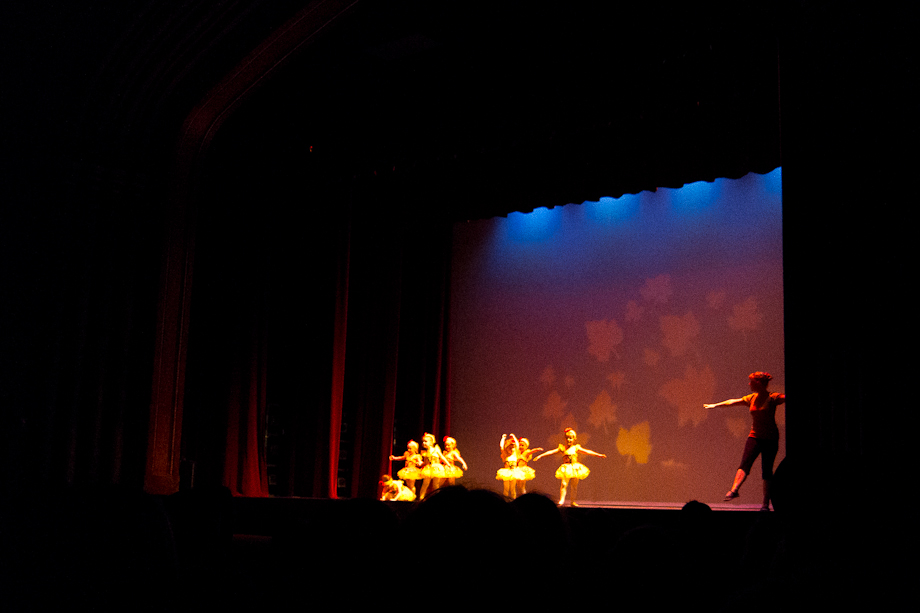 Here's the one picture I got before I realized it was silly to try and take pictures, and I should just enjoy the under 2 minute routine.
I'm keeping her in the summer dance program, mostly because the class is at the exact same time and I'm trying to have some continuity to her days through the summer/baby arriving. It will be all about dance this summer, as the only show I've deemed appropriate from birth is So You Think You Can Dance. That's right, I don't own a TV and won't let Tuesday watch anything (save a few Thomas episodes when she's sick), but I am down with SYTYCD. She loves the routines, and does some nice interpretive stuff on the floor in front of our projector, it's quite cute.
Now I realize that this post was almost entirely for me and the grandparents, but man, I just can't help it. I should tack on a little bonus and dig up pictures of Bj and I in our dance classes!