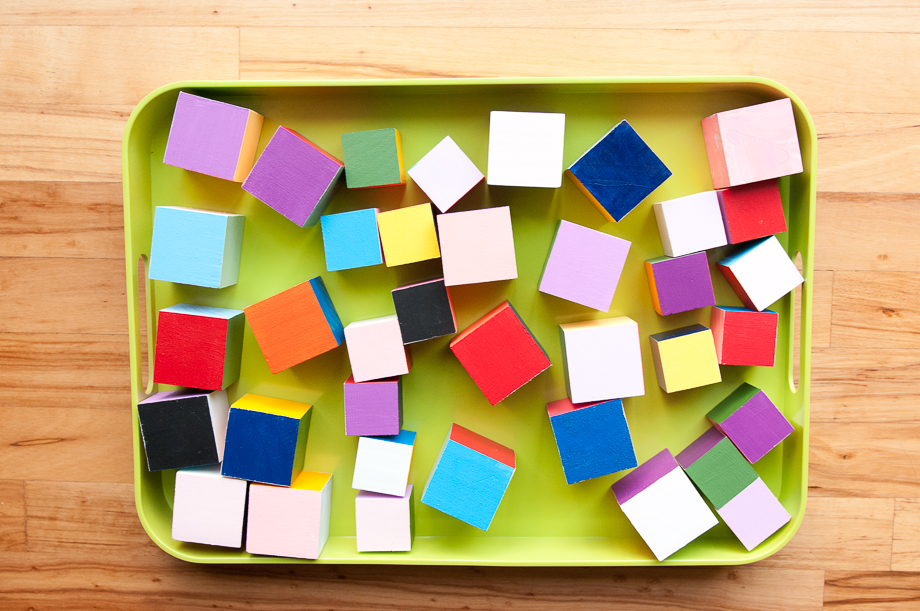 These pictures have been sitting around in my to share file for quite a while. I found the idea for ombré blocks via Pinterest. How easy, I thought! I loved the idea of using them to teach color gradations, in the same manner as Montessori color tablets (box three). I thought they would make great fun, but also somewhat educational gifts. And they are an open ended toy which makes them great for lots of imaginative play across a range of ages (I recommend ages 2.5-6 as the sweet spot).


I started with plain square blocks. I found mine at Michael's and Jo-Anns. Jo-Ann's has packs of cubes; at Michael's I was able to buy them by the cube. This was nice because I could pick out the nicer blocks, the smoothest ones with out defects. Later I would an even bigger selection from Craft Parts and ordered some other sizes. I gave the blocks a quick wipe down (after peeling off stickers some required a little too gone as well) and base coat of white acrylic.
I wanted each hue on the block to go from light to dark, but I decided to mainly do only tints (adding white) and no shades (adding black). I made an exception on yellow because I just couldn't get a full nine different tints. At first I tried to make each block a range of tints in itself and embarrassingly it took me a few coats to realize that the blocks have six sides and I needed room for nine colors. What can I say, it was late. Once I got that hiccup resolved I laid them out and got to work one color at a time.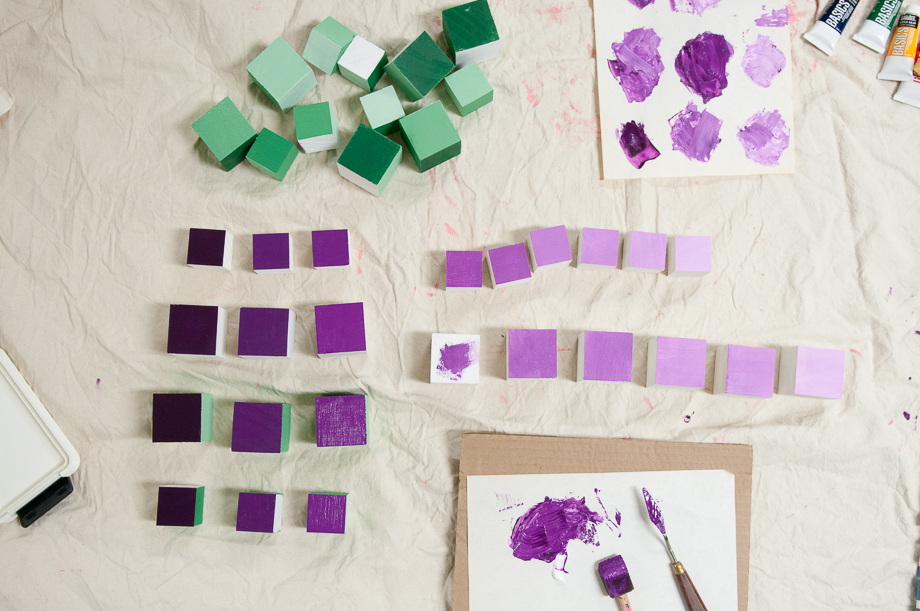 I found it was easiest to start with the less intense colors first so I could touch up where the edges meet with the more saturated hues last. I made these extra difficult by mixing up which block had the lightest hue. One block did not have both the lightest blue and lightest yellow, for example. That way a child won't automatically sort the blocks based on the "easiest" color (light to dark blue I think). I'm not quite sure that was a good move. I think having one block be lightest all the way around might have given the child a better control of error.
Some of these color gradations are quite a challenge. I was just going to use cheap craft acrylic paint on these but I realized that the pigment in them is just so inferior and there is so much filler that it doesn't work for all colors. I found it necessary to break out, at a minimum, student grade acrylics. And in the case of yellow I used a full bodied Golden Acrylic (my brand of choice through art school). I might even add a tiny touch of white to even the darkest color block in a set, as that helps the color be less transparent.
Tuesday has finally taken an interest in these (I made them a year and half ago, and gave some sets out as holiday gifts in 2012). We've been using them just in basic light to dark organization. She has two sets, so she can also use them to match. Lots of good vocabulary: tints, light, dark, darker, darkest, etc. She found it very interesting that colors that looked very different straight out of the tube could look so similar once a lot of white was added to them.
You could do a similar project with kids, but you'd have to let your OCD tendencies out the window (if you have them). It takes a bit of patience to get corners neat, and not leave fingerprints. I sprayed them all with a matte sealer when I was done.