Okay so this whole weekend was pretty much about Star Wars. Bj and I went to see Star Wars: Revenge of the Sith on Saturday. I thought it was pretty good. Then of course we had to go buy the old ones to see what happened next (I had never watched them!). I still have to see Return of the Jedi, but other than that I know what's going on in Star Wars land. We decided we had to buy some light sabers as well, we just couldn't help ourselves. A couple kids had some in the theater (and a few had homemade ones stuffed with candy) and they just looked like fun. And boy were they fun, cool noises and vibrating handles, we even got one that has helpful hints from Yoda. Toys, I love toys. Tonight I got to hang out with Laura who lives in North Carolina while going to grad school for physical therapy. She is home for a mini break and we had a BBQ tonight at her boyfriend, Corley's house. Here are the cute girls:

I'm stopping Laura from an obscene hand gesture, bad Laura. And the boys being crazy: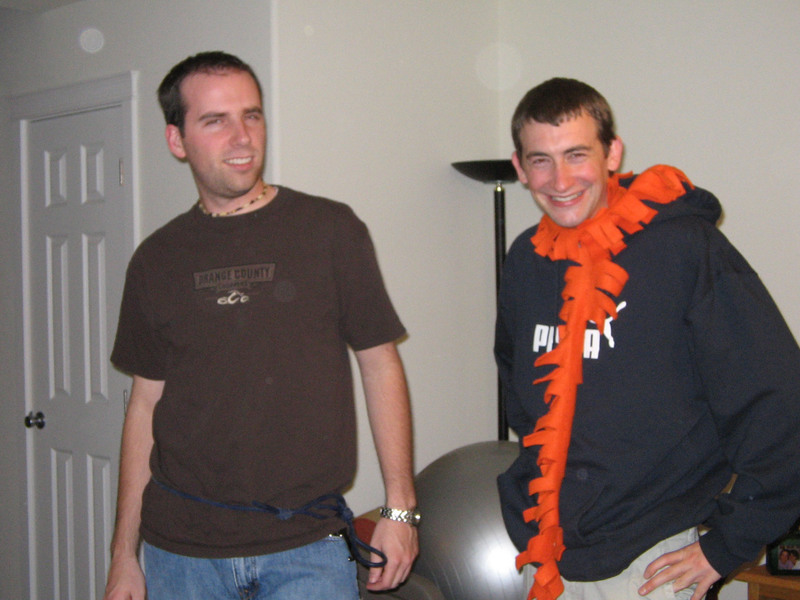 They were making fun of me taking pictures of Laura's new ribbon belt (quickly crafted from some Ribbon Jar ribbon she picked up while visiting):

She's so clever!