Okay seriously I was not ever meant to have a clean room. My room has been extremely clean for the past couple of days, and I hate it. I like don't want to do anything because I know I will mess it up. I so want to be a real grown up and not live in one room. What I mean is my room is my studio, bedroom, closet, writing desk, phone booth, cinema, portal to the world, computer room, oh and did I mention studio? If there is one thing I can say I have constantly wanted since my conception I would say it is a studio. I wish I could find all these drawings I used to do of huge gigantic tree forts with two level studios and immense pulley systems, because that would be a good visual. Hmm, maybe I'll draw one later…. The updated version of this is an ginormous loft that has one whole wall windows, floor to ceiling, and one whole wall of storage, floor to ceiling. It also needs to have: easel, wood floors (slightly unfinished with wider boards), a couple cool wooden rolling carts, excellent stereo system*, printing press (with at least an 18×36 inch bed), two drafting tables*, glass table, fume hood, hazardous waste disposal system, big metal sink with large counter, mat cutter*, precision paper cutter, super good lighting for night time work (and blinds for those huge windows because that would be scary at night, please see this post as to why), computer station*, Epson 2200*, good set of tools (all varieties, preferably including wood-shop set up), spiral staircase to a rooftop space, and a Slurpee machine.
Now I do not think that is too much to ask! Well okay maybe a little. But why am I on this rant? Oh ya, my freaking room!!! I love my room, it's so cool, it's a loft and I have a window seat and the ceiling is like way high (I can jump on my bunk bed for God's sake), but I would like some separation of church and state, or in this case, creative and other. Well I guess if I had the loft mentioned above I could sleep in there too, so maybe just more space? Blah blah blah. What I was going to start off saying by the title of this post is how I am not being very creative, and it sort of makes me go insane. I have been scapbooking, but for me that is just not enough. I really long for some serious press time, I am itching to get my hands dirty with ink, pastels, paint, anything!! I can't see this situation being resolved in the near future unless I win the lottery or rob a bank (which, by the way, I would never do). And also when I go on all night creative binges I don't think I need to work out because I expend a lot of energy, and you know how I hate working out, and if you don't know, I HATE IT!!
Okay here are a couple of layouts, just because I want to prove I do some stuff besides Ribbon Jar (but I am like obsessed with it and feel like I am letting it down when I work on anything else, oh speaking of which I got some cool vintage ribbons, check em)



Okay if you want a laugh click on this to blow it up and check out my gigantic nostril as I scream for my life on the log ride. Bj's just laughing away, but in my defense we didn't have any kind of restraint device and it was hella scary! This layout is so so, but I have a huge tupperware from the trip I am trying to get through (we're talking 17lbs or so of memorabilia people). Oh but I do like the stamped mustard moon paper for the date, if anyone else wants to try this the dauber duds are the perfect size for a bingo stamper look.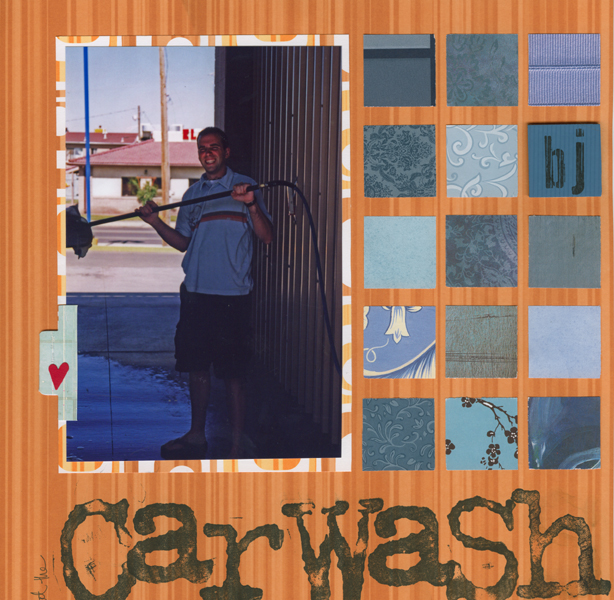 I didn't do this one that recently, but I love it! I think Bj is like the cutest car washer ever (ya, I know I have an obsession with taking pictures of him washing cars, I can't help it).
I guess I should do a little background because I don't know if I have on this blog or what, but Bj and I went on a 10,548 mile road trip last summer as our graduation present to ourselves. Scrapping this is as big as adventure as going on the trip, but you know what? Even not all that wonderful pages are more interesting for people to look at then a slide show. It's cool because if they want to read the journaling they can, and all the crap pictures are edited out for them. I would say to any one going on a big trip: 1) keep a really good journal and 2) instead of scrapping in order make a cool calender of events for the beginning of the book and then just to what ever you like, that way people can tell when you went where but you can work on what ever you want.
For all of those you can click on them to see them bigger.
*I do have a few things already (but no where to use/put them)
good pastel collection
stereo system that is good enough
1 drafting table
good computer set up
Bj has a 2200, but I can not work it on my own, I get yucky prints every time I try
mat cutter