Okay so I was perusing my normal round of blogs and came across a challenge on Donna Downey's. I figured it was the perfect thing to get me moving today since I was kind of thinking aimlessly about scrapbooking with out much direction. It was to make a layout inspired by linear curves. Here's my take: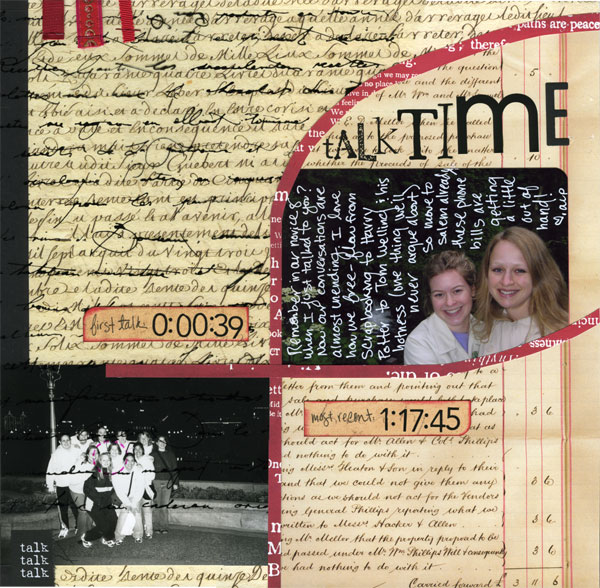 It was kind of rough to put together and I used an apparently toxic combination of diamond glaze, undo, stayzon ink, and paint pens because my craft area smells like butt. But I like it. I did go a little text crazy. I think I should have used this in some kind of text challenge instead of linear curves, but I was trying to convey talking, so I hope this works. Besides the smelly stuff I used: Chatterbox fabric words, lots of mm rubons, and some black letter stickers (but I need a bigger E I think, any suggestions?), 7 gypsies layers, Technique Tuesday stamp, and of course Ribbon Jar ribbon (no, really? :>).
In other, and far cooler news, you MUST check out this link. I don't think people click on all the cool links that I put in here but this is a must! Sciarrino sent it to me so I can't take all the credit:
freaking awesome postage stamps! Ok was that totally awesome? I only LOVE postage stamps and save them for years so I'll have the perfect one for a letter down the road (just ask Kaitlyn who got my five year old Screenwriting stamp after she got into a writing grad school program). This is like all my dreams coming true! Well not all, but a lot of them. I am so giving these as presents this year!!!
Oh and the journaling for the layout: "Remember in our novice 8 when I just talked to you? Now our conversations are almost unending. I love how we free flow from scrapbooking to Harry Potter to Tom Welling and his hotness (one thing we will never argue about). So move to Salem already these phone bills are getting a little out of hand!"