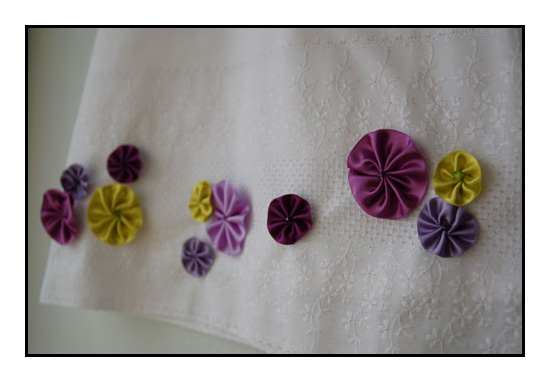 Okay I had this idea for flowers like this for my special technique for hall of fame. But since I decided not to enter this year I am going to share my idea with the world. Well, the ribbon loving world. In case you didn't get my newsletter (!!! shame!!!!) my mom and I made up these adorable little dresses. I sat during a dizzy spell this morning (seriously all the cold medicine in this house is whacked I tell you, whacked) and made up a bunch of these out of satin, then sewed them on. I think I've said before how nobody really order lots of satin. Well okay people order satin, but usually in big bunches, like for weddings, and stuff. But I don't get many orders that have a few yards here and there because I think people think it looks boring. But I'm here to tell you IT IS NOT. And these super easy flowers are a perfect example. And my super high quality satin, is still really inexpensive. I'm really not just trying to just do an ad here for Ribbon Jar (click the link, click it!), I just want people to see the coolness. Do you see it?
Okay here is the original idea: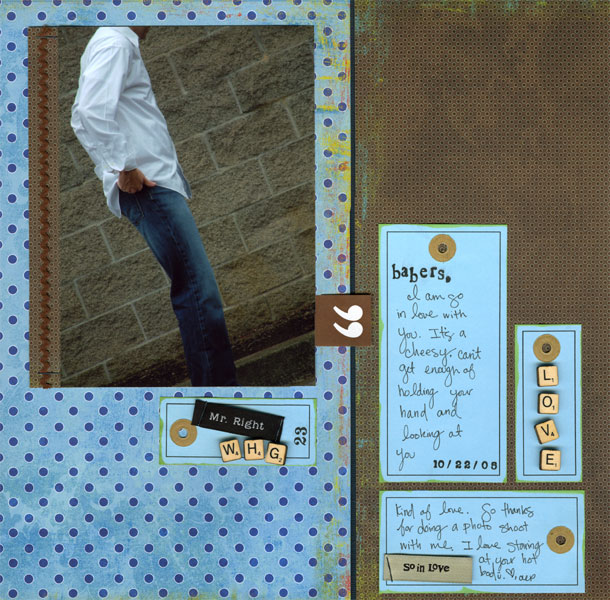 I love this one. I still love this layout, even if things are a little up in the air with us. See this is why I need to scrap more frequently, because things change! Man, what stamp set are the 23 from, that's an awesome font, have to go search that out.