I have this fab-u-lous friend Kay, with whom I reconnected with because of this blog (it is by far the greatest reward of this blog). Ever since we re-connected about a year ago we've been emailing and sending little things back and forth. We've also become each others importer/exporter for goods from the other country. Kay lives in England and I met her at camp when we were both counselors there. Anyway so I sent Kay some ribbon and Knock Knock stuff a while back and asked her to get me this wonderful yarn that I had found a that great yarn shop in Seattle. Well yesterday the packages came, and people, I was freaking out. The packages were out of rip-stop otherwise I would have used my teeth to gnaw into it. And with good reason:



So are you thinking it couldn't get better than that? Well it's Kay, so of course it can! She sent me a little not with the color card, saying now that I had it I could order through her as much as I liked (ohhhh don't tempt me Kay, I will so do it!) And then tucked in all the yarn were a bunch of little packages all wrapped in purple tissue with cute little tags (did I have any self control to take a picture of this? No of course not, I ripped into them immediately). Here are the first batch of little goodies: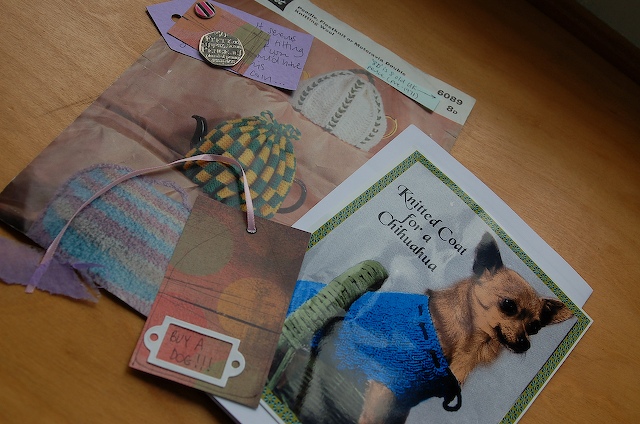 Knitted coat for a chihuahua!!!! Who thinks Buddy needs one of these, LOLOLOLOL. And those tea cozies are something else I'm telling you. She also sent me a cool fifty pence coin, which has the definition of Pence on it from 1755 (Pence is my last name). I love it! I've already taken beauty shots of it so I can print one out and scrapbook it. All in all a great mail day. My mom started swatching up some of her yarns and they are gorgeous. I'm going to do some tonight. Thanks again Kay, you're the best!