A long day was spent garage/estate/antique shopping Friday with Sciarrino and my mom. Since I do set my own hours it's been quite a while since I've gotten up when there's a six on the clock, and oh I don't like it. But it is so worth it to get up early and get moving. Here we have to be weary of the pushy men and women who tend to hoard the goods. But, surprisingly, there were not many out Friday. So we were able to treasure hunt in relative peace.
First Stop: the bank, cash is essential, no use bartering without it. We also took along mesh shopping bags, change, the carry all basket, a tape measure, and hand wipes.
The estate sales: not many Friday. I know some people think it's weird to dig through dead people's stuff, but here's what I think. I think when I go I want some one to find the treasures that I loved and re-purpose them as their own. So their families don't want an old Pyrex container, let me love it, right? Agree or not, this is usually the best place to find stuff, just not this day.
Garage sales: these are really hit and miss. This time: some jars, an old card game, a five dollar tape measure worth every penny, a one dollar book on painting with perspective, has a great cover that I plan on framing, a "lunch lady apron" that is orange and zips down the front, for messy projects, also a dollar. Fifty cents for a camping log book. The carport this sale was in smelled HORRIBLE, but I toughed it out. Going to pull the pages out of the book and scrapbook with it.
Barn sales: the further off the beaten path the better. And the one we went to was glorious. I saw people leaving with huge metal tubs and cool things, but no reason to feel bitter. I got 2 sets of metal double point needles (something ON my list) for a quarter, and my mom spotted a fantastic HUGE double boiler for me for three dollars. I'm going to use it for dying, it's so perfect. And today on my way home from the post office I saw another estate sale and stopped in for a quick look around, same boiler, only eight dollars.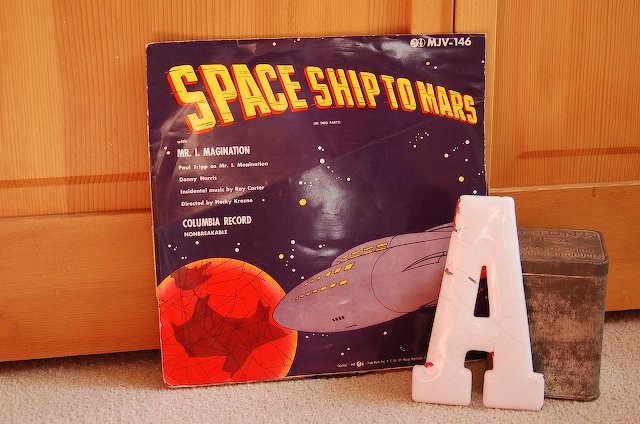 Antique shops: they can really rip you off, but I still think good deals can be found. We went to Aurora, the town basically is a huge antique mall. They even have a sweet architectural selvage place. I had staked out this place with Bj, but his old stuff stamina is not that high (I like to really take my time and look around). Let's just say I came home with 95 jars. But I did find some treasures for myself: a cool "Spaceship to Mars" record for kids (I want to do a space nursery some day), something funny for Kay, that I finally found a good price on (gonna mail it out soon!), a old enamel letter "A", and my big purchase was a 30 dollar moses basket. It's pretty big, but I really liked the flat woven sides and hand nailed bottom. Going to tuck it into my storage unit for "someday" and then knit one of those lace edges for it from the Mason Dixon book.
All and all a good day, so glad Sciarrino took the day off to drive around with my mom and I. I spent today working and scrapbooking. Three actual layouts done, and updated my knitting scrapbook with my new finished works. I'll scan in tomorrow and post. Now, to bed!