So I've been working like crazy on the house, yes I know, shocking but true. My dad told me the other day that I need to "hurry and get done" so I could get it appraised. I totally flipped out on him and started crying over the phone and finally replied with a, "I'm spending my life savings on the basement right now so I can't really deal with this at the moment." and hung up. I am so mature, that's for sure. But he did take pity on my and came over this weekend to help put up trim in the basement, which is mostly painted now. Brent also came over, and not only helped with the trim, but also chiseled something for me. It has to do with the bathroom and that is top secret remember? One thing I can tell you about the bathroom is that I almost lost my cool in there yesterday. I spent FIVE hours picking old caulking off from around the tub and shower, then I get already to put new in only to have the tube explode on me. Nice. I almost chucked it out the window then decided against it and basically caulked my whole body trying to smear it into all those freaking tiny cracks. Ahhhh.
No, but seriously things are going good.
Matt came over this weekend in a little pickup and I now have my most prized piece of furniture at my house.


This freaking awesome steamer trunk my mom got me for my 22nd birthday. I loved it when I got it, but I haven't gotten to use it so my mom has been for the past four years. I was taking it out of the house and my mom looked very forlorn, "are you sure you want that." Ha ha, nice try mom. Matt and Brent also fixed the screen door that was suffering from a broken wheel thing. Bj replaced all the ivory/almond colored switched and plugs in the whole house. This makes a HUGE difference. I decided I need one other piece of furniture. I have nothing to hold all my little crafty things (no the huge dresser, bookcases and drafting table are not enough). How sick would this be? Drool, Mulder and Scully had one like that in their office, and there is one in the Mars Investigations office too. Must. Find. One.
Things I did find today: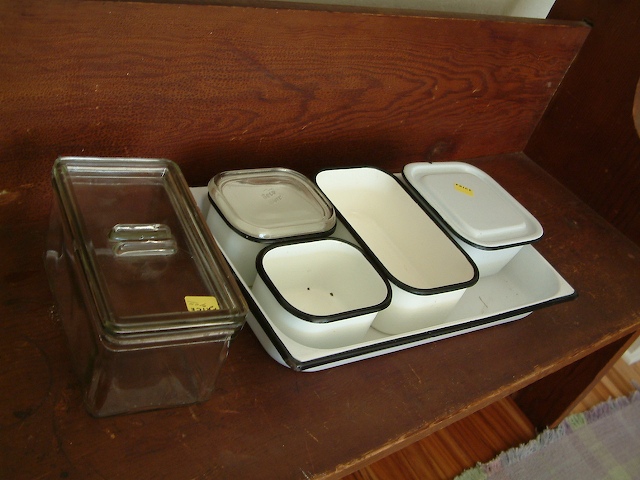 This lot of stuff was nine dollars. A bunch of enamelware containers and the cool glass one. Well it's back to work!