Seriously, I only went to Paperzone to stock up on some larger poly bags for Ribbon Jar, but they were having this sale and… Plus I was with Sciarrino and we picked up some papers and envelopes to play with for the wedding invites. So I ended up with some awesome paper and some stamps I've been wanting forever, all on sale. And a lot of cool ideas for the invitations. I played around for a bit last night while the boys were in line (and yes they did get Wiis). I got out Ali's latest book and used a few of the layouts as a starting point.



This started out as a lift from the layout on page 71. I've had most of these supplies for a while: random cardstock, Lil Davis tag, Scrapworks sticker strips, Chatterbox vellum, Fastenater staple things. The heart is punch from some cool new paper and I stocked up on my favorite Basic Grey paper. I had the letter paper, but I can't remember who its by.



This one started as a lift from page 91. Oh I have a new favorite thing to do people. And it's called printing Illustrator files on my little printer. Dude it's no secret that I love this little printer, I print all my 4x6s on it and it totally rules, but now I figured out that you can print any 4×6 file on it, including Illustrator files. I flooded a sheet with blue and then typed white text. I printed it out, and then I was obsessed with the left overs so I printed out a sheet of just color and cut the title out with my Quickutz (Studio classic). Other supplies: Autumn Leaves embossed paper, Ribbon Jar ribbon, Pebbles, Heidi Swapp, and Scrapworks sticker strips, Bazzill KI Memories cardstock, random rubons, Lil Davis wooden frame, and of course some of my new stamps.
Ahh scrapbooking happiness, you can't beat it.
edited to add: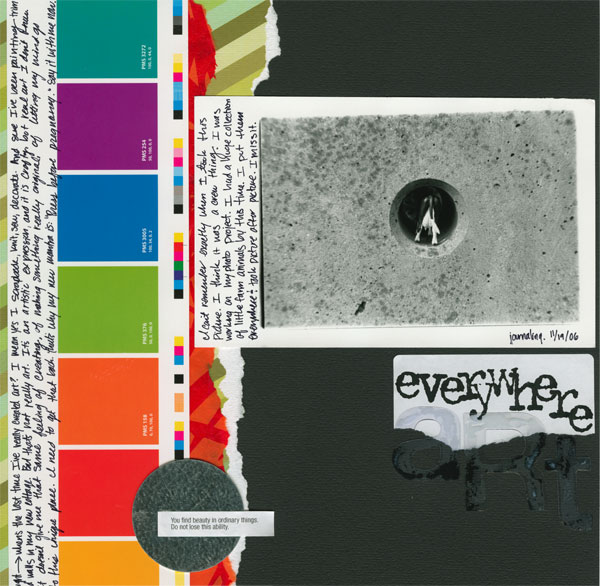 One more I whipped up while watching an old x-files episode. Love the x-files man. Anyway, no lifting here, it's an Amber original baby. The picture is from an old collage project. Other stuff: new paper from the zone, the red/orange is from a big sheet, and the green is KI Memories, fortune cookie quote, Heidi Swapp ghost letters, Making Memories rub-ons, a piece of metal, an Avery label, and a left over print sample Sciarrino gave me.