And now for a little wedding business. You know you can plan a wedding in less than five months, but it takes some serious hustle. Decisions have to be quick and precise. I thought I was doing all the important things first, like venue, but it turns out dresses take for freaking ever so it's a good thing I went shopping for one yesterday. How weird is it to see yourself in a wedding dress? Weird. Awesome, but weird. My mom and I headed up to Portland mid-day and met with Michele and baby Violet where we had a quick lunch and then we set off. The first place we went to I did like one of the dresses, but I wasn't like super excited about it. My mom and I did cry when I put my first choice on:



I can show that picture because we ended up going to Ania Bridal Collection downtown and I did find the ONE. It is very different than this, and so freaking awesome. Sciarrino had perfect timing and came in just as I put it on. I tried on a bunch of others, then the one again. The woman
who was helping us was so awesome (if you go here ask for Maura!). They have a long walk you can take right towards a mirror so you can see how you look walking down the asisle. At that point I was bubbling over with excitment and I sqealed out, "I can't wait until March!" I got some shoes on to see what I looked like with a little heigth (seeing as how Bj is a foot taller than me):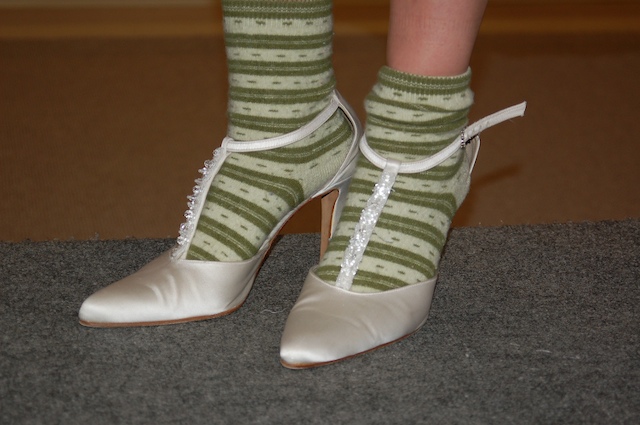 Very tres chic, no? I felt like the wicked witch of the west. All in all it was a wonderful day. The only thing that could have made it better was my matron of honor, Ceara, being there. But I called her when I put the dress on and got to hear her squeal, which is always fun. We also picked out the bridesmaid dresses. I decided to go with a black satin version of this. I was going to do this olive green color, but I thought black would look better on everyone. Plus we are having the rest of the very few guests at the ceremony wear green (the ladies, men will be in white tie) so it will still be really fun. I will also have my niece as a flower girl (which I always said I didn't want, but I love her so much, and I think she will be awesome at it), and my favorite little munchkin: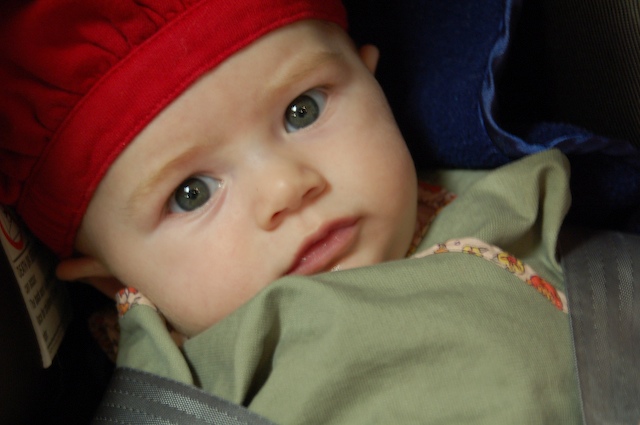 Miss Violet! I can't believe how she's grown.