Actually my little Christmas holiday was quite dull. I got to spend time with friends (love ya Tex!) and family (hello to my flower girl, Brianna!) which was wonderful, of course, but I mostly just vegged. Bj and I spent a few days up at his parent's place. Did I take pictures? No. Did I eat way too much? Yes. Did I knit. Oh yes I did:



Started my swatch for gage on the drive up to the tri-cities on Friday and put the buttons and elastic on tonight. One week baby, I rule. Hehehe, well actually this pattern is really easy: Design 3 – Side opening jumper with raglan sleeves and matching pants. I got the book my local knitting shop recommended by Cleckheateon: 10 Simple knits baby knits in 8 plys. Great book, easy to follow patterns, and unique twists on simple baby knits. There's a sweater in the back that's "cleverly knitted in one piece" that I want to try also. That might get some competition because I got the Greetings from Knit Cafe book from my step mom and it has tons of cute things in it (including knit boxers!) Back to my little set. I made it to match a shirt I got Violet right after she was born. I'll show more pictures tomorrow, because let's face it, knits are much cuter actually on the baby. The yarn is machine washable Debbie Bliss Donegal Aran Tweed.
In other news Bj and I got separated returning Christmas gifts: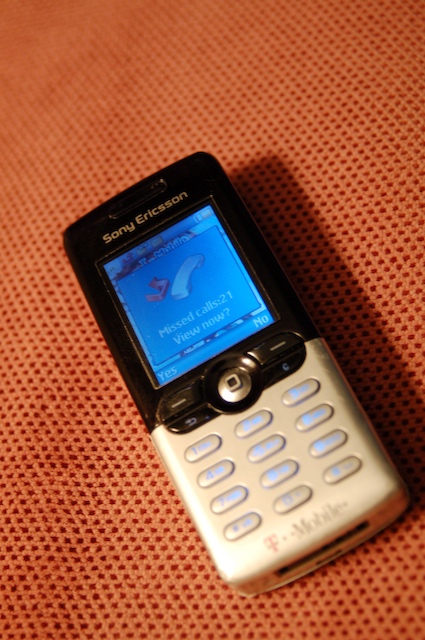 I mean personally I would have realized at about five missed calls that I didn't have my phone with me, but hey I guess 21 times is the charm.