And here she is, the cutest little god daughter there ever was, Miss Violet:



I know I left the red leggings she was wearing on her, bad choice, oops!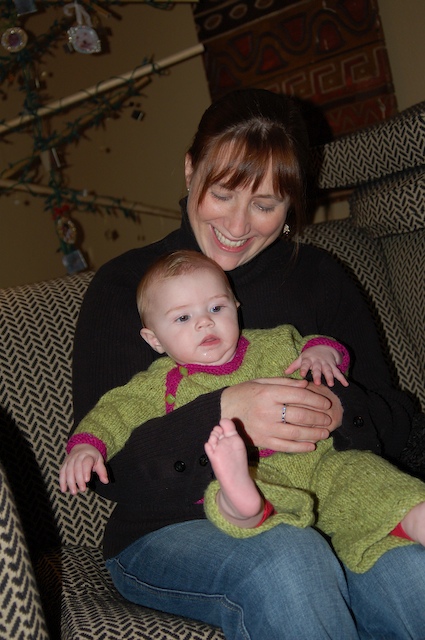 And her and her mommy. I can't believe how long the little munchkin is getting. Those pants are going to last like a week. But they are like hilariously cute, so it was worth it. And I love that the sweater opens the way it does, really easy to get on a baby. Next up is knitting Violet's dress for the wedding. All the guests actually going to the ceremony (only about 20 people) are coordinating (what I couldn't help it!). The woman are wearing green, so I'm going to reknit that little baby dress I did for Michele's shower in a green colorway of Koigu, (on that page second down, forth over) swoon.
In New Year's eve news… I went out! I had an alcoholic beverage! Bj had more than one, and let's just say the Max was not his friend. We made a couple of attempts at riding it (while it was horribly, horribly packed) but we only made it to the zoo stop (very weird at 2am, we got off with a biker gang, and I don't mean motorcycles), and called in an S.O.S. Lauren, our Saviour had to then do an emergency pull over. To be fair Bj has horrible motion sickness anyway… Now I have an extra "day off" (well really only a day off from going to the post office) because of Ford's death. I still can't bring myself to take down Christmas, as it all seemed to happen so fast, I don't want to believe it's over! I'm working on January jars (yum, yum) and a newsletter, so expect that soon!