Okay so I can't believe I'm putting this picture up here, since it's me with absolutely no make up on (I usually don't go out like this by the way). So I have a simple routine: foundation on certain spots, but not all over the face, dandelion powder (blush) on the apple of my cheeks, curl my eyelashes and comb my brows. Well after sitting in the chair for a while I finally got to see the make up she was working on. First she put concealer on me, then foundation everywhere, then fake lashes, then she shaved the ends of my eyebrows (I am soooo pissed about this because it is starting to grow out really weird, and it better grow all the way back out before the wedding). And of course eye make up, and lipstick, and plumper, and then airbrushing. I present the "done up" me: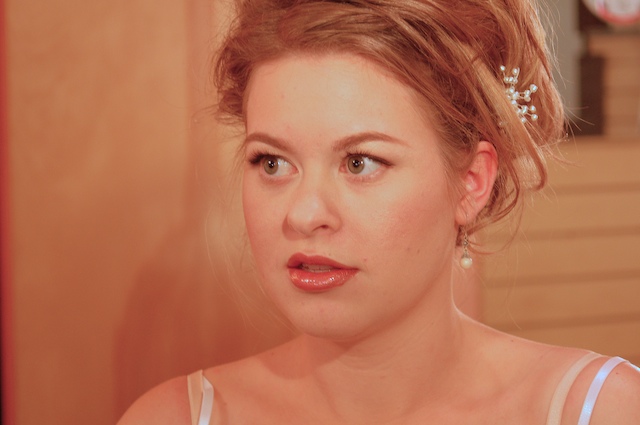 Uh…. And this is about halfway through the process. I saw myself and I was like, ew. Uh, can we take off this lip stuff (it was seriously glossy), and I didn't have much blush on which is like the one thing I need (I think). So I asked her to put more of it on. So now, I think you're going to see this picture and say, "hey that looks good," or, "you need lots of make up for pictures" But this is not me. And after having the make up on for four hours I came home and was starting to take it off because it felt horrible, like a clay mask. It took me all the eye make up remover I own, three face washes, and three washcloths that turned brown with make up. I started to loose it and Bj happened to call at the same time and he got an earful of crying, impossible to understand Amber. The more I think about it, the more I don't like it. I mean everyone I know will know that I don't look perfect. I don't need plumper lips, I'm perfectly happy with the ones I have. And I have pictures of myself with lots of makeup on (from a Sadie Hawkins dance in high school) and I hate those pictures because they are so not me. I don't want to feel like that all night, uncomfortable in my own skin.
I started writing this a few days ago and since then have talked to my wonderful wedding planner about it and I am going to work with the make up artist to get more of the look I want. I was feeling like I wasn't being a committed bride or something because I wasn't willing to dye my hair and wear all this make up, but now I think I am being committed, to my own style and personality. I don't want cookie cutter memories of my wedding. And I don't want Bj to be afraid to kiss me or hold me close because he's afraid I'll leave a big makeup streak on his clothes or face. I'm also in Vermont now and being here with Ceara, Grant, and Bj is so so relaxing that it doesn't seem like I have a trouble in the world. It helps too that we found a florist and cake maker before we left, so I'm feeling really good about the schedule of things. More later, just decided I should post this entry. Emee (my planner) said it's perfectly normal to feel this way after a run through, that's why we do them.