So Sciarrino and I have been hard at work making wedding related piles of stuff that is littering my house right now. I think it's like a war room, I have the tactical seating chart on one wall, buttons for guests on the other, and emergency candy and diet coke ready to go in the kitchen, not to mention 164 163 bottles of champagne in my living room. These were delivered yesterday by Bill:



And of course I had to chill some and make sure they were good: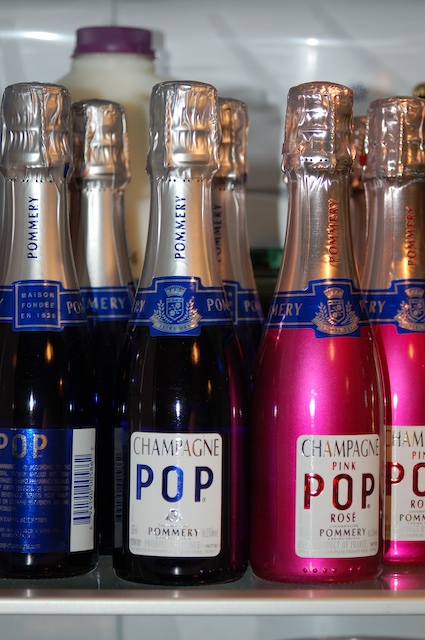 Are these not the cutest things ever?!?! I found the blue ones of these in In Style Weddings Summer 2003. I had to have them (of course), I mean who wants lame champagne flutes with hearts when you can have these puppies? Michele found the pink ones, and I was able to track those down as well. Then I had another problem. The article showed them on a tray with cute straws and little cards on the straws that said "cheers". I set Michele on the task to find cool straws, no problem right? Wrong, it turns out cute drinking straws are practically non existent. So what did my resourceful bridesmaid do? She impersonated me and tracked down the writer of the article, who got back to her right away and told her that the straws actually come with the champagne, and that a calligrapher had done the cards. I was blown away by this, the writer! Now that's above and beyond. But yes the straws came with the drinks, and I've already started making the cards myself for the straw (check my POTD from a few days ago to few a sample idea). I'm having a stamp made that says "cheers" so that I don't have to write on every card. Oh and speaking of stamps: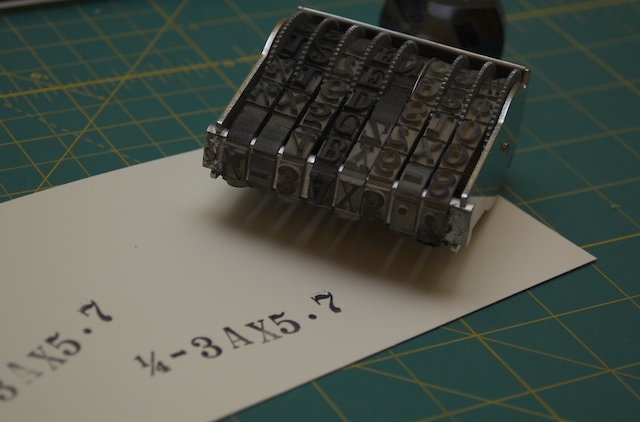 Check out this beast! I think Sciarrino and I might do up our own line of stamps we're having so much fun making them up. This stamp is for the cards that slip into the napkins, we put it on a rocker to speed up the process. And the 153 cards went really fast because the ink I got practically dries on contact. MMmmmm I love that stamp. Also for those cards, I cut 153 hearts: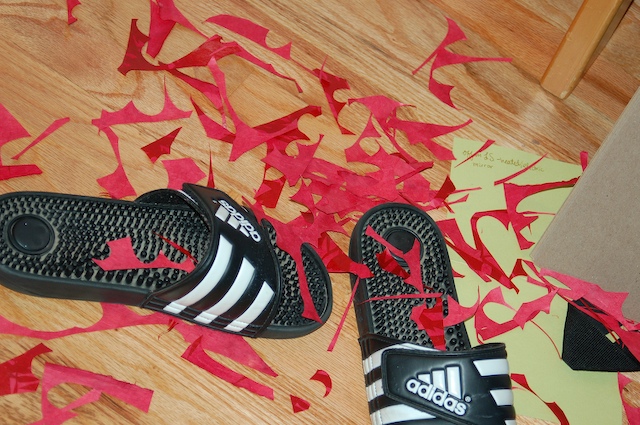 (my studio is a mess) And went through 8,000+ keys to find the most perfectly cute ones: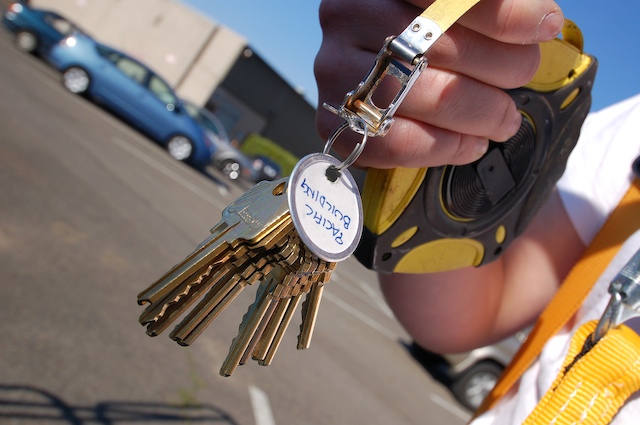 Wait, back up? I have 8,000 keys? Why yes, I do. Michele and I did an instillation artwork in college that involved a freaking crap load of keys. I've been storing them under my mom's house, but crawled under there last week to get them (creepy town!!!) so that I could use some on the table cards (you know "key to my heart" but not so literal and sappy… I hope). Emilie and I lugged the buckets (heavy) into the living room and sorted through them all. Keys are dirty, I think I'm going to wash these before continuing on with the cards. And…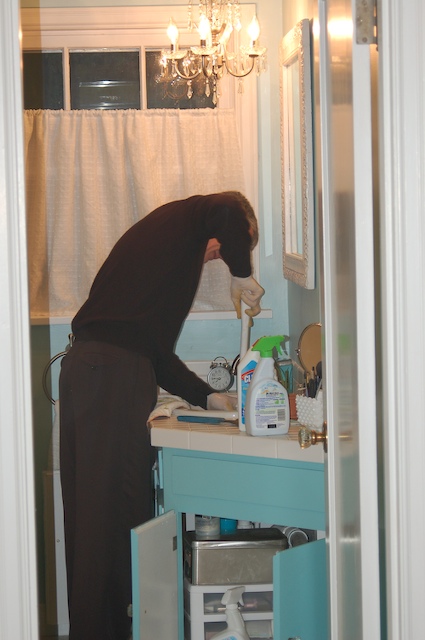 I have to call a plumber. Ugh.