Oh my god I'm getting married this week, THIS WEEK. Yikes. Bj came over this weekend, first time in a while since we've both been so busy. And the last time coming over before he comes over with all his crap, and by that I mean moves in. I'm a little nervous about that. I didn't think I'd like living by myself when I bought my house but I've quite enjoyed it and I have a lot of things "just so" (and fairly girly to be honest). I hope I can handle it. Well compromise number one started early. Bj set up our wedding present from his dad:



Bj did his job of getting the candy for the candy buffet… times 10! Seriously this guy got so much candy, it's so funny. It's a good thing I ordered little bags so that people can take some home! I got all the containers last week with my mom at Tuesday Morning, pretty cool place. I worked on the table numbers:



Pulled out old school supplies: vintage sign stamps, foam stamps and paint, and gold embossing powder from a middle school impulse buy at the Oregon State Fair (the wheeling and dealing barn gets me every year). And to think I almost purged that stuff! Sciarrino and I drove all over looking for goodies for the hotel room gifts, more on that tomorrow. We also "had" to stop in Anthropologie where I went totally insane and got the flippin cutest honeymoon dress ever invented, among other things. Today was all about cleaning and fine tuning. I had to totally dismantle my bedroom so I could clean every square inch and get ready for: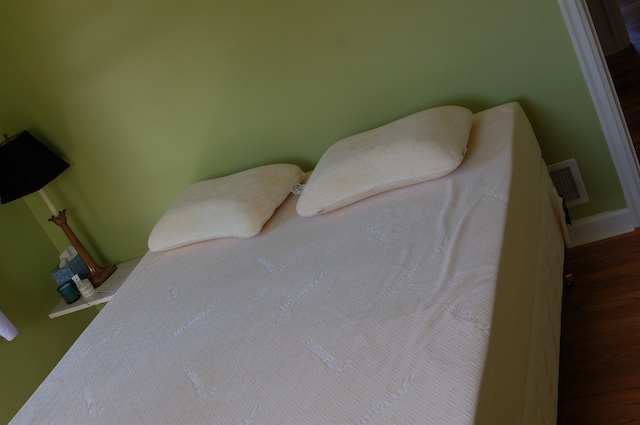 A new bed! Bj's parent's (mom and step dad) wanted to help us financially with our honeymoon, but we wanted something more long lasting, and what could be better than a 20 year warranty on a Tempur-pedic? My dad has these mattresses, and when ever I spend the night over there to watch Em I have the best night's sleep ever. Plus this bed is a QUEEN, I've never had a bed this big! It's a good thing I got some of the queen sized linens I registered for early at my showers, because I own nothing this big. I had homemade twin sized quilts on my full sized bed (although cleverly disguised if I do say so myself), but there is no stretching them to this size. I aired out the room (goodbye storm windows! Hello summer!) and walked all over the thing (good workout, it's like walking in sand), so I'm off to make the bed!