My first choice for our florist was a Portland shop owned by a graduate of Sprague, where Bj and I went to high school. When Bj called her up she was already booked for the date so we got Emee to search around for us, and eventually settled on Geranium Lake. I brought in a bunch of photos and told them I wanted as many local blooms as possible, and that I wanted really open, full and colorful things. I mentioned that I was in to sustainability and Kim, the owner, said they were too, they even drive a bio-diesel van! I knew they were the ones. Oh and did I mention the flowers are just divine?



I love this photo, I feel like I'm in an ad here!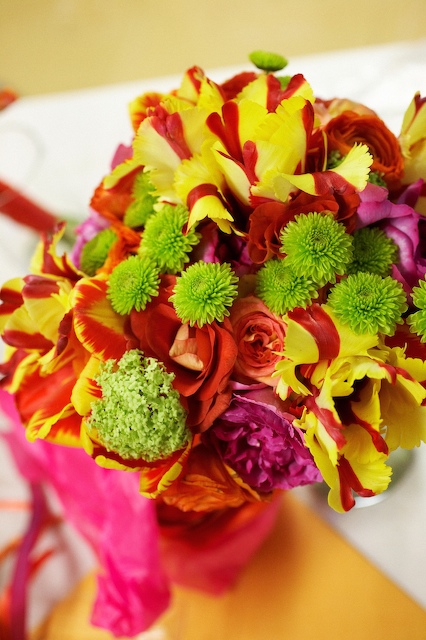 My bouquet was actually three bouquets put together, you'll see why later. I had her work in some of the roses that Bj always gets me, the orangish colored ones. And I love these local tulips. The Thursday before the wedding I was able to go to the flower shop and check out the blooms that Kim picked out. I thought some of them were too pink and almost had a freak out, but my lovely bridesmaids took care of it for me. I didn't want to confront them that it wasn't what I wanted. So they went back in and talked to the women there to make sure I would get plenty of flowers still and not so much pink. I think all the flowers ended up working great together, with our dresses, the room, everything.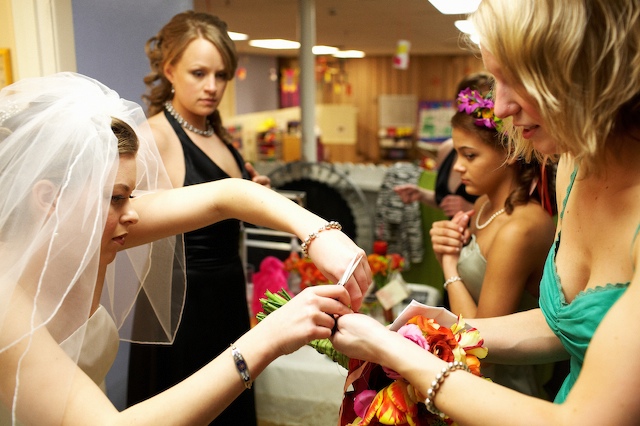 I know it's probably a good thing that I let go a little bit on the day of the wedding and didn't take any many pictures, but I wish I had a better shot of the beads I wound around the bouquet. They were glass and crystal from my collection. It really calmed me before the ceremony to be able to run my fingers over them.



Here you can see a bit how the three bouquets go together. Okay and I'm not just recommending this because I own a ribbon shop, but I really think it is a great idea to provide your own ribbon. They gave me a discount for doing so, and I feel like my flowers were more perfectly colored because they knew exactly what I wanted. Also why all the hate against wired ribbon? I love combining it with taffeta's, silks, and satins, it makes even a stationary bouquet like this look like it was movement. It's never sold well on my site though, otherwise I would stock it in every color under the sun.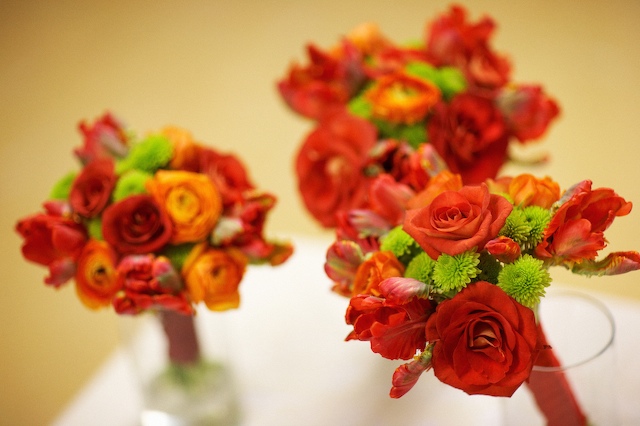 The girl's bouquet's stuck to the rust/orange/green section of my color scheme.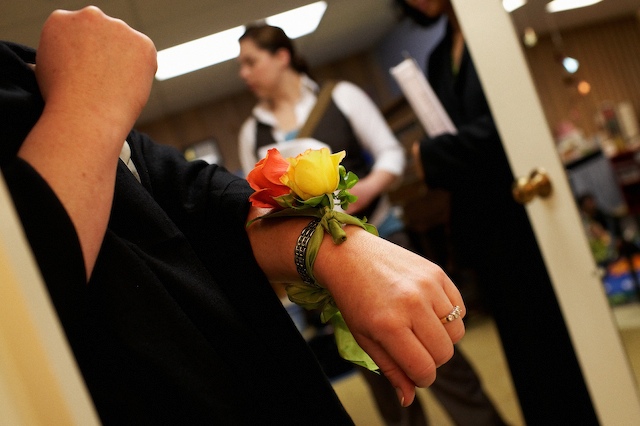 All of the boutonnieres and corsages were different. This is my mom's. Her ribbon was the same as the ribbon around my bouquet. I loved tying them around their wrists like this, and they stayed fabulously.



Emilie and Violet had little head wreaths. Brett ended up carrying Violets as she thought it was more of chew toy, but Emilie's stayed on through a long night of dancing. Plus she had little crystal hair pins stuck in there I had made for her.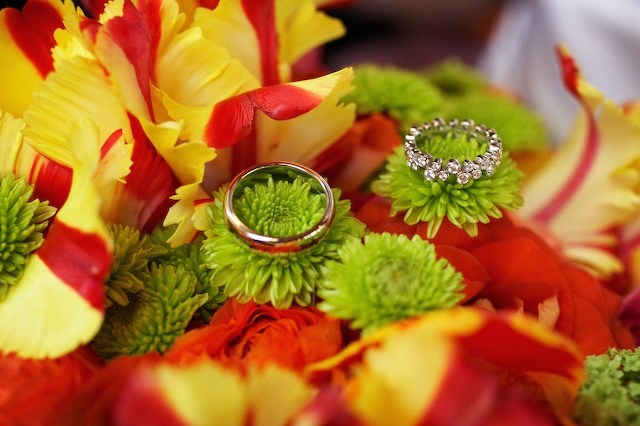 After the ceremony I requested this shot from Eric (who took all these photos). Our rings are from Tiffany's.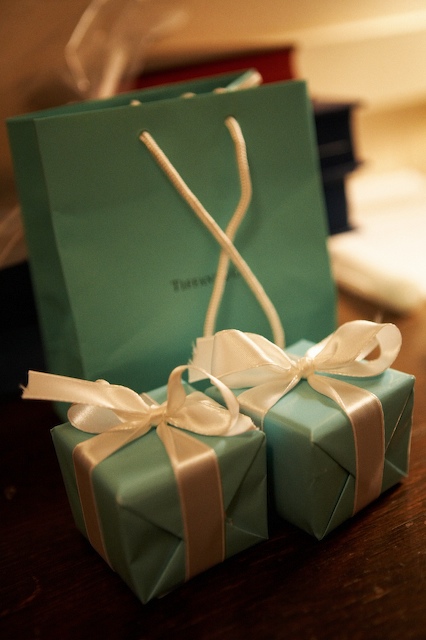 After Bj bought them we stuck these blue boxes right in my dad's safe until Brent picked them up the day before. Unfortunately after we began dancing I noticed a stone had fallen out, and then later another. I don't have the ring right now because it's being repaired, we took it back to the shop right before we headed out on our honeymoon. They were very apologetic and offered me a new ring, but I opted to have it repaired (you know sentimental value and all of that). I should be able to pick it up on Wednesday, as it had to be sent to New York for the repairs. Everyone else was more freaked out about loosing the diamonds than me. I knew that seeing as how I'd only worn if for about eight hours they would repair it no problem. And I think it's very interesting to think of two little diamonds floating out there in the world. Where are they? Bj and I guessed in a someone's shoe or something. Back to the flowers:



Originally I had thought of putting two big floral wreaths on the doors going into the ballroom, but they are dark and Kim thought this might had a better impact. She was right, I loved it. We also got spots for it so that it could be lit. Orchids with ribbon from my shop. This is the number one reason to buy high quality ribbon, look how it catches the light! YUM!!!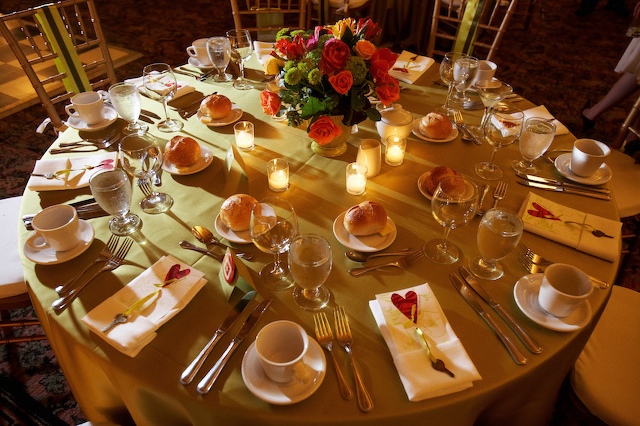 Each table had a big full bouquet in these awesome citrus green urns. We bought five of them, I just loved them so much! The night before we were working on tying all that ribbon on the chairs, do you see it? It really made a huge impact in the room. All but the head chair on each table had it. The head tables had the table numbers looped around back. And look; the key place settings. I love how it all went together.



Our table had three bouquets and our two chairs had pretty flower balls on them. I freaking love those things. Oh and a note if you go with these gold chairs, they normally come with cream cushions, but Emee got the rental company to use their white cushion (normally for the black and silver chairs) for this chair type. I'm not really a gold person, but you can't fight the room (I saw silver chairs in here, yuck), and the dishes are all white, so cream would have been a huge clashing mess. Before I knew it it was time to throw the bouquet.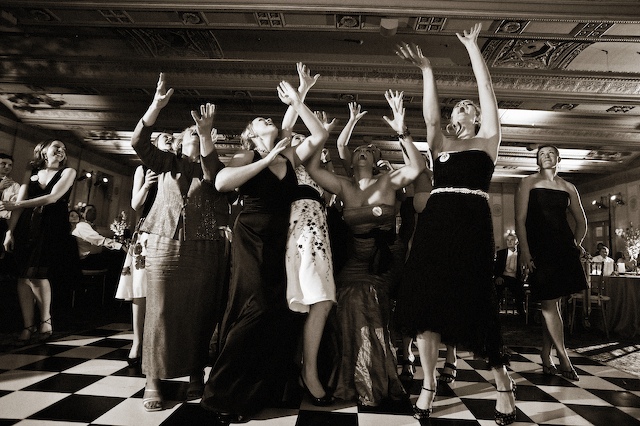 Un-beknownst to the girls I had pulled my bouquet apart and Sciarrino attached the stamped fortunes to each section. It broke apart perfectly when I threw it.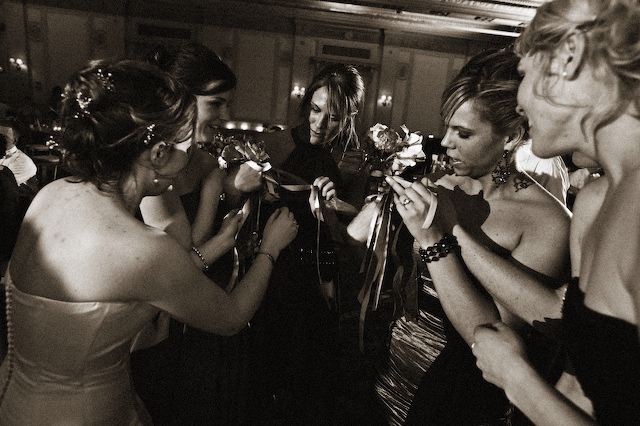 We stamped: "you will marry the boy next door" "you will marry your best friend,"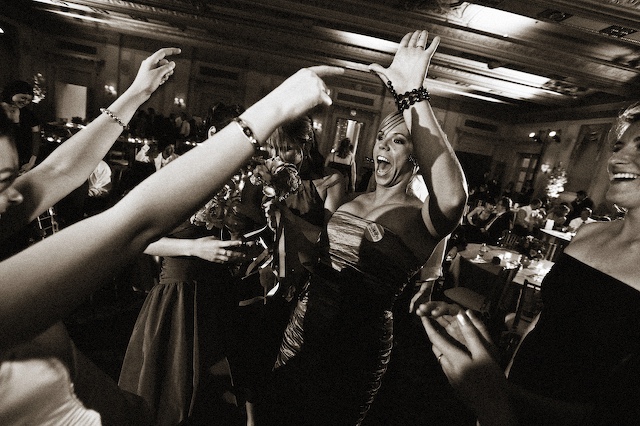 And Kristin's, "you will marry a millionaire" on herringbone, another favorite of mine.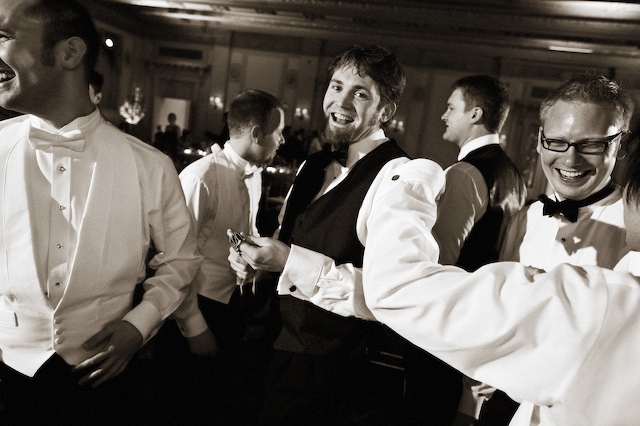 My mom also used the ribbon to make my garter, which Ian caught, but I don't have any pictures of it. Basically we pulled the wire out of some semi shinny lime and then put a smaller satin on top of that. My mom gathered them together on elastic and added a ribbon flower, and some blue beads to the center of it.
Someone recognized me at the scrapbooking store today from my wedding pictures. She was really sweet and told me I was a beautiful bride. I said thank you, of course, and told her that I couldn't stop looking at my wedding photos. It's true, I can't! I want to spring for our Pottery Barn frames now, so that I can have these up on my wall like NOW. But if you're getting sick of these let me know… I think I could probably talk about the wedding for a year. But I'm also more than happy to go on and on about how cool it is to have Bj here now. How funny he is every night, how he does the dishes, how he gives me kisses for no reason, how he mowed the lawn, how he does all the little things…. I'm crazy in love, what can I say?