Oh my gosh I'm finally updating, whoo hooo. I didn't mean to make you hang so long after that last post, oops. But it's finally getting a bit sunnier and my spirits are up and it's time for more happy fun wedding pictures. This is going to be the last set I think, I pretty much covered everything. Although on alp+whg I might post all the details, who did what for us and where we got everything as a resource for other brides in the area, since it took a while to track down everything we wanted. I so love looking at these pictures, and I really want to get all my frames up so that I can have them around the house as well. In addition to all of these

First of all since only a handful of people attended our ceremony I wanted to do something so that we could have a kind of entrance. We had the reception start at five and we didn't walk in until 5:45 ish I think. In between we walked around outside taking pictures. Hmm maybe I will have to do another post about that. So when we were set to come in Emee (our super extraordinary planner ) had everyone line up and in walked all of our attendants before us in pairs, introduced by our Dj, before we walked in "Mr and Mrs William Henry Garrison the fifth!" So exciting. It was great to see all my friends lined up like that. All the pictures snapping I felt like a movie star! We walked straight through to the dance floor to have or first dance.



I chose that black and white floor instead of the normal wood one and love it. Totally went with our black tie dress code. So Ceara sang our first dance as well, which was just so amazing. Brian and Melissa accompanied her so beautifully. It was the same song they did at the

We had listened to all these "wedding bands" but they were too cookie cutter for us, we wanted something different, more romantic and special. Emee suggested Johnny Martin. He plays little gigs at hotels around Portland, but then he knows a bunch of guys who can accompany him when he plays big band stuff. He only does forties music, but that fit perfect with our old school style we were going for. We also had a DJ for MCing and dancing later.



After we danced we went with the wedding party back to the entry way to collect our buttons. Sciarrino and I had made up one for each person, specific to them.
It was attached to the seating card. We did not come up with this idea, it was in a Martha Stewart Wedding mag one year. Can I just tell you we had the most fun doing these. I went to the library and checked out every clip art book. Sciarrino did some cool stuff with colors and text, and that button maker, that thing is a blast.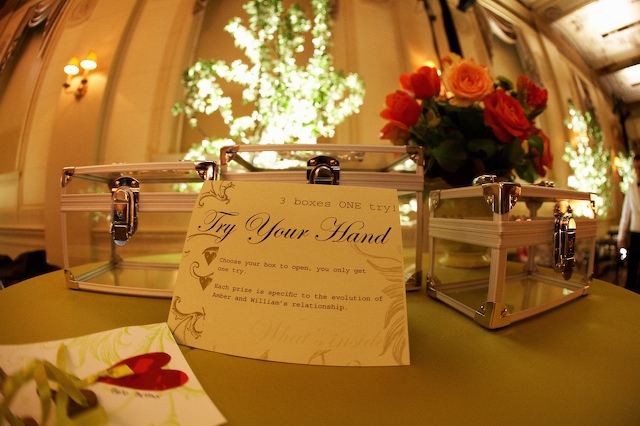 Bj wanted to have a door prize, to which I was like, "what?" I had never heard of anyone doing that so we came up with this compromise. We had three boxes that corresponded to three keys on the place cards. Our guests went to try their key and the winners got one of three things: an iPod shuffle with "WHG+ALP and our wedding date engraved on the back", a titanium spork, and a DVD of Zoolander. Each gift had a note about why that thing was important to us (we love Apple, we had a year long bet about a spork, and Zoolander was our first date). Oh and before I forget, check out those trees. They were picked by our dear family friends and my dad had them brought up, we put little spots on them and they just added the perfect touch to the room. We also had a candy bar:



Somewhere in here we ate but it was really a blur of eating and congratulating. I don't think I have any pictures of the food, it was a plated service, salad and then chicken and stuff. I ate like two bites, it was good, but we were just way too busy. Good thing it was almost time for cake: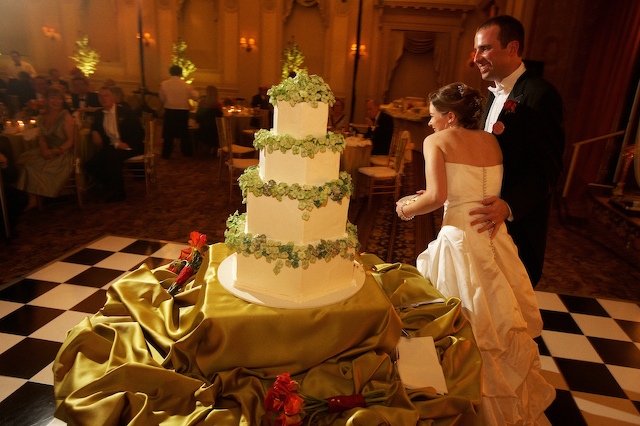 I have no idea why people cut cake. Anyone know? So this cake was so hard to do. Well it was hard to find someone who would do it. Bj really wanted a hexagon, and we couldn't find anyone to do that, or any cake we really liked until we went to Joeseph's bakery. They gave us four miniature cakes to try and we were in love. When we showed them the picture we wanted with all the sugar flowers they went in the back to talk about it and I was afraid it was going to be a million dollars, but it ended up only being five dollars a person. They painted the sugar flowers all different colors of green, layering them together and it was so beautiful. The cake was oh so yummy. Next we brought out the champagne. Remember I had

The toasts were wonderful. Especially Sciarrino's special toast to my mother for all her help with the wedding. She totally deserved it.



Then I got to dance with my dad. We had no song picked out until like the week before. We wanted something that Johnny could play so we could dance with the live band. It turned our really fun because we danced to Mack the Knife. It was really fun and upbeat, totally us. He had come in that morning to my hotel suite to practice. I was like "dad, quit whipping me around so much." He was all, "oh come on, it's fun." I replied, "it's not that, I just don't have a bra on." hehehe. I was a little more secure in my dress so he swung me around like crazy. So fun.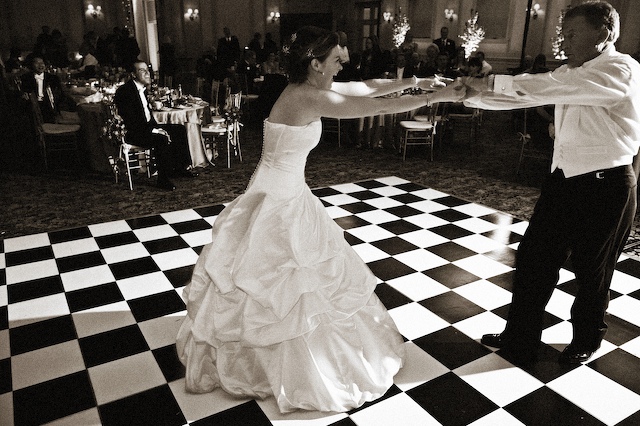 Then it was time for everyone to get out on the dance floor.



Doesn't that look cool with all the layers? We took some shots of the Sprague high school alumni: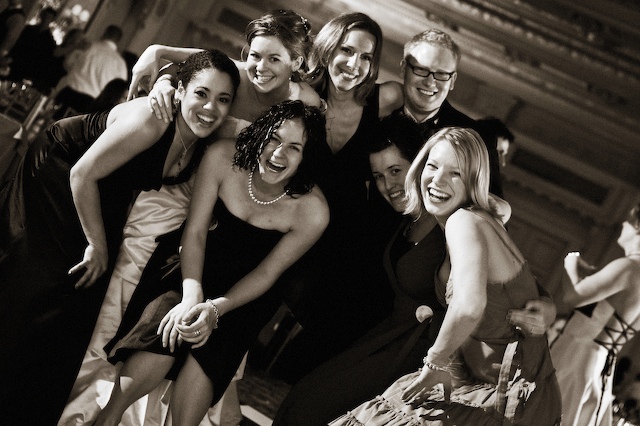 I love all these people oh so much. Then it was time for a little surprise: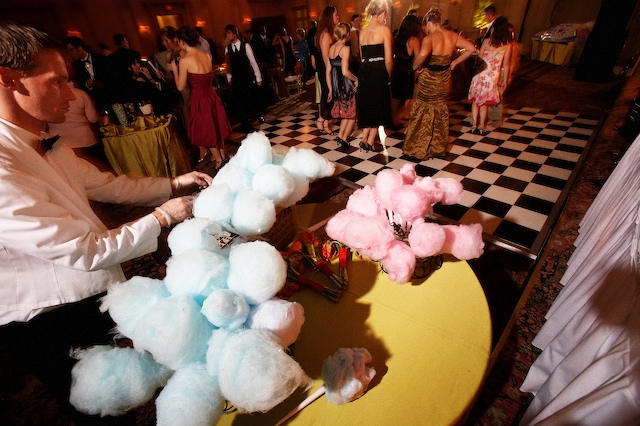 Cotton candy to keep everyone going. So yummy. I could totally have a cotton candy machine in my home. I'd probably die of sugar overdose but yum, yum, yum. By this time things were quieting down a bit, and most of the older people had gone home. I looked over to see Taylor being pestered to death by my little sister and her friend. I had to send the photographer over (so glad I had him stay all night):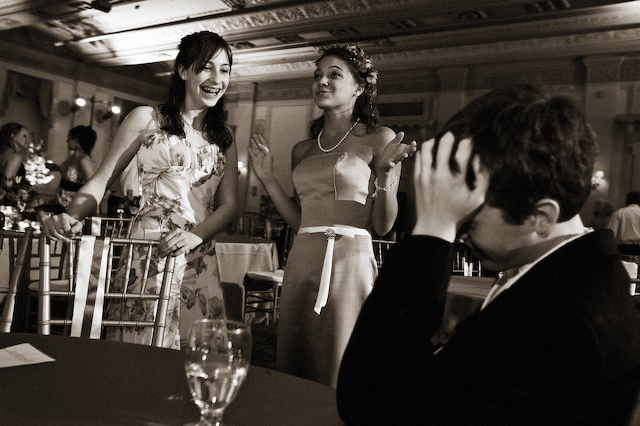 Oh Taylor buddy, LOL, sorry! Bj re-enacted our

(uh, hum, ya right). Then it was time to make our mad dash exit, through the tunnel of love: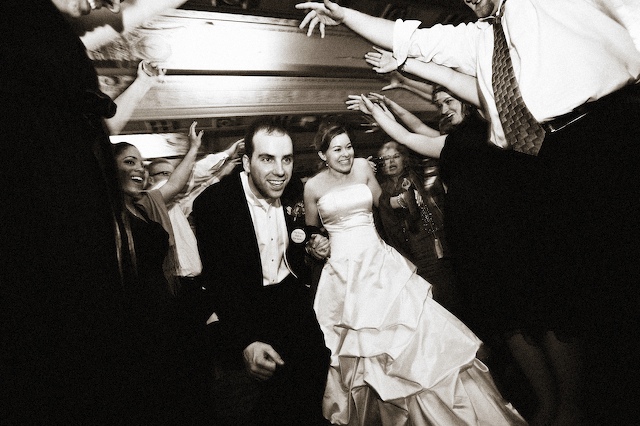 and we were off.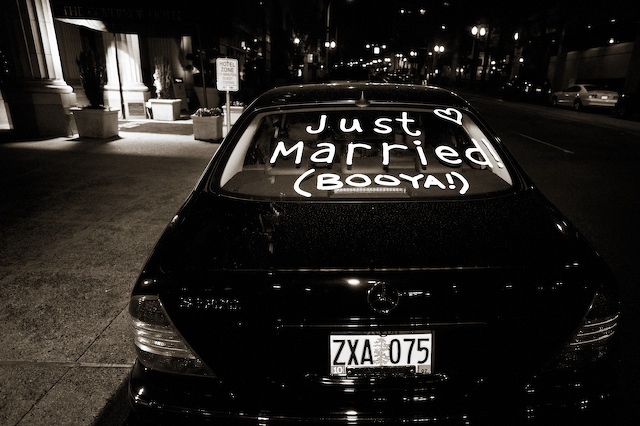 Could this post BE more picture heavy? I think not. Anyway then we were off to this awesome hotel suite. The next day we had a brunch for everyone who stayed in town, which was so wonderful because so many people had come a ways and we got to see them again. I don't really have any pictures, but I got all blotchy saying goodbye, so that's probably a good thing. There you go! If you'd like to see the pictures of us walking around let me know, I put a few up but I have some more fun ones. Oh and just click the category "I'm getting married" to see all the wedding stuff at once. And again all these pictures were taken by our wonderful photographer Eric.