Okay so if you were to come over the first thing I would say to you is, "I know, I know, the front of our house does not mirror the cuteness within!" And it's so true. And a big part of that was the whole sheets-for-curtains situation (one of which was, uh-hum, bright and plaid). This is terrible, but two of our rooms have had this going on for the full year I've owned the house. Yikes! I have had fabric cut out for the craft room curtains for months now, but um, never got around to finishing them up. So I decided to buy more fabric and do the bedroom curtains first because those were pretty easy. I finished those last week:



There is nothing like that high feeling you get when you finish a long standing project. Man I felt like a super star crawling into bed last night. And then this morning to come in and see the great light effect, like stained glass. It sort of reminds me of that picture in the end of Kaffe Fassett's Glorious Patchwork, the Jewel Squares Blind. Yummy. Anyway so the real problem was I bought the fabric not allowing enough for my normal fold over deal (see above). So I had it all cut out, but had no idea how I was going to get it on the rod. I thought ribbon tabs, but it kind of over-whelmed me. Until last night when I had a light bulb moment. Duh, the things are just like the ribbon tab baby blankets! Which reminded me of something else. The ideas section on my site is sort of sucking, so hey, why not take pictures while I work! Genius.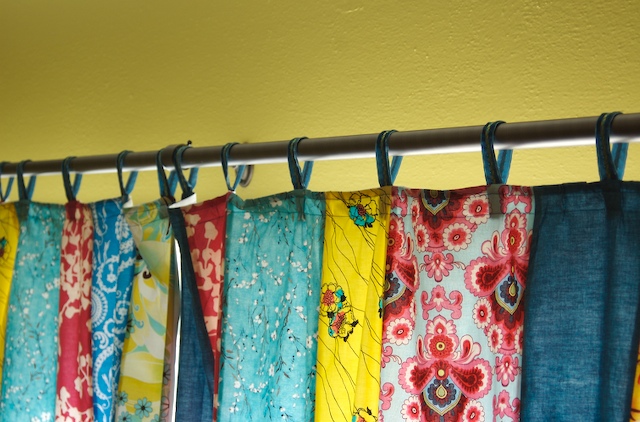 So I made up a little tutorial that will hopefully link to my next newsletter. I used the most insanely wonderful ribbon on these. Velvet with stitched satin. So fabulous. Not on my site yet, doing that today, had scanner issues… Anyway it gives a totally different look to the room: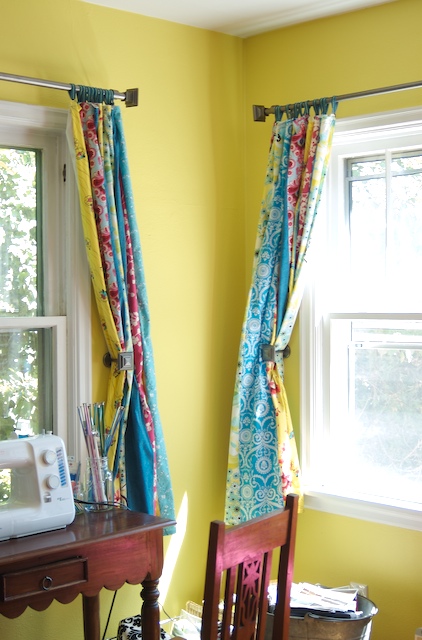 I do think I need to take my machine in to get serviced and cleaned before it explodes. I got it for my 21st birthday and I've never done that! I can't believe it made it through this project, it kept freaking out on me (hmm do you think big globs of lint cause tension issues?).
So today I got a new grown up hair cut to match my grown up curtains: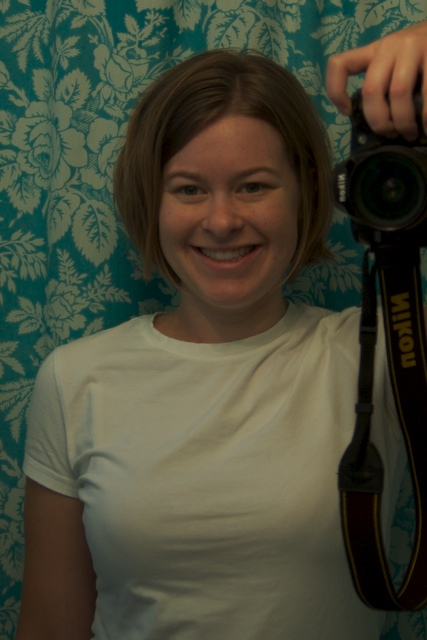 I walked in and Bj said, "whoa you look hot." Nice. 🙂