Still working on my wedding scrapbook. I'm trying to use things I have, so I'm making it in one of those Scrapworks albums that have different pages in them. I need to get more 12×12 pages for it though, I'll have to search for some. I thought I had like a ton of empty albums, but turns out though I scrapbook sporadically I've still managed to fill seven albums. They are so completely random sometimes too. Making me want to do this next. I did four pages in separated pages, so they don't photograph well, but I thought this was a good one to put up here. Remember

My knitted skirt deserves its own page I thought, as I love it so. Other things I love, love, love?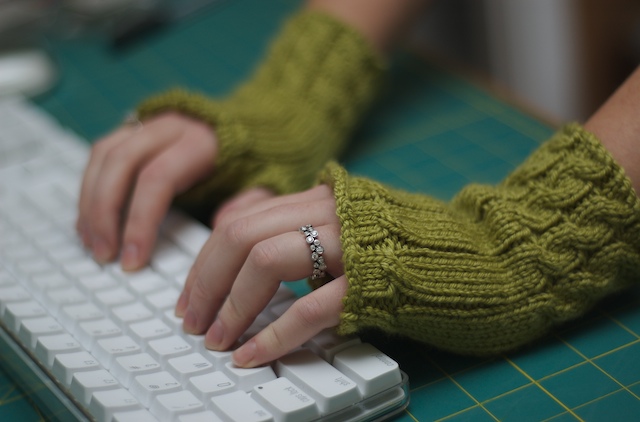 Sciarrino whipped this pair of fetching fingerless gloves up for me. Okay so she didn't, but they were too small for her so I got them, yeah! She also brought me a paper sample packet called "recyclopedia" I have serious paper sample love. The two squares I punched out in the layout above are from the set. It is just the most fabulous thing knowing people who just get you, you know? Thanks Sciarrino!