I had a fantastic weekend this weekend with my two old roommates Sciarrino and Laura. I hadn't seen Laura since the wedding and hadn't really hung out with her in years. Sciarrino had this idea to go to this cool place in southern Oregon call the Treesort for her birthday (which his Friday). It's a bed and breakfast (sort of) up in the trees. The cabins are literally up in the trees. We got there after a day of driving down the coast (Sciarrino and I) and then dipping into California then coming back up near Cave Junction. It was so crazy cool to get there at night. Twinkling lights hanging from the trees, kids running around, the campfire, magical. We hauled our stuff on pulleys, crazy cool, funny and dangerous, as a diet coke plunged out of a bag and nearly impailed Sciarrino. The next day we were able to see the whole place:



The tree we were in (Forrestree) was up about 40 feet. So you went up spiral staircases and then take the suspension bridges across.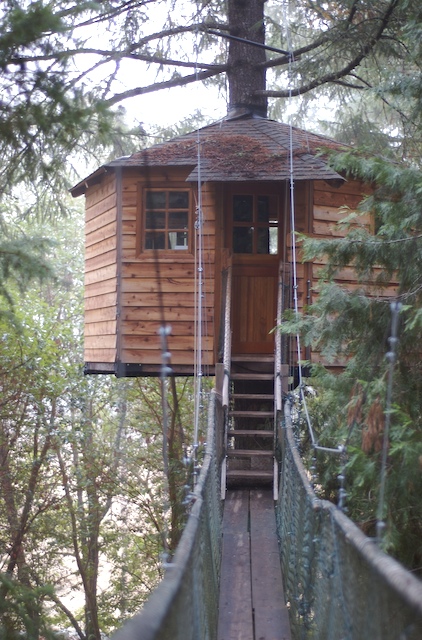 That's our treefort. It was sort of scary in the dark hearing all the creaking and the swaying of the bridges. It's really hard to get a shot of the inside, you know with the whole tree going through it!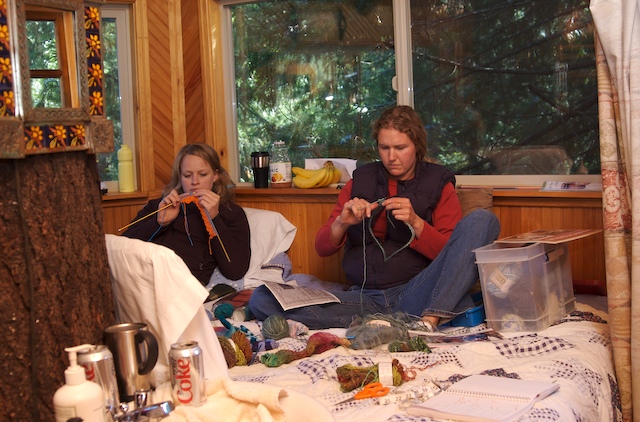 So there isn't room for a table or anything, but there is a queen bed, then bunk beds behind where I am standing here. There is a toilet tucked next to the door and a sink hooked to the tree. Also room for a little heater and fridge. Plus we managed to fit a smores maker in there: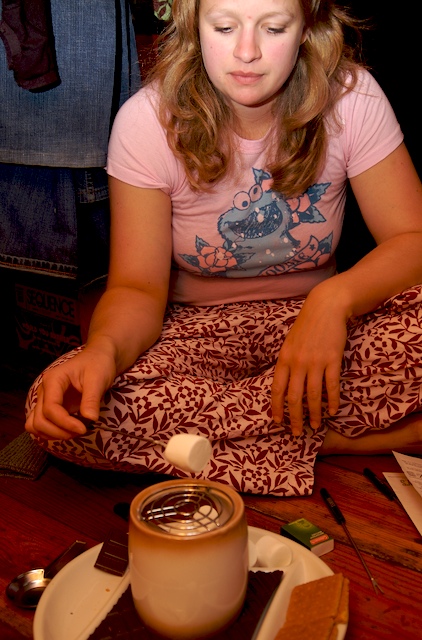 Some more shots from around the place: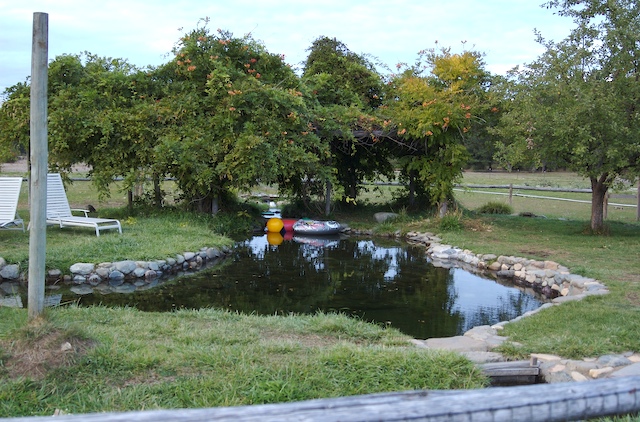 The pool, a little too chilly for this weekend.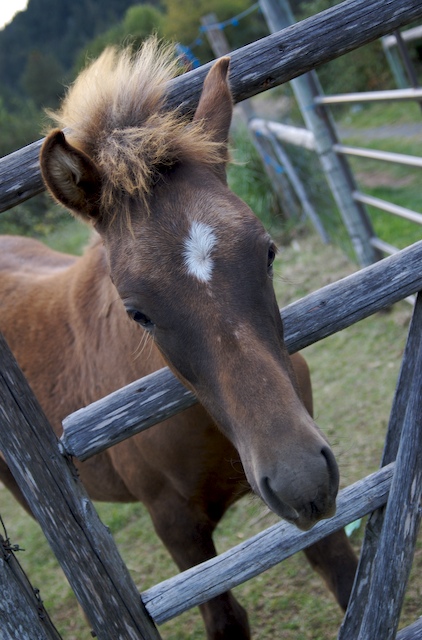 Awe!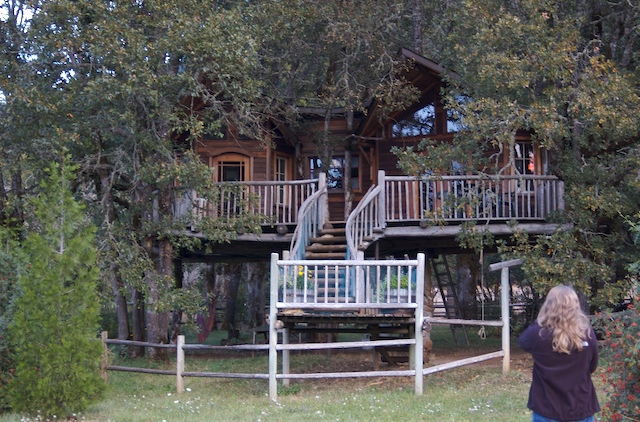 One of the lower houses. We also went on a horseback ride (my butt still hurts, not quite as flexible as my eight year old horse-back riding loving self) and did a zip line course.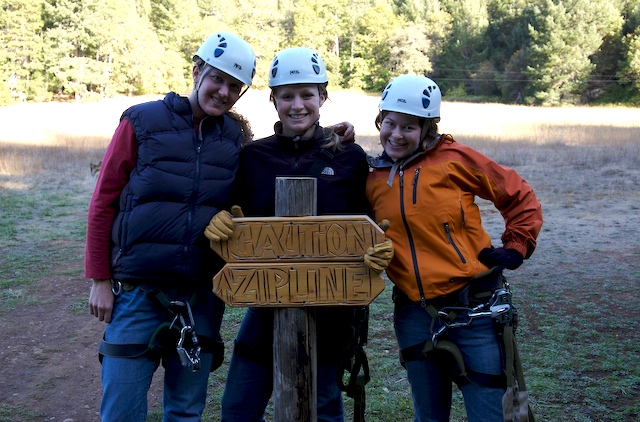 Ziplines are so much fun, but I totally had to push myself on this one. One of the higher ziplines you have to climb a forty foot tree. I had clogs on and have NO upper body strength (I am such a weakling). But I did it! We were going to go over to the big swing right after this, but the golf cart was out of order (you'll see), we still went over there to check it out. I was like, um NO WAY. But the next day the other girls got to try it. It had just been built a week before and I could not see how you were not going to hit the trees. So you get harnessed, and then hang onto these handles: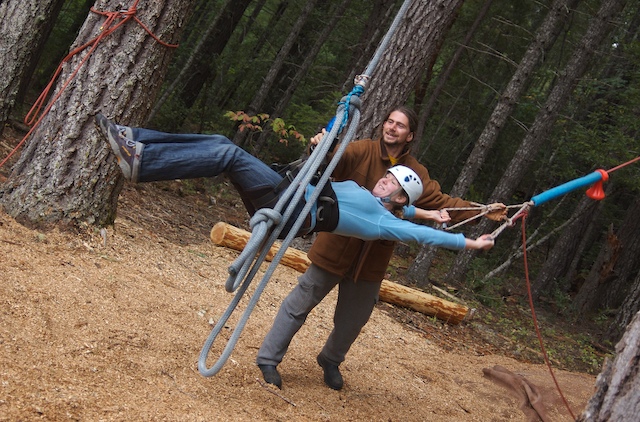 Then you get towed really quickly up 60 feet and then you have to let go and you, well swing.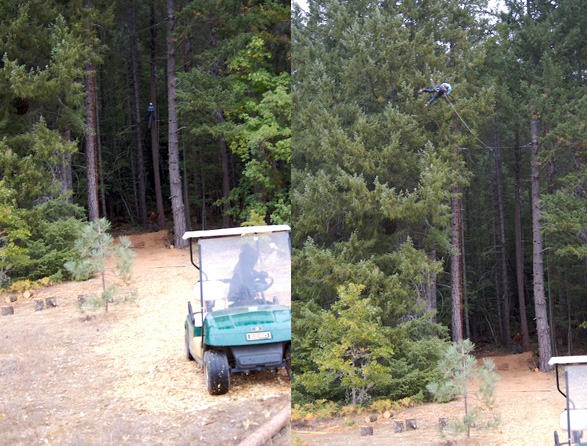 Yikes! So I was the picture person on that. The whole weekend was a rush though, a great time, and I totally reccomend this place. They don't really have a license as a B&B so you go as a "friend" Hehehe. It's so Oregon, so crazy, so great, I loved it.