Yesterday a friend of our families came over with such a delightful surprise. She had emailed me to ask if I wanted some old patterns of her mother's. Of course, I said! I ran into her at a shop a few days later and she told me, "don't worry I won't bring all the old needles and things." To which I practically gasped and said, "oh no, I'll take anything." So I got two big boxes of vintage knitting pattern books and magazines:



(my piles halfway through sorting them with glee). She also brought over an envelope of circular needles and this: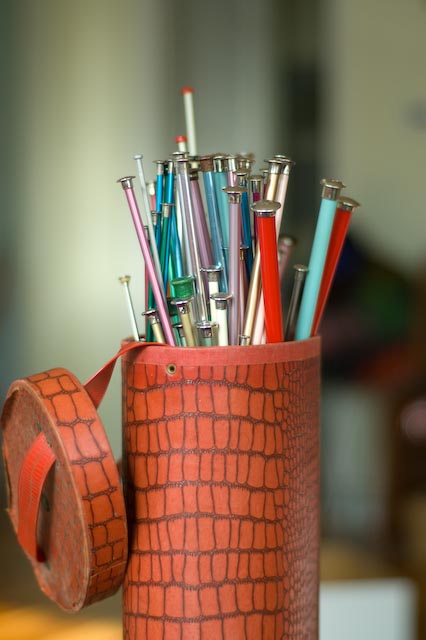 Dozens of sets of needles in the funny little box. Now that I'm on Ravelry (here's my page), I get to keep track of things, like what needles I have. So I can sort these and fill in all the gaps, yeah! Like I said I went through the magazines and I pulled out a box full that I don't really need (as they tend to be sort of similar, like cardigans, socks, caps, etc.). They are in great condition, a little musty smelling, and mostly from the 40s to the early 70s. If anyone's interested I'd be happy to send them to you, I can just figure out what postage would be and you can pay that. Let me know.
Well all of that is a lot more fun than my other current project. When I got back from Hawaii I knew I had over eaten terribly over there. Wearing a loose fitting cover up over a bikini doesn't bode well for keeping portions in check. And since everyone else drank (I'm not a big alchole fan) I probably had a dozen syrupy drinks, like Shirley temples. So anyway I got home and weighed myself for the first time in a while. Oh my god almost fell off the scale, I had gained 20 pounds since graduating college! Ack! Now I don't put much stock just in weight, you can eat terrible things and weigh not much. In college I was on the crew team, a coxswain so I usually weighed between 112 and 115. But my diet was almost entirely candy and diet coke (no joke). I gained weight right away after graduation, since I wasn't biking to class, walking across the campus, or on the boat. But I have been a terrible eater lately and I can tell the metabolism of my 27 year old self is not as good as that of my younger self. So it's back to something I've done before: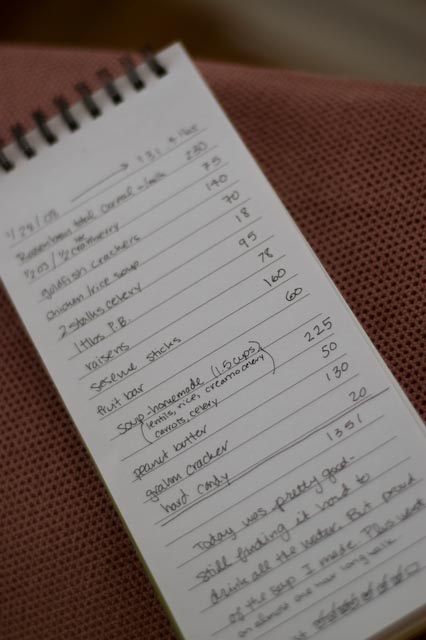 Keeping track of what I eat and counting my calories. This helps me a ton because candy has a shit load of calories, compared to like, a bowl of cataloupe. Plus you know how some people are big boned? Well my bones are like dainty pieces of glass and I'm short, so in order to keep my weight in check (or loose some) the allowance I get for calories is not a lot. Oh Sciarrino don't even say work out more, I know you want to, hush! I am going to try a little though. The last time I tried this was over two years ago. I was even lighter then. It's just so easy to grab a chicken sandwich and frozen coke from Burger King, but NO MORE!