(insert picture of sunny Waikiki beach with sun-bathers)
Bj and I have just gotten back from Hawaii! It was the ultimate in a total relaxation vacation. We did as close to nothing as possible. I did mean to do a post before I left, but I'm the best at last minuet packing, which I did as horribly as usual. Long sleeved shirts and jeans for the beach? Ugh what was a I thinking. We went to Hawaii with these jokers: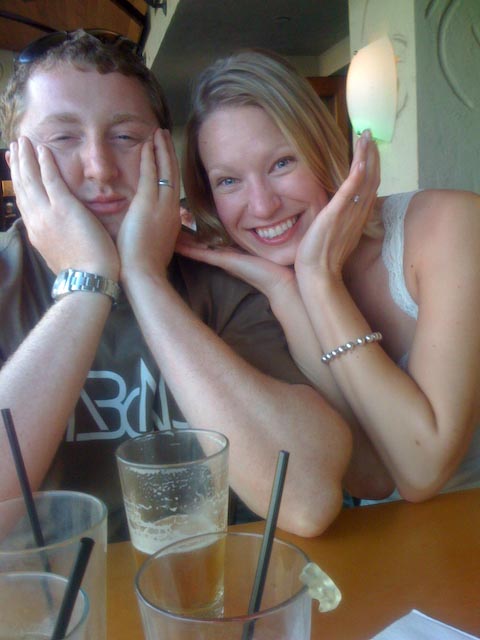 Carmen and Andrew live up in Alaska, and we visited them this summer. The last time we were in Hawaii was for their beautiful wedding. I hope though you are not looking for some great pictures like that. When I said I was lazy, I mean really lazy. Like went to the beach, laid out, ate, blah. So great. The only problem was the last day when it was a little cooler, so we got the "last day syndrom" and decided that a lot of sunscreen wasn't needed, oh we are so burnt. It looks like I'm wearing a white bikini with some kind of silly bright red leggings. It really highlights the trifecta I have going on: the ghetto bootie, the Buddha belly, and the the thunder thighs. After all that beached-whale like laying around and eating (mmm macadamia nuts) I am seriously going to go on a healthy eating kick. I so love my sweets, argh!
Well I'm back now, going to get back on my crafting, after all the difference of 50 degrees or so warrants cozying back up with yarn!