Today is my three year blog anniversary. So weird to think that three years ago I wrote this and put my pigtails out in the world. I don't even really remember what started me on it. I have always journaled and kept track of my life, I think this really seemed like a great way to do that. The thing I never expected was how much happiness it would bring me. I'm sure I waste buckets of time reading other blogs and working on my own, but I love it. I love to see all the ideas out here. I love to contribute. I love to get comments, and hear from people who are reading. I love that it has made me take so many more pictures (the death of my film camera was this blog).
One thing I've heard is that you should have a focus on your blog. That readers will enjoy a more consise story. One just about crafting, or just about renovation, or relationships, etc. At first glance I think my blog sort of lacks that main thing that I talk about. I tend to go all over with what is happening in my life. This will be my 671st post, and I think I have like 72 topics, at least! But I hope what the people who have visited my blog (right now: 179,584 views) come away with is happiness. I try to find the good in everything, and everyone. I don't always succeed, and I've had my share of rough patches these last three years, but for the most part that's what I put out: the good. And that's what I want to get back. And I do, over and over (3,109 comments so far). I feel so lucky to be able to live the life I'm living. And I always want to be like this, opptimisitic. So I put together a little project.


This is going to be my go to guide for day to day happiness. When I need a pick me up I can grab this book and do something that will make me happy. Here's my sort of mission statement for the project: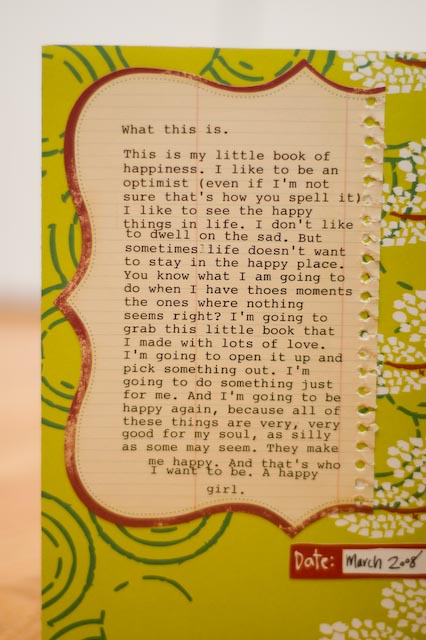 Lately some people very important in my life have been unhappy. And there is always something to make you like that: physical pain, emotional stress, job worries, relationship problems. But I really think it's best not to dwell on all the negatives. Or at least step away for a moment. You don't have to make a book like this but I encourage everyone to make a list of five things. Five things that will make you happy TODAY, five things that will make you happy this week, this month, this year. The last category is five things that when you are old and gray will make you happy knowing you did them; lifetime happiness goals. Here's what I came up with.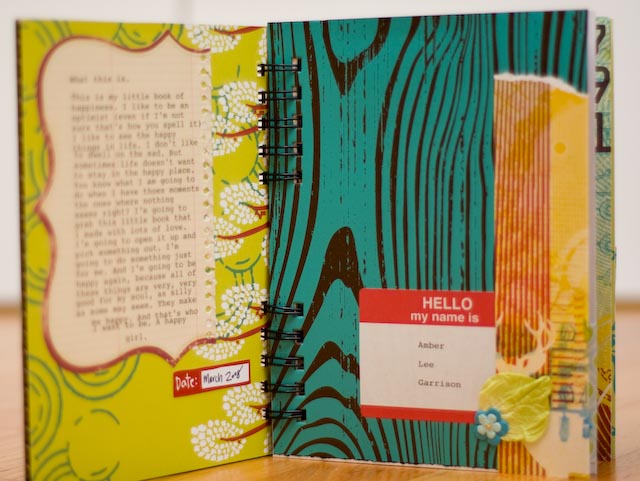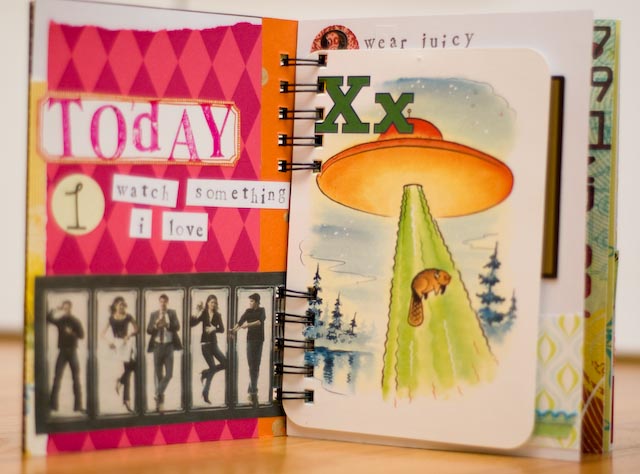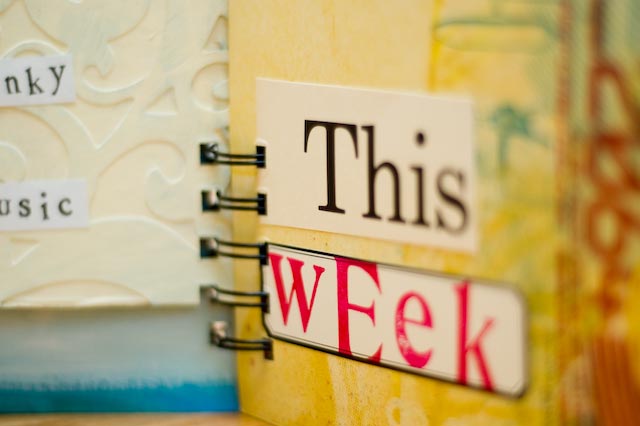 So there you have it. A few of my happy things. As I started working on it I realized just how many things make me happy (lots!) so I cruised past five. And some of them might seem silly to you, but that's okay because your happiness list should be about what makes YOU happy, not anyone else. I only had a few guidelines for myself. I didn't want any of the things relying on other people. I didn't want to put anything regarding food (um, but did cave on the diet coke, mmmm). I tried to balance out the going/buying/making things so that it wasn't all about stuff. I LOVED this project. It's still a work in progress. I really need to think about what is going to make my life happy in the long run, but it is fun to include both those things and the instant satisfaction of say, wearing juicy joggins all day!
So in honor of my three years blogging I thought it would be fun to give away three kits for this project. I will put together a set with cover, spiral, Berry Patch punch (if you don't have one, snag one up as they are going out of business), ribbons, paper and doo-dads. It won't be exactly like mine, but should be fun. And hey getting mail is happy! If you would like to be included in this little bit of fun simply comment on this post by Monday, March 10th at noon Pacific Time. I'll print out all the comments and pull three out. I'm still waiting on a few of the supplies for the kits so they won't ship out right away. Good luck! Love you all!