Wow you guys, thanks for all the love! I cut up the comments and had Bj draw so I could remain impartial 🙂
The winners are:
Jen Gough
Nicole
Sarah
Congrats guys, I'm off to email you all now and get your addresses so check your junk mail folders.
I spent this weekend being very happy indeed. I got to be with two of my dear friends to celebrate their engagement and take some shots of them. I was oh so nervous to take these photos as I usually shoot kids, and hadn't done a formal shoot like this. But Kristen and Eric were super fun and relaxed. And of course very good dressers which always helps. Here are some of my favorites from the shoot (which yielded almost three hundred, of which 50 I love, love, love)!



We started off walking around downtown Corvallis (we all went to school there).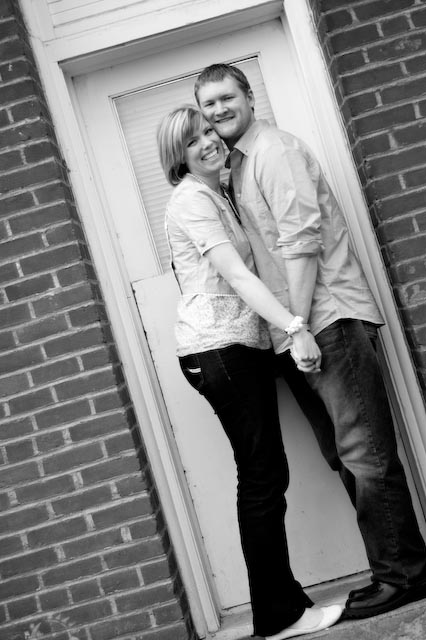 Awe come on, I had to do a couple of my tilts!



Her ring is awesome, good job Eric!!!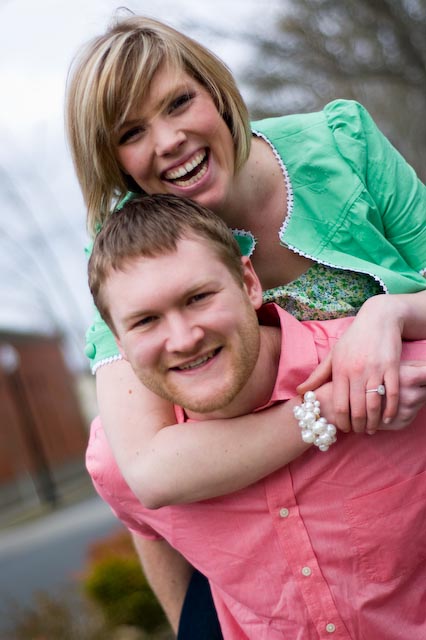 My favorite?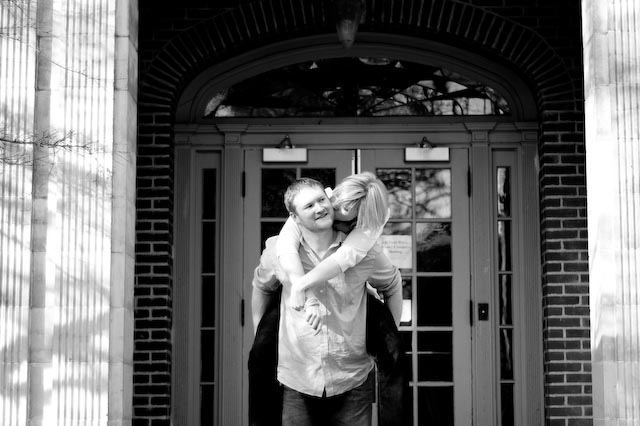 Then we headed to campus (where we saw Angela, who was also shooting an engagement, how random!)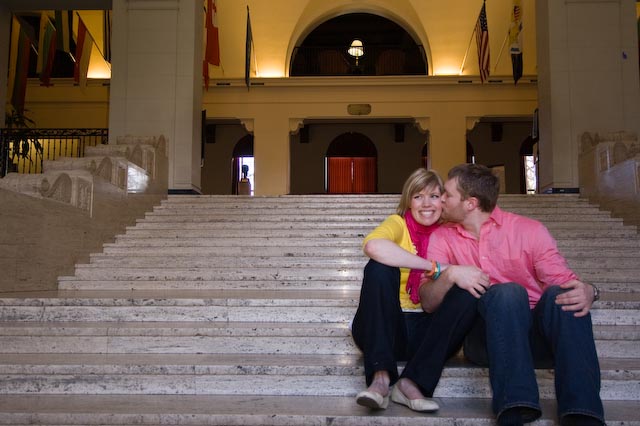 Inside the MU, I had them moved the signage (why is this not coming up as a word?) that is usually up on the steps, and I like how clean this shot turned out.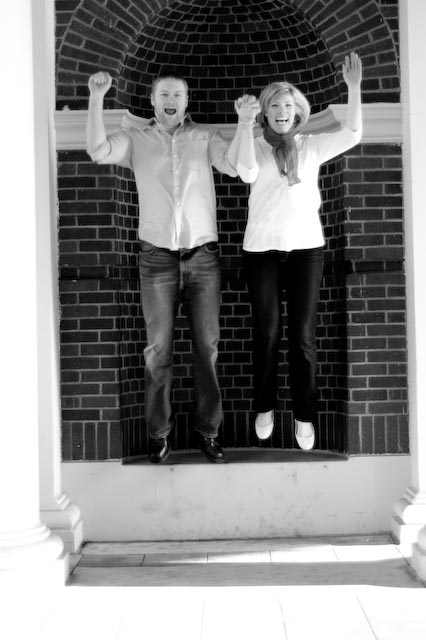 Erin do you see this? I went to our nook, remember being all stupid and pretending to be statues there? I took some more of me, will show later.
(oops hit save before I was done posting, now the spaces are going to be all whack).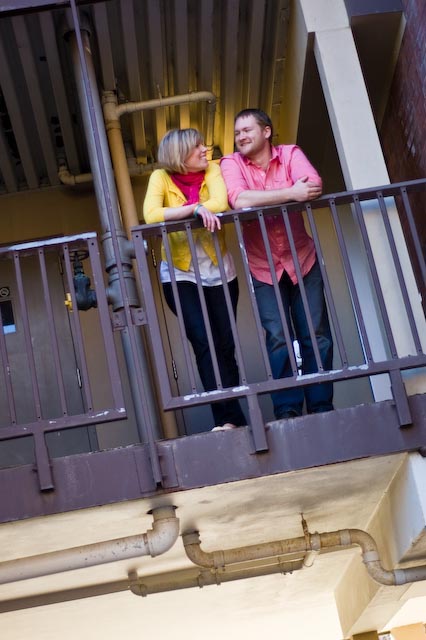 They had to get someone to let them into the dorms to get this shot, and then walk through a hallway. I stayed outside, but was told that it smelled just the same. 🙂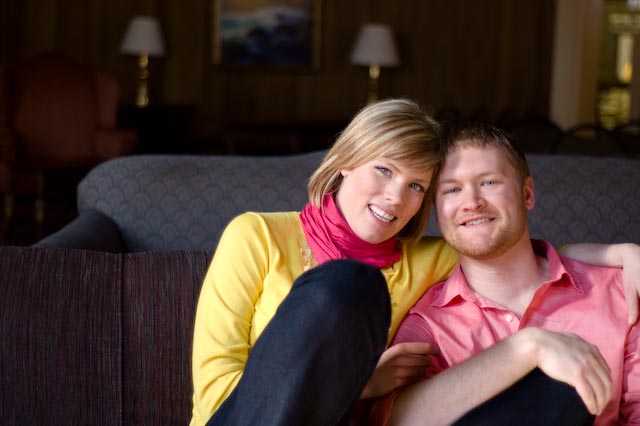 In the MU again. It was set up for some kind of talk.
Reading the "police beat" from our campus newspaper… "__________ was arrested Wednesday for stealing a figurine from the bookstore, valued at $3.98." Idiot.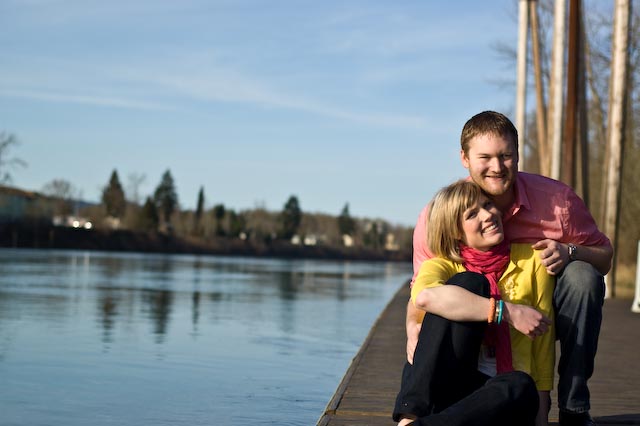 Down to the docks. We took a team photo here once and the photographer was on a boat on the river. When we all started to come down on to the same part of the dock together it sunk it lower than it normally goes and spiders started coming up all of the cracks. So Reid was only down for a minimal amount of time as she said it still haunts her. It was pretty creepy.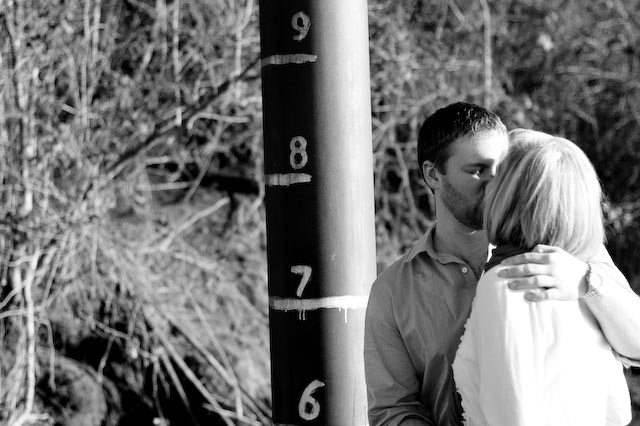 Seven years together you guys, oh my gosh!!! That is so awesome. I love these guys and I can't wait to go to there wedding! I'm sure it will be as fabulous as they are.
The reason I decided to do the shoot down there on Saturday was actually because we had a past, present, future alumni event at Reeser Stadium (which is huge now). I got to see so many wonderful people, some of my favorite in the whole world, including my old coaches. My novice coach Jane, especially holds a special place in my heart, and she moved on to head coaching up in Washington my third year on the team, so any time I get to see her it's great fun. Lots of stories to tell, laughs to share. Not only did we honor our old head coach, Charlie, with a boat dedicated in his honor, but we also kicked off fund raising for a sorely needed boathouse project. It's sort of a joke with all of us that went there, about how bad the locker rooms are and everything, but it makes it so hard to get good recruits. I think this is a great step, and shows how the university is supporting the crew teams now. Here is a newspaper article from the night.
Hmm what to say about Sunday. We overslept, I can never get used to time change, and Bj's mom came to visit. And despite everything else I had to do I could not resist going through these happy photos. Then this morning neither of us set alarms and we didn't get up until 10:30. Let's hope for better starts tomorrow!