Saturday was my mom's big 50th bash. My step-dad Bill and I spent the whole day working on it. Earlier this month when we got together to plan everything and I rattled off lists of things we were going to get, make, do, etc. he asked if he needed to do anything. I get a little over-zealous with party planning, in case you've never noticed. But he did have to help on Saturday, shopping, chopping, and cooking to put together this:



Brent the bar tender. Check the homemade (and slightly supplemented with Newman's Own -shh) strawberry lemonade, yum!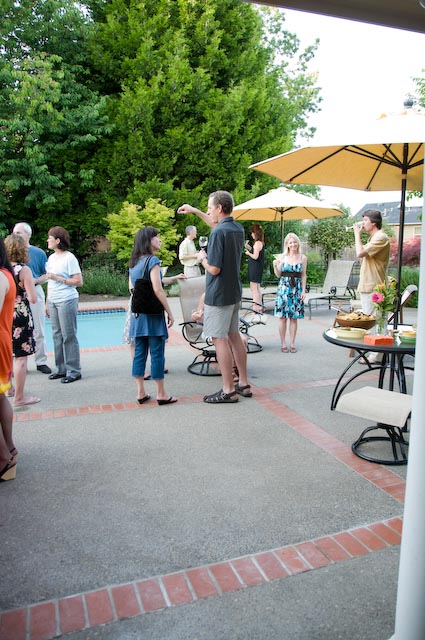 Party was at my mom's. Ah I love her backyard, so party friendly!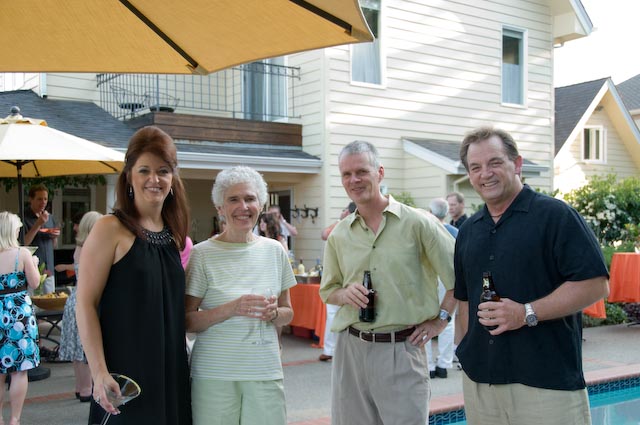 From the left: my mom's friend from I think middle school, Kim. She gave her this framed picture of my mom on cheer squad when they were really young, so cute, long pigtails! Then Bill's mom, Bill (my partner in crime), and Kim's husband. I didn't get pictures of all the food we spend forever working on but I did a french type potato salad, a yummy fresh fruit salad, and BBQ burritos (pastrami, peppers, onions, pepperjack cheese, tomatoes in a flour tortilla then grilled in foil). We also had chips and dips along with the bar my brother set up: lemon drops, pops, beers, wine, water and the lemonade. Full disclosure: my mom did end up helping chop veggies a bit. She's so fast at that kind of thing!
It has been hotter than hot around here so I spent the next day at this pool doing nothing. Oh I did a little knitting I guess, but still day of perfection. And it got to be over a hundred here and I still managed to keep the max temperature at the house below 85. Sounds, hot but that was only for a little bit. With no air conditioning I think that's pretty good. Hope you're staying cool and your weekends were as rockin!
And totally random: But do you ever watch NBC nightly news on the weekend? Lester Holt always looks like he's about the crack up on every story, even terrible ones like war stuff and house fires. Am I alone on this? It sort of cracks me up, I can not take him seriously.