I know being gone from the blog this long should mean that I was doing something so fantastic, like picking up and heading to Paris or something (passport not up to date, sorry). Instead I was busy being sick, yuck! And not fair because Saturday was my birthday and I was a sniffling sometimes crying mess. Let's back up though. Friday I was feeling a little under the weather, but pretending like I was okay so Sciarrino and I headed up to Portland. It was a day of pure Amber-Sciarrino fun times, the best kind. We chatted it up in the car (she drove – thanks Sciarrino!), shopped a bit, and even hit up a babies-r-us, crazy times. 🙂 Did I mention the dinner at Sweet Tomatoes? Or the pit stop at Abundant Yarn and Dye shop? Ya it was awesome. On the way back we picked up her sweetie and headed home. But wait she had another stop to make. Ahhhh I thought they had forgotten, but no, Bj and Sciarrino coordinated to get me the fourth consecutive birthday ice cream cake. Always trying to out do themselves they got me this:



A knitting gold medal, score! They always base it off of what I've been watching on TV, lately it's been the Olympics 🙂 And I totally earned this by the way. I'm doing toe-up 2-at-a-time socks:



Let's not talk about the fact that one sock suddenly has one less stitch than it's supposed to or the fact that I have no idea what to do after the instep (this looks hard!) or that since I can try them on as I go I'm certain they are going to be too big.



But instead focus on the fact that they are a) out of my handspun, b) not for the baby, and c) are going to be kick ass knee-highs, though possibly for someone else 🙁
So onto the birthday haps. Bj made me a big yummy breakfast. We met with an electrician to get a bid, then chilled for a bit. Bj's mom got me foot soak, so I tried it out and painted my toenails (maybe for the last time, it was hard!). I was meanwhile starting to go down that slippery slope that only a bad head cold can take you down. Croaky voice, lots of kleenex, yuckiness. I like to act like I'm dying when I'm sick so I was a mess. Bj had plans for me later in the day, I knew. But when we were running errands before said plans I started to sob for no good reason, other than I felt yucky. He asked me if I wanted to know what he had planned, and I broke down and said yes, fearing I wouldn't be able to do it. He had planned to drive me 45 minuets south to my favorite Indian food place, then take me to get my favorite dessert, also in that town. Then come back for the fair. I started crying again, I just knew that I would never make it through all of that, with the cold, and the bad side pain I get every evening. He asked me what I wanted to do and since I HAVE TO go to the fair to get my annual portrait I said just to the fair. We went, I got the portrait: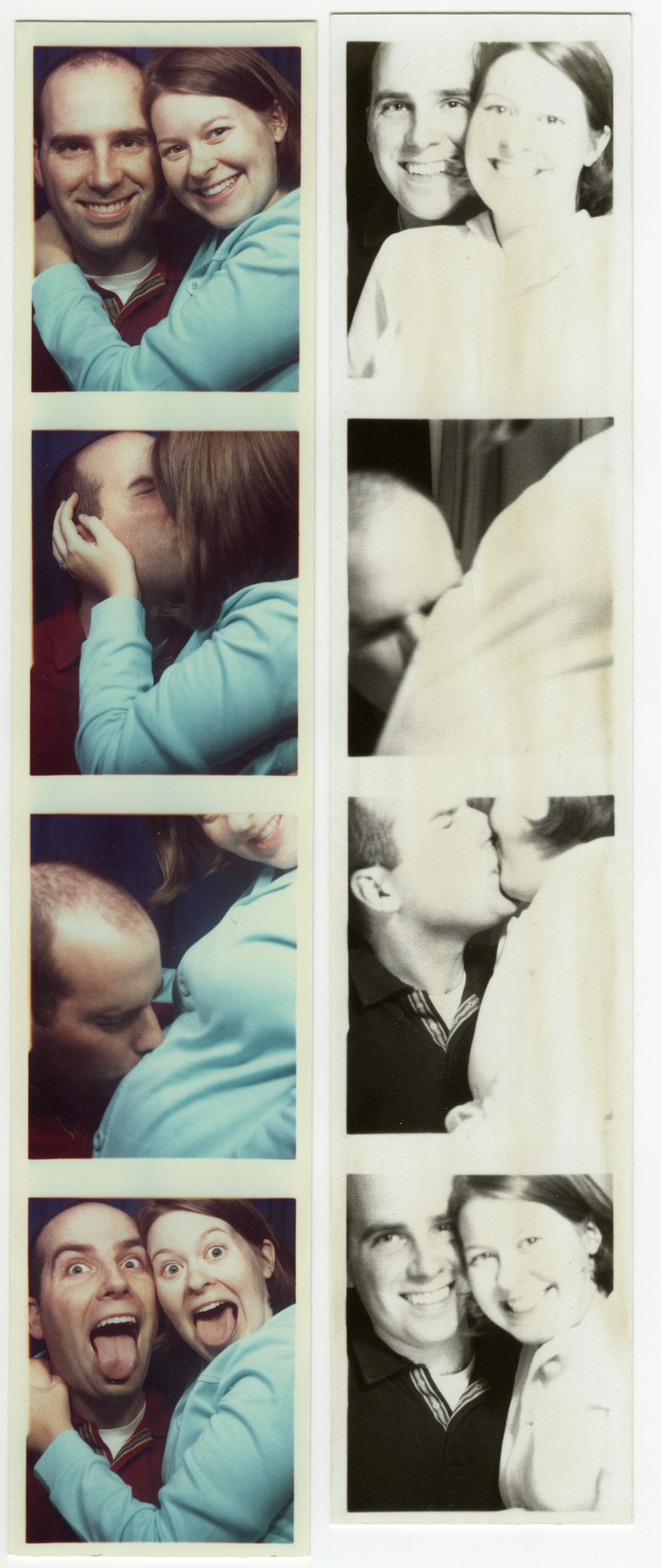 And the black and white one was all splotchy so I made Bj do a color one with me as well. I only lasted an hour and half and then I was DONE. Bj was so sweet, we went home and just relaxed. I don't think it was a bad way to turn 28, just not what I was expecting. Oh and I saw this at the fair:



Crew girls, who made this awesomeness? I want one! Look, it's me in the back!
The rest of the weekend I had to totally take it easy. And even succumbed to some (dr. approved) drugs. I did do something interesting today (besides watch the totally awesome Bones premiere!), details to follow. And a package showed up on my doorstep with the new Kathy Reichs novel and Alias Season One, babers thank you! I said no presents, but happy happy day to me 🙂