So yesterday we had our windows dropped off by a friend (who sells windows, convenient, no?). I was showing him around and I said, "I just can't wait until everything is clean." And he said something like, "Ya, I couldn't live like this." That's when I realized that it really is crazy. I'm freaking pregnant! So I give you some update pictures: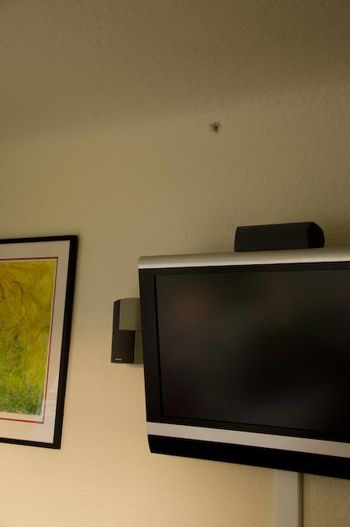 Me going upstairs where there were eight guys working, "Who cut the hole in the living room wall?"
Plumber, "Oh I did that."
Me, "Why?"
Plumber, "I went down the wrong wall."
great…. Plaster now all over Bj's electronics. So glad we're keeping the furniture covered. But in better news, they plumbers are doing a good job getting everything stuffed into walls. We were afraid the plumbing coming from the new master bath was going to have to show in the stairwell a bit, no worries there. And the plumbing from the kid's bath was going to have to run behind our current toilet (causing the wall to have to move out 2 inches), but they figured out a way to do it behind the sink, which is already fired out for the large pipes. Score!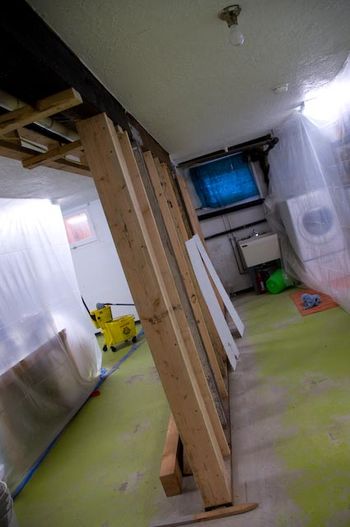 The basement is not SUCH a disaster. The new footings are poured, and since they used hot set, they are dry. The walls are nearly done. My mom actually came up with a cool way to hide the pipes since we can't put back up the cabinet/nook thing we had before. Oh and she came up with a great idea for the space on the right. My mom is a design genius, I'll keep you posted.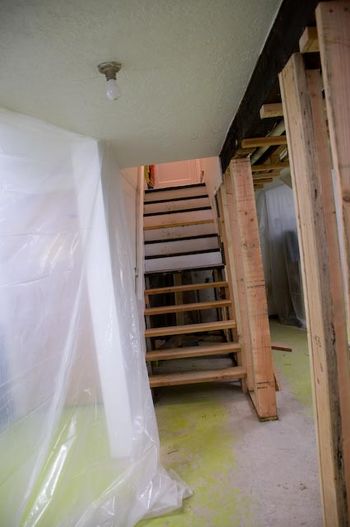 Check it out. Bj no longer has to have a heart attack like he did every time I went down the stair/ladder combo, it's all stairs baby! And with all the temporary supports gone it's much easier to get around down there. Meanwhile upstairs: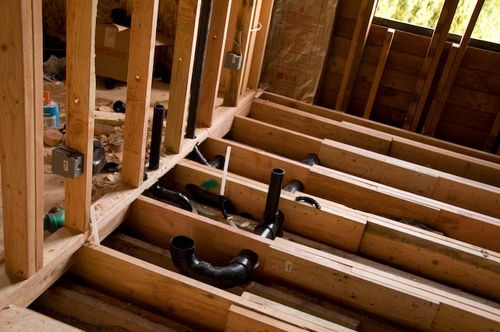 Said plumbing. Leading to an inspection today that when passed means the rest of the joists can be decked, which means the rest of the walls can go up, which means the electrician can finish up here, which is great.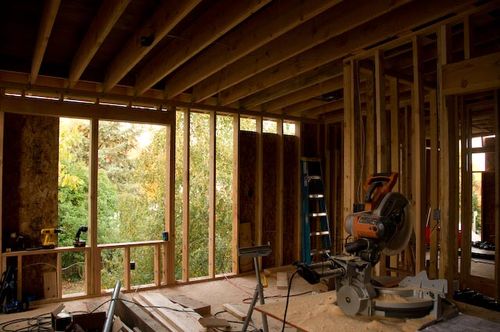 Windows go in today, and roofing goes on. This is actually moving fast. When I asked yesterday when they wanted the cabinets they said two weeks. I ordered and the earliest I can get them is the week of Thanksgiving. Oops. Bj says I'm going to get fired from my project manager role. Excuse me, who else is going to do it for free? 🙂 So yes, chaos. But I think I might have mentioned that I grew up around construction. And my parents never flipped out. We moved into one of our houses before the carpet was laid and spend a few days moving everything from room to room while one section of the house was installed. I called that an adventure, not annoying. Now this is more annoying than that, but I have some great guys working here, and a great imagination that lets me visualize exactly how it's going to look. People, it's gonna be awesome.