So ya, that totally sucked. I'm still not over it (the tree cutting thing). Today I peaked out my bathroom window to see what my neighbor was doing and he was sitting in his driveway on a lawn chair facing our house. Creepy. Ugh. I talked to the neighbors on the corner about the flood light. They were super nice, but can't turn it off because it's activated by nightfall. And they've had five break-ins. So I give them that one, and put up extra blackout fabric behind the curtains for now. We'll see how I do tonight. My nice neighbor Tracy gave me her old changing table, so you know, I'm leaning towards that side of the street :).
But that's not what this post is about. See way back in September my mom was supposed to take me to Portland for a fun day to celebrate my birthday. But that was scheduled for the day after grandpa fell, and she got to take me to my Dr.'s appointment instead. So Saturday was the day. She picked me and my belly up in the morning.
We went to the last farmer's market of the season and got lots of yummy fresh veggies. We had an early lunch there. I had the most delicious creamy lentil and ham soup with grilled cheese sandwich. I don't think I've ever had soup and sandwich out side on a cold sunny morning before, it was fabulous. We popped into a fabric store so that my mom could get buttons for a project she's not doing such a good job at keeping secret from me. I was trying to stay away, and once I saw she was checking out I came over and my mom was talking to an acquittance. She exclaimed upon seeming me, "What happened to you? Well, I mean I know what happened…." It was pretty funny. All the ladies in the quilt shop were laughing. We headed to my mom's house and I was just going to work on more little blankets, but I figured with my mom there I should tackle something a little trickier, since she could help me with the hard bits. And I made this: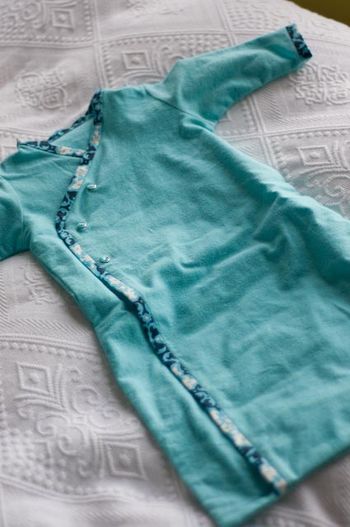 A little sleep bag! It's so soft (I made it out of flannel) and stylish. I used some fun quilting fabric to make the bias binding and even learned how to do snaps for the side.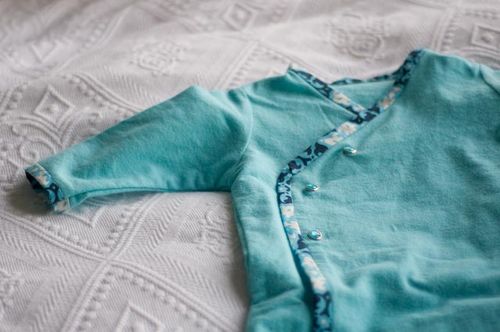 Can you tell that they are awesome snaps? Because they are. I bought them locally, and it turns out she is on Etsy so you can all check her out at Epic Erma. These are the Cowgirl Snaps. After that project took almost all day (and another trip to the fabric store) I wanted to do something quick. So I worked on this project: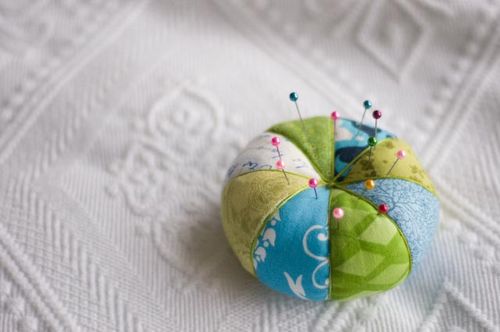 I've been wanting to make this pin cusion from Last Minute Patchwork and Quilted Gifts for about a year. I had no pincusion. Now I want like fifty, this was so fun to make, and uses just scraps. It was a great day, thanks mom! I have enough flannel to make about a million soft things, but am going to wait before doing anything too major because I have showers coming up! Can you believe I'm far enough along to have a baby shower thrown for me?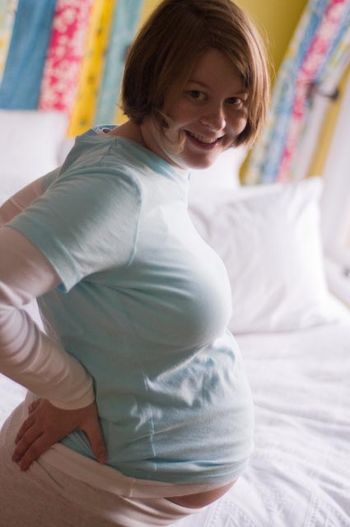 Now can you? Ya, check out that belly! Bj took some pictures of me today after I realized it had been 6 weeks since the last batch. But to be fair we had a crazy last 6 weeks. The one thing I've been doing every night is write in the journal Michele got me. It only has room for a couple of sentences, so it's easy to make time for. At the beginning of each month there is a spot for a picture (and measurements and stuff). The ones of me at the beginning are just insane. I can't believe I was ever that small (ohhhh my poor boobs!!!). I don't know what I'm going to do about the shirt situation. I think maternity shirts should be a bit longer, the larger sizes just get bigger everywhere, so that's annoying. Anyway for those of you coming to my shower some registry information. I know someone needs help on this because the store called me, but I can't figure out who it was that couldn't find my registry, so spread the word:
Use the sidebar of this site to find our registry at
Little Urbanites
in the Pearl
916 NW 10th Ave.
503.227.8729
They also have a new online store/site right here. You can search for me in the registry section but it is missing a few of the special order items and things that are not yet listed online.
We are also registered at
Wee Bunz
1-888-WEE-BUNZ
Speaking of diapers, Bj just said to me tonight, "I just realized that if we have a girl we're going to have to be very careful of how we wipe it." Hehehe someone's been reading the baby books.
And yes we did do the big box baby store
Babies R Us
It just has a bunch of little stuff, safety stuff, and the convertible car seat for when the baby outgrows the infant one we got from Michele.
Of course we'd be happy with anything, so don't feel like you have to get us something from a registry at all. I know that I'm the first among many friends to have a little baby so some asked for a little guidance. There you go!