Spell check not working (actually over working, every word, EVERY ONE came up as mis-spelled), so read at your own risk. 🙂
First of all a huge thank you to everyone that has sent well wishes our way in the last week (and month really). We have loved reading them, and have felt overwhelmed by the love from everyone. Bj especially loved going through them, so thank you, thank you, thank you. We have been having less sadness and more happiness which is wonderful. Yesterday was spent going through all of grandpa's fastidious paperwork (tax returns since the early 80s) and figuring out what to do with everything. Bj did most of that work while I did the important time honored tradition of baby knitting. I'll give an update on the baby making business soon, but right now, let's take a walk through my house, shall we?



First we'll head upstairs through what was the bedroom and from now on will be known as the den. The den will be my craft area. Don't worry! I am happy about this, Bj's keeping the cork wall for his office (which was my craft room and is right now our bedroom, phew). So ya, upstairs. That was Sciarrino like a week ago. On her way to this: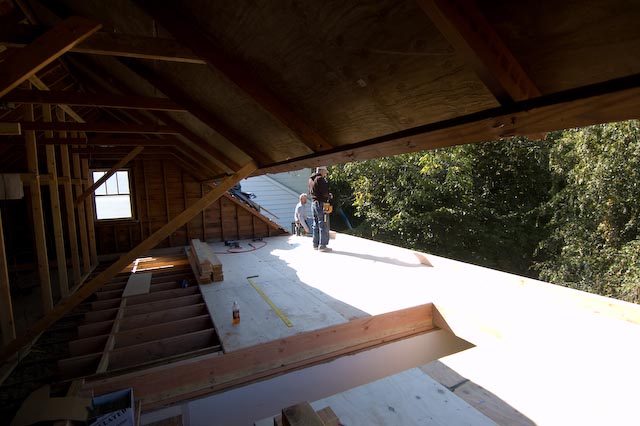 You'll notice that half the roof is still there. This gave the guys something to drape tarps over so that we didn't get waterlogged downstairs. Now it looks like this: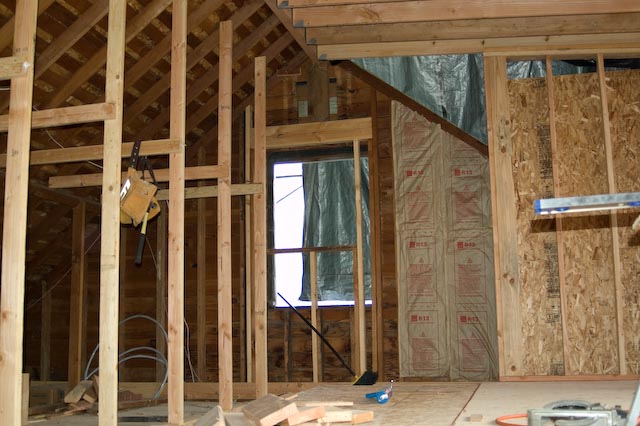 Hmm, I should have put the wide angle on, but that is the same far wall that you see in the picture above this one. Get the idea? The new roof rafters are up, and side walls are being put in. This should be buttoned up by weeks end. Which is good, because lots of wet is in store. It's also going to be wet down in the basement tomorrow. When they work on this: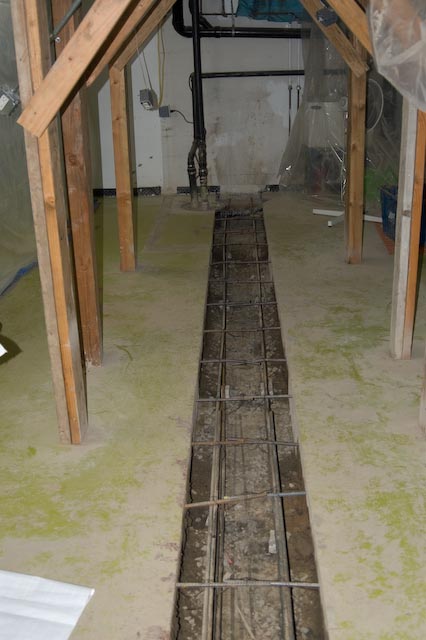 Yes, I did freak out when we found out we had to do this (and thus UNdo all of our hard work from two summers ago). But with grandpa being so sick and then passing this suddenly seemed minor. What I don'y have stairs?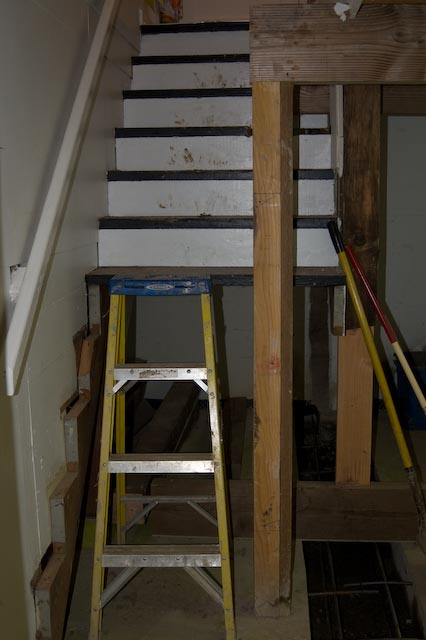 No problem. Side note: One of the workers said to Bj, "your wife doesn't go down there, does she?" To which he said something like, I tell her to hold on to the rail and the beam! I don't go down that often. Only in the evenings, which is when I work in here: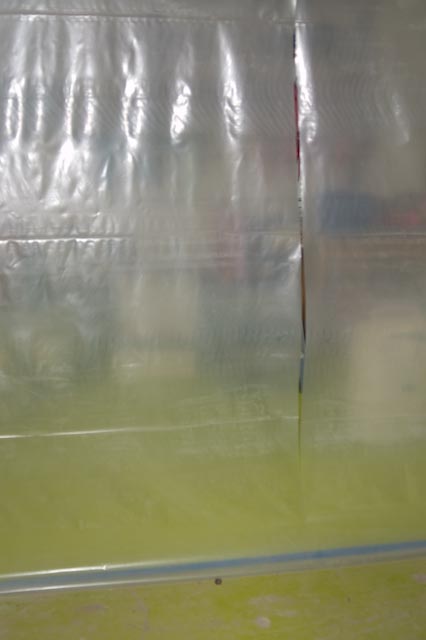 The clean zone.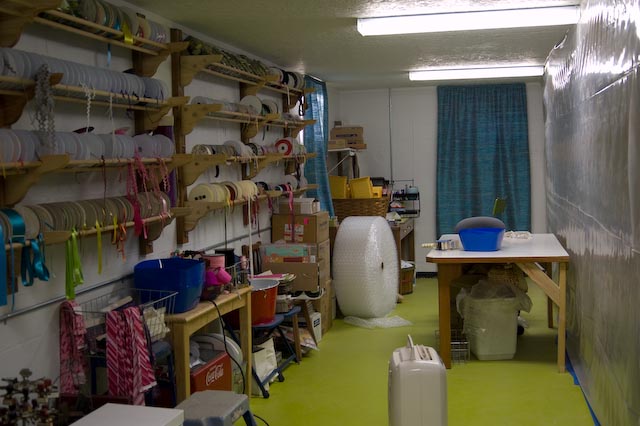 The clean and cramped zone. This also happens to be where I stuck all my scrapbooking stuff for the construction stage. So ya, it's a bit crazy. But I have been getting orders out on time, and in fact just restocked a bunch of stuff this evening. The other side is similarily draped: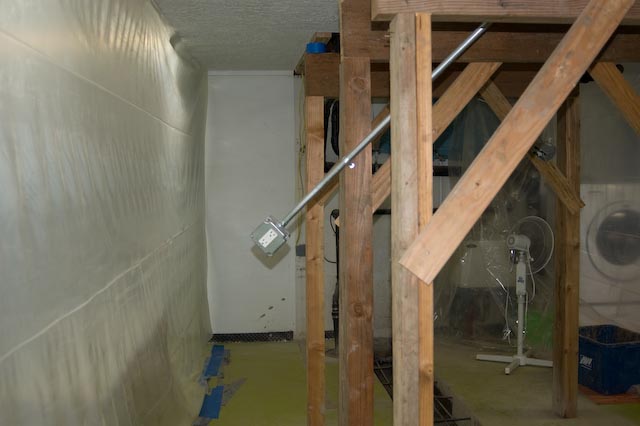 As you can see doing laundry would be a bit of a challenge here (not to mention the fact that I would never make it up and down that stair/ladder combo with a basket). So tomorrow while everything is going on I'm going to make myself at home in my mom's laundry room. Oh and what is going on tomorrow? Well they are filling that ditch with new concrete. See what happened was the city was all, "oh no, you can't do that upstairs, what about latteral load?" And I'm all, "what?" And then they told me I had two options, cut this big hole and pour a new footing while also putting up a wall between the two sides of the basement, or cutting out bigger square holes and making mulitple footings while replacing the gigantic beam that runs the length of the house. The last one was basically imposible. So it had to be the wall. Well then I find out that it can't just fill in the gaps that my old (new) walls left, but that I had to do a whole new wall. I am going to get one big six foot opening instead of a door, so the basement won't be totally closed off, but it still won't be as open as before. And I'm not going to get those big juicy beams in there again. Instead it will just be a reglular wall. I had to have some one explain how this is better going to hold up my house like 15 million times, because it makes no sense to me. Physics, blah. But anyways it's happening, and all my hard "learned to sheetrock for this" work has been destroyed. Now I just get to wait for later in the week when my hard "I turned this little bathroom into greatness" is partially destroyed. And I clearly see now that I will in fact have to touch up basically all the paint in the whole house. But this is not me freaking out because little baby in my belly? I am doing this for you! You are going to have your own bedroom and bathroom, so you must love your mama and papa forever!!! Oh okay a little bit is for me and a walk in closet, but seriously it was mostly for baby.