While we were away on our trip I mentioned that Bj's mom had come to stay at our place and hang out with grandpa at the hospital. This worked out great, grandpa got a little better and was in a regular room. He is still there, and the beginning of this week things were looking up (all of these picture are from the 30th, I started off the week thinking I would join Ali in her week in the life challenge, didn't get to it, but so glad I took these at least). Grandpa was talking to us, and telling us over and over that he wanted a diet coke. But he was not so glad when we gave him this: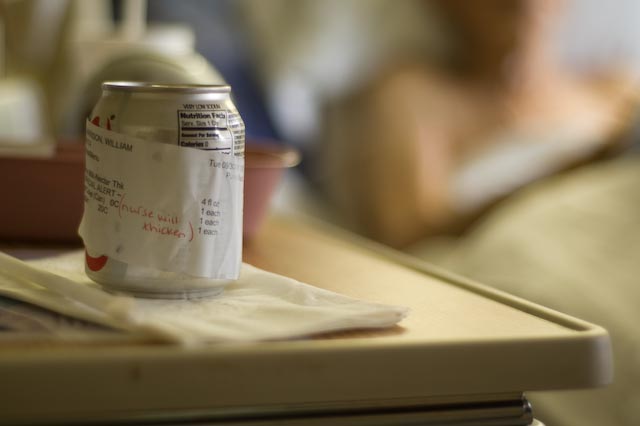 The thickener takes away all the carbonation and I think some of the taste. It turns it into diet coke sludge. No wonder it didn't really quench his thirst. The reason he was on these thickened foods was because the pneumonia he had last week was caused by aspirating food or liquid into his lungs. So they did a swallow test on him, that showed he didn't do well with pure liquid. He was not a fan of purees and the like, so Bj and I had to talk him into them, and basically distract him so he'd eat.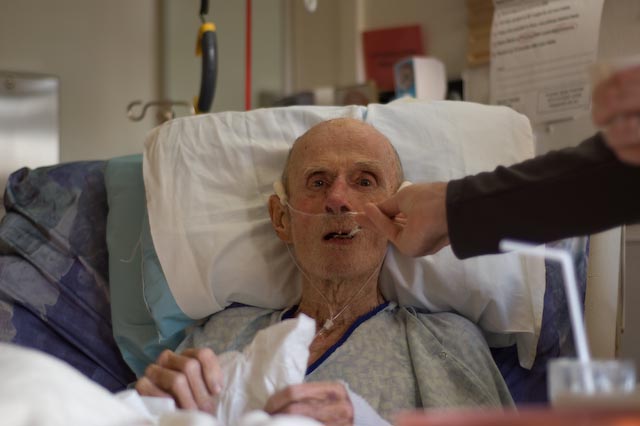 That's Bj feeding him. Grandpa's on an air bed, because he was getting a little bed sore. At this point we were still working on his main goal: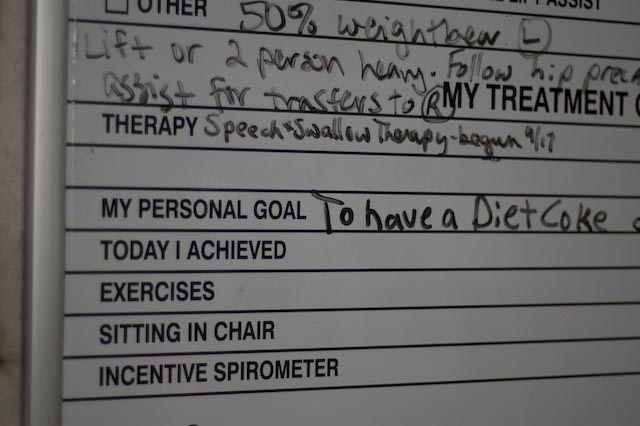 Mmm I want a diet coke too! Then on Wednesday night Bj went to back to visit him (I was doing daytime visits). He brought him a Boost. Loaded it up with thickener and then put some ice in it. Grandpa actually said, "this is some good ice cream." So we really thought we were on to something. The next day when we showed up things were spiraling downward. Somehow he had gotten a hold of a whole thing of what they thought was regular Boost, but it had been so thicken we couldn't figure out how he got it thin. Finally when we were leaving we realized that he must have some how reached way over to grab the ice cup (which was now melted) and poured it into the thickened Boost. He then drank all of that down into his lungs. So he was put on no food or drink until he had another swallow test (where they give you barium (sp?) to swallow and then x-ray you to see where it went to). He failed it. So no more food. At the same time all of this was traumatic to his whole throat area and his ability to talk quickly fade to whispery grunts. We don't want to prolong his life just because (and he does not want to be on tubes). But we did want to try to get him on a feeding tube through his nose to give him a little more energy because he was really hungry. We just got a call this morning that he had pulled it out.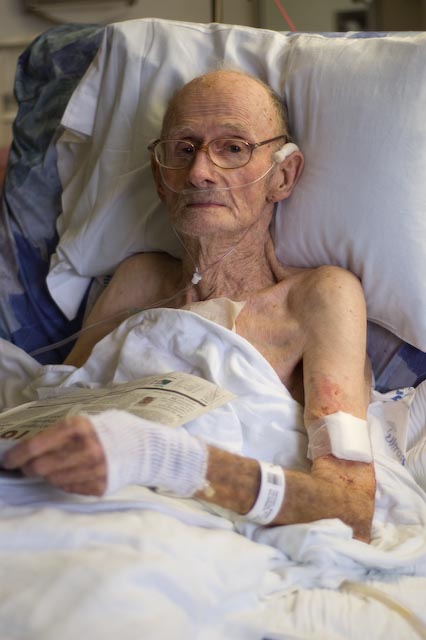 Now we're not going to force the issue, it's what he wants. I'm an emotional wreck, seriously. Every time I go in there I can't help but burst into tears. I want to be able to handle it and talk to him and be upbeat, but I loose it, every time. We gave grandpa a sharpie and notepad. He's been writing while were gone, "gimme my diet coke" "I love you kids all 100%" "where's Bj?" Knowing that someone is close to the end and there is nothing you can do? It's terrible. I wish I could have a better outlook on it. He's so sweet now, every time I come. He wants to touch my belly (and though I'm not a big fan of that, of course I let him). He spent last night checking out my new socks, which he got a huge kick out of. Then pointed to his feet, wanting to know when he was getting his. And I don't know. If I start them he may never get to wear them, because we don't know how long he can be like this. I hate to see him in pain. I don't want to pray for him, he would probably dislike that more than anything, but I do wish good things, and pain free days and a happy ending, or as happy as it can be.