So right after I moaned to Sarah on her blog that I wasn't going to be able to make a baby book for my little baby I realized, that I had to do it, regardless of where my supplies were. And so I drug everything upstairs (including the table to which Bj said, "AMBER!!!!"). I know, I know, my back is hurting me now, but worth it maybe?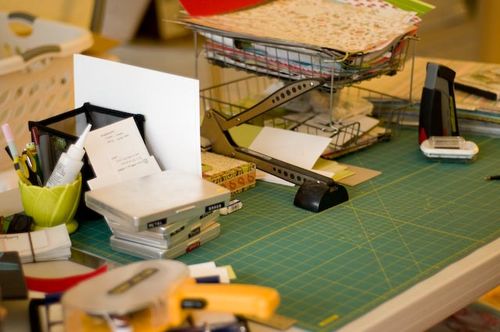 It's totally temporary, I have to take it down tomorrow, but this is set up in my living room, in the midst of construction chaos. So I haven't really been scrapbooking during the day because it's cold and there are a lot of guys walking around. But over the last few nights I have managed to get a good start on: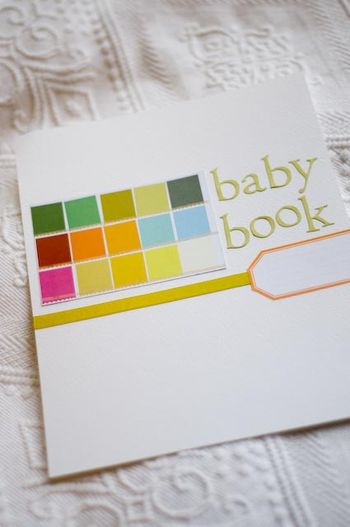 The baby book! My brother and his girlfriend gave me a gift certificate to a local scrapbooking place and when I went there I decided I didn't really need many embellishments.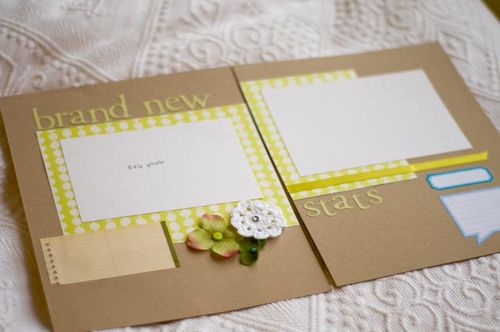 I'm going to stick with ribbon, flowers, brads, labels, Quickutz Paige letters, and white, kraft and green cardstock. I also came up with a set design for the background paper so I can have some extra of those cut out. I know I'm not going to finish the book now so I have a couple big ziplocs of all the supplies. That should be all I'll need to finish it.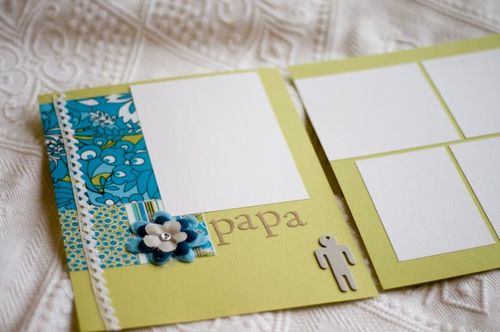 I did a page just like this for me as well. The right side will be pictures of Bj and then one block will be for journaling about him.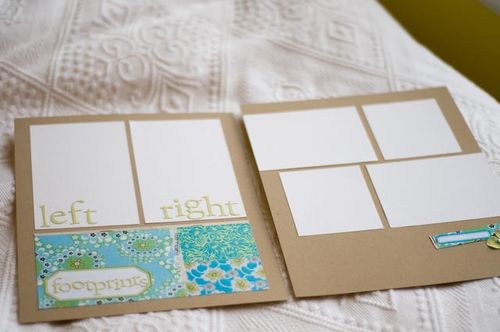 More pictures of baby as a fresh little new born. What kind of ink can you use on their little feet for the footprints?
I pulled out my baby book and it's really simple, but I love reading the things my mom wrote about me. some favorites:
"2 months – sleeps all night long, but likes to be rocked to sleep and have her back rubbed."
"8 months – follows me around house, plays in kitchen drawer and cupboard (under my feet)."
under year two it says, "Talks all day long!"
4th birthday, "Soooo happy to get a cabbage patch doll! she even cried happy tears!"
So I think I'm going to need pages where I just list memories and thing, besides pictures. I printed off some lists of more pages I want to make. We'll see how far I get.
Also making me happy today: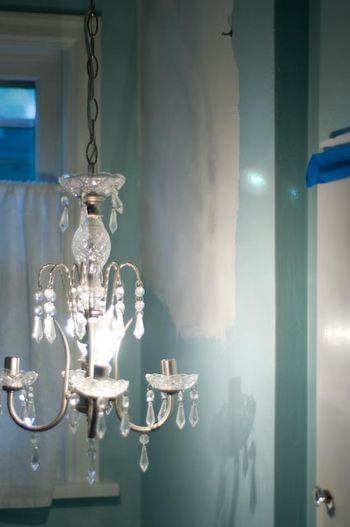 More hole filling! Lots of progress on the house. We picked out all our light fixtures, I picked up light bulbs yesterday, carpet is ordered, my cabinets come tomorrow, and my mom and I are going to pick up the tile. I'm going to go get mini cans of paint today so that when the texture is finished at the end of the week I can put samples on the wall!