Oh you guys. I want a clean house, like yesterday. But instead yesterday I got the messiness that is plumbing work. And um, yuck. I mean, good, I'm glad we're getting it done, but ewwww. The bathroom received more holes: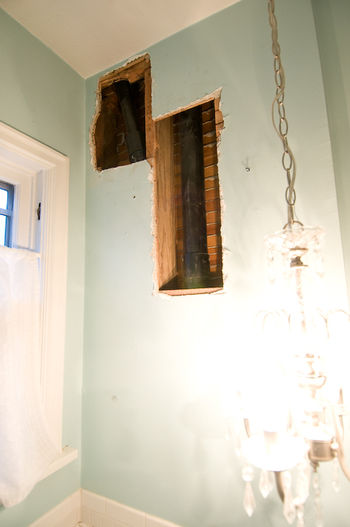 Which may not look like it, but is actually a good thing. We did think we were going to have to move the toilet, push out that wall and have the pipes go down that way. But with a little clever work on the plumbers part we were able to do this. And this:



This is in the stairwell to the basement. We thought these were going to be exposed pipes, but they squeezed them in here. All the old nasty pipes in the basement are now gone (well we're still waiting on getting a new hot water pipe to the existing bathroom).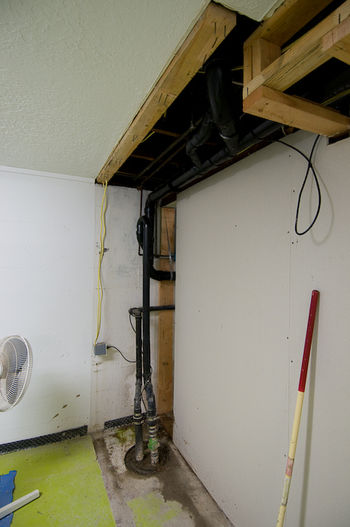 The pipes here stuck down really far. That thing in the floor is our mini pump for the utility sink down there. I'm having a built in cabinet/bookshelf combo to conceal this. On the other side: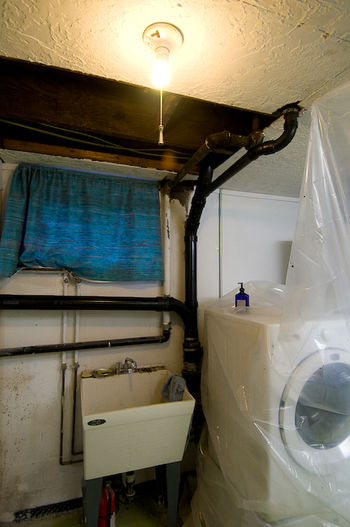 This is where they let my bathroom sink drain on a rug.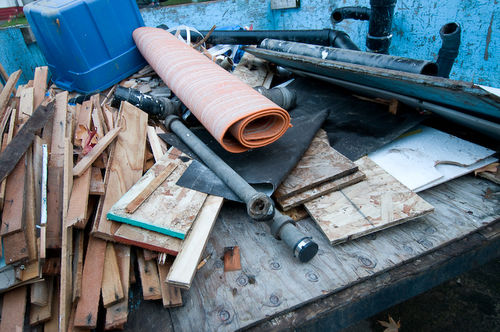 Said rug, with said pipe. Old nasty pipe by the way. After they removed it I discovered why it wasn't draining so well. The pipes had rusted closed to leave only a pencil-width's opening. The plumbers were all, "wanna see, wanna see?" And I said yes, and then I regretted it. Double ew! This morning when four plumbers showed up I had to have a talk with them. I said, "listen, if you are going to make a mess on something just tell me. I'm here, I'll move it. It is way easier to clean up bare floor than rugs, boxes covered with stuff, or sinks full of plaster." We'll see if they take that to heart. In better news: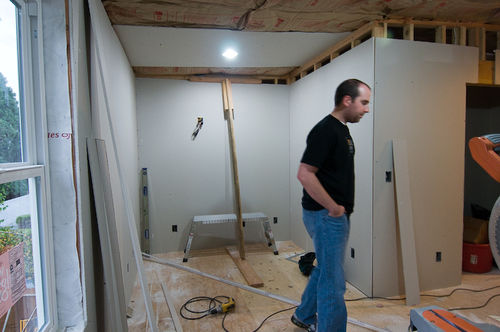 Bj survey's our bedroom. I think it must be nice to be gone all day and come home to see progress. We picked out our carpet (assuming the price is right), and tile (ditto) so that we could finalize our paint choices since they say they'll be painting by middle of next week. It goes paint, then electrical fixtures (and our mini split heat/ac units), then cabinets, then carpet/tile, then trim. Then they'll work on the outside. And finish up the random patching along with the basement. A lot of work ahead, but I can see the light. And I guess the plumbers aren't so terrible. I mean I did take another fantastic shower this morning. Still I will be a happier girl once I can clean and it stays that way 🙂