Yesterday was our annual crew girl holiday party. Note to the casual reader: I call them crew girls because we were all on the Oregon State Crew team together (rowing). In addition to our evening festivities this year we had a joint baby shower for Tracy and I, who are due on the same day (we know!). I took no pictures of that event (of course, terrible Amber), but I do have a picture of the hostess with myself: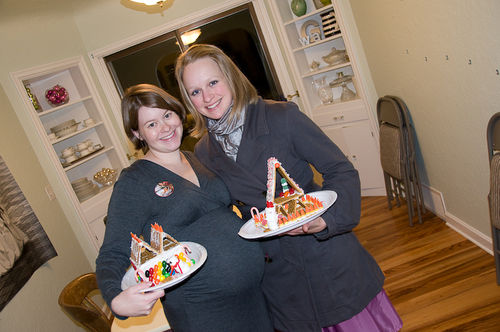 Sciarrino and I are determined to get more pictures together! After hanging out at her place for a couple of hours and playing little games (like guess whose baby picture, which is so hard!) we went out to Mexican food for an early dinner. While there Settlemeyer got a dreaded citizen citation.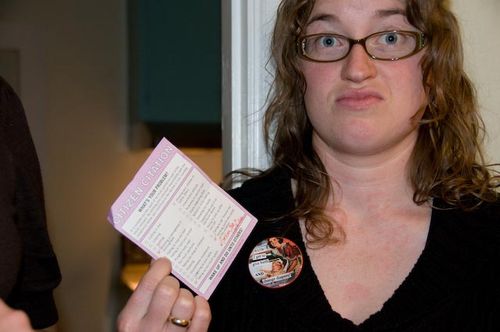 Ah hahaha. Turns out she did not do such a great job parking.
So we headed over to my place which I thought would either be a complete disaster (how I left the house to run out the door to the shower) or might be cleaned up a bit if Bj got my message. Turns out not only did Bj get the message but he rocked my world, putting away bits of wrapping paper and supplies that I left on the floor, cleaning the kitchen, vacuuming, putting the extra leaves in the table, and shopping for the supplies I was missing to make the super easy frosting. He is the best husband ever! I was going to have everyone over anyway to check out the remodel but I figured if it was a disaster we'd go back over to Sciarrino's. But we partied here. The girls were happy to let me show off the upstairs, which was fun because it is almost done! The we had our gift exchange. I ended up with a super soft blanket (stolen from another guest, hey that's the fun part). Then we got out the candy and made our houses.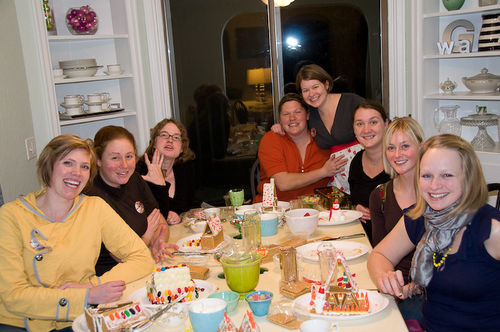 We all are actually pretty bad at this, despite years of practice.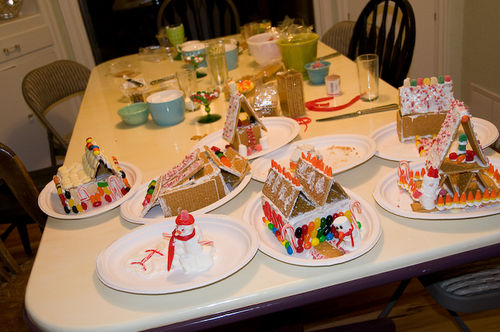 But of course that's not why we do it, at least that's what we tell ourselves. A few girls were missing, but they were in Hawaii and New Zealand, so we tried not to be too sad, except for the one who is in middle of nowhere Canada 🙂 I have been getting lots of cute stuff by the way at these showers, I think once the room is painted and I can get it all out together I'll show you pictures. Let me just tempt you with this: Canadian rocking moose, that's right.
It was a great night and one I had to go to bed early to recover from. When I got up this morning there was snow on the ground. The only sensible thing to do was take a nice warm bath and knit (not at the same time, hmmm I should try that though). The snow cleared before I finished this: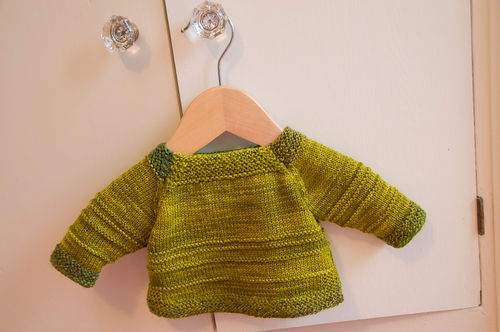 That's supposed to be the front.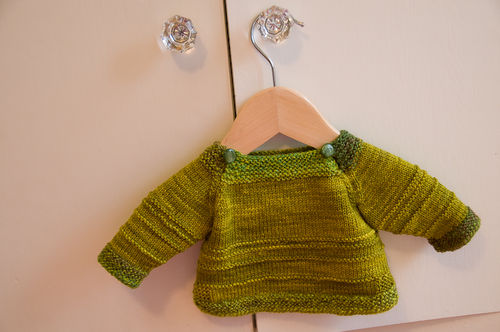 And that's supposed to be the back. I might switch it around though. I put details up on Ravelry.
Here is a conversation I had with Bj earlier this month:
Me: "oh my goodness look at these little hangers, they are just like our hangers only miniature!"
Bj: "uh huh."
Me: "oh Bj don't you think we need these, they are so so so so cute!"
Bj: "I think that's the last thing we need. Promise me you won't get those."
Me: "okay"
Here is a conversation we had today:
Bj: "that's so cute."
Me: "thanks I love how it turned out."
Bj: "but where did we get that?"
Me: "what?"
Bj: "that, the hanger."
Me: "that's one of our hangers" (bad lie since the sweater is only 8 inches across on the bottom)
Bj: "no that's a tiny hanger."
Me: "um onlyhangers.com"
Bj: silence
But really I think he's over it I mean look how cute they are! They are so cute! I also got ones with little clips on the bottom for miniature pants. Ah miniature pants how I love you. Oh and another funny comment I got today. Our builder came over so we could go over the list of things to get done before inspection. I showed him the sweater and he said, "you knit too, I thought you just bought and sold yarn." Haha, he was here when I got my Sundara and spazzed. Now what to knit next?