This past weekend was the most relaxed I've been since the remodel started. We started out having thanksgiving at Brett and Michele's. Ah the wonderfulness of a casual holiday. And of course my wonderful god-daughter V who couldn't be more adorable. Unfortunately I was so relaxed I took zero pictures of the day, oops! I did have Bj snap one of me this weekend as I've been beyond terrible at getting the weekly pregnancy shots (I'm lucky to have one a month):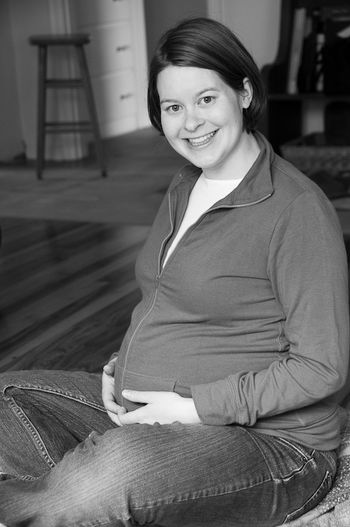 Angela did offer to take pictures of me, like professionally, and I should take her up on it, but ugh do I feel pregnant! Tired and achy and um gigantic. I should have had them done a few weeks ago. I'm still thinking about it though Angela. Feeling the baby squirm like it's trying to escape has brought on a sense of urgency in getting things ready. So while most everything is at my mom's still I did go there today and grab a few outfits and all the diapers I've accumulated so far. The baby has a place in the house: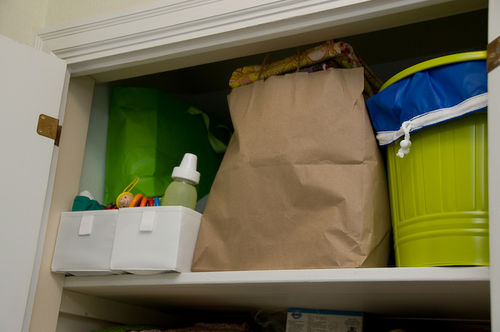 One whole shelf in our hall closet. I bought the baby one toy (a Haba called Max). Could not resist. I told Bj I felt like a terrible mother not having a single toy for baby. Of course it was pointed out to me that the baby had lots of squishy toys and things. And that it won't play with toys at the beginning, but I had to have a little wooden toy for my baby. I got four glass bottles, just in case. My mom says breastfeeding will be no problem, just as she's told me birth will be great. I think one of the best things my mom has given me is confidence in my own motherhood. I love hearing wonderful stories of birth and breastfeeding. The green bag holds a few clothes, the big bag is full of wipes Sciarrino and I have made, and a few blankets. The pail, is that not fabulous? I ordered liner bags and they came a freaky weird short and stout size, so I searched Ikea today and found that. I also found those long white containers with the tabs, they'll fit perfectly in the changing table my mom is painting for me. Oh I have lots more coming. Bj talked me out of black Friday sales… in the stores. I spent hours shopping online. I have one more Christmas present to find, everything is almost done.
The house continues to chug along. Today the scaffolding came down outside. It will be back for siding removal/replacement after Christmas (I'm guessing). They'll have to tent our house and do one side at a time because of the weather. And they have to take apart our porch in the back, sorry Bj I can't pretend to be sad about this one, I hate that thing! Meanwhile inside: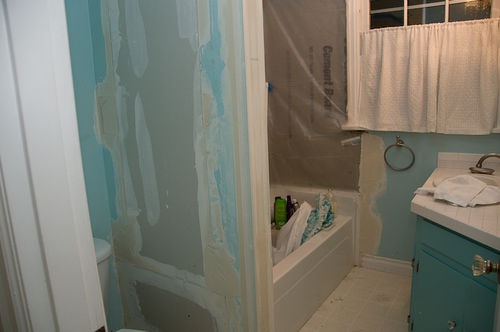 The bathroom I just cleaned. Came home today to find it covered with grit and the shower curtain pulled down. It's hard to be mad about it when it means the holes are getting covered. Mom, I will be showing up at your house in the morning to take a bath, you've been warned.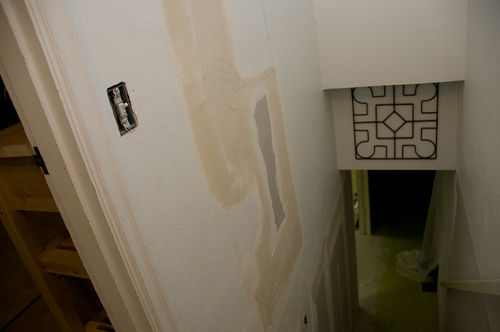 The "lower level" is showing similar progress. It's amazing how much quieter the house gets with out all the exposed studs. I would like them to fix the stairs though, they still have no backs, and thus I can't quite get the storage room cleaned up.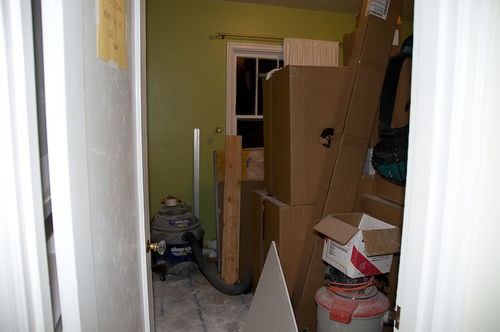 And behind this door… The cabinets for the bathrooms upstairs, in a giant pile. Behind the actual door though: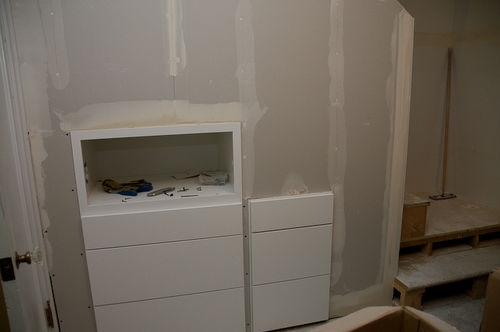 Some of the cabinets built in! This is the den, my future craft area. Oh do I have plans for this area? Yes I do… wickedly cool plans. The kind of thing that causes Bj and I to get into giggling tickle fights. "Oh I'm just dreaming Bj." "How come all your dreams seem to come true?" Hmm, because I'm very persuasive, and I have the best husband ever?!?! Up those stairs: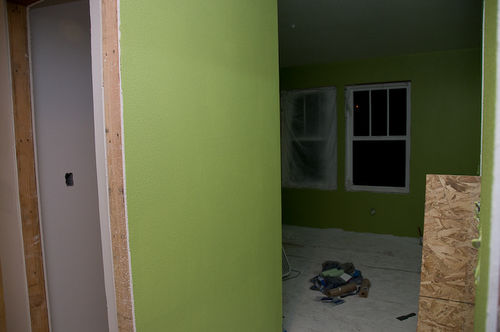 Painting has begun. We tried to pick another color, but we just love this one so much it's going in our new bedroom as well (it's the old bedroom/new den color). We did (finally just today) agree on a lighter green than this for our master bathroom. Bj was pushing a yellow color, but ladies how do you do make up in a yellow bathroom? And to come next week: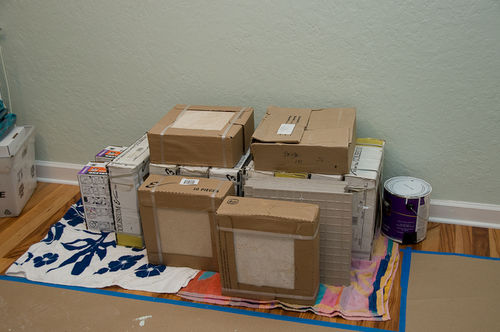 Tile (our car was riding so low after picking up the floor tile).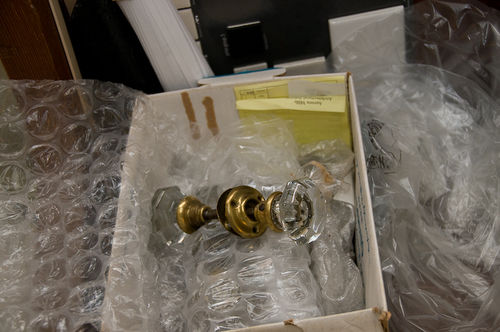 New doors old school style. We picked these up this weekend also. A little more than I budgeted for, as we have to buy the part that goes IN the door, there are so many darn things to think about! The doors get delivered Wednesday, the toilets and sinks Monday. I'm ready for my new hot water heater now Mr. Awesome Plumber. Oh and um, this is supposed to be finished in two weeks, remember? Bj and I have zero plans for decorating the nursery (well besides sticking random furniture in there), but I still want it to be done. Most of all I want the nook in our bedroom to be finished as the cradle and changing table go in there. And eventually a little baby… that better hang out in utero for at least three more weeks! I should get better at updating least you think I've gone into labor or something. I mean I still have a holiday party to host here on the 13th!