I know I'm not the only one doing the December Daily thing with Ali. But I thought I would share my (really simple) take.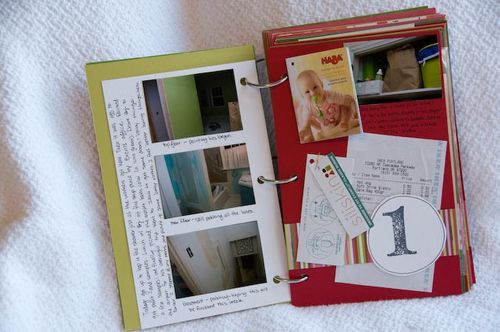 Each day is like the one on the right, with a simple band of Ki Memories attached by staples, and a number stamped on Bazzill (orange peel texture, my favorite). I printed out little pictures from the day with my 4×6 picture mate. I need to figure out how to get two pictures to a page. Right now I just print a little picture in the middle with a huge border, a bit wasteful.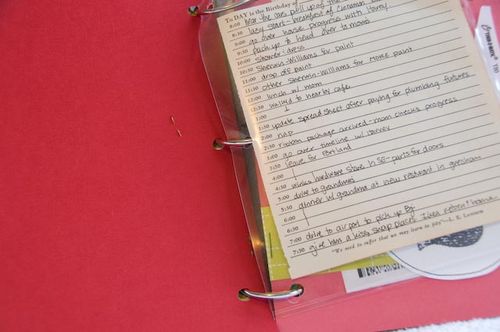 The schedule sheet is from an old daily journal no one ever used.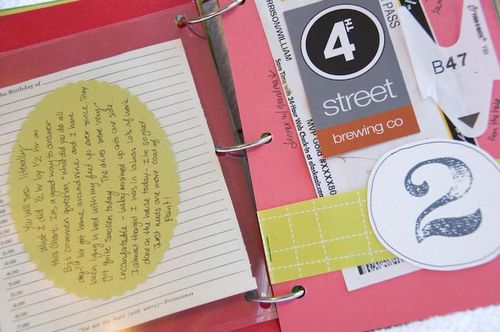 Paper source scalloped tag. The B47 is from waiting in line at a new favorite place of mine: Winks. It's this old school (like 90 years old old school) hardware store in Portland that had all the parts I needed for my door. You take a number and they'll look through there plethora of random drawers (that I so wanted to steal) and find what you need. The woman in front of me had a broken purse part. 🙂
I still need to do yesterdays. I mean I wrote an entry for it, but don't have much interesting to go with it ephemera wise. And no pictures, because we all know I've been headed on a downhill path taking pictures daily. I am willing to bet that changes with the addition of our miniature human.
I'm thinking that I'll need a new organized space for the maximum crafting opportunity in the minimum amount of time. I've been dreaming: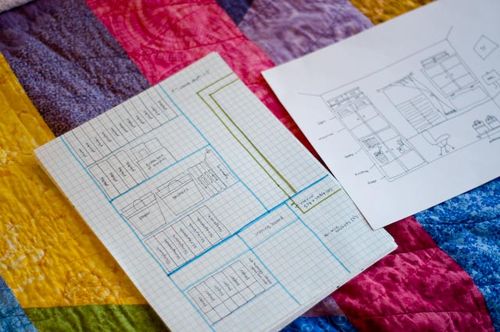 Bj would say scheming… I may have measured out everything I want to go in the room in detail so I could see how it would fit on my mock up shelving, but hey, who wouldn't? Besides it's always good to know how tall everything you own is in inches, right?
Right now I'm in package receiving mode. Bring them to me! Today I got two nursing gowns, I still have to try them on as the overzealous construction workers aren't the most respectful of personal space, but they look comfy. I also got the diaper bag I have been coveting: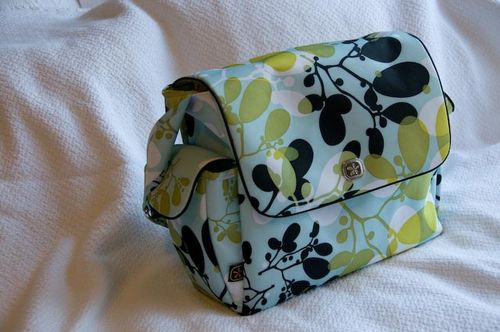 I had to google the crap out of this thing to find the color (Ogo) as it is a spring only offering.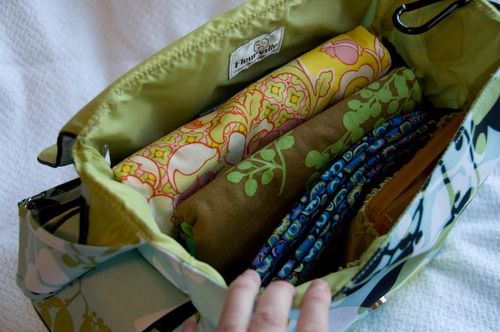 I just have a few blankets in there now. It's a re-run messanger bag by Flueville. Meaning it's made of old plastic pop bottles (ten in fact). I had a backpack in high school I loved that was made out of recycled plastic. Totally different style, but that thing held up so well. It died one day when I had a bad red ink pen accident, otherwise I'd probably still have it.
And a mail surprise: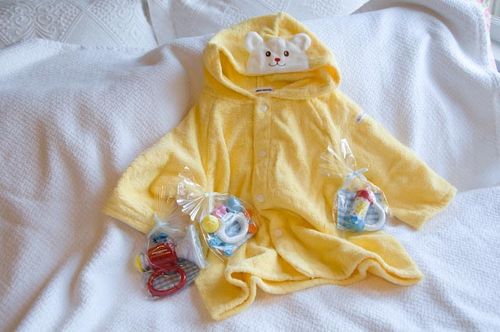 Taro sent me this along with a way cute Japanese knitting and crochet book. My favorite pattern: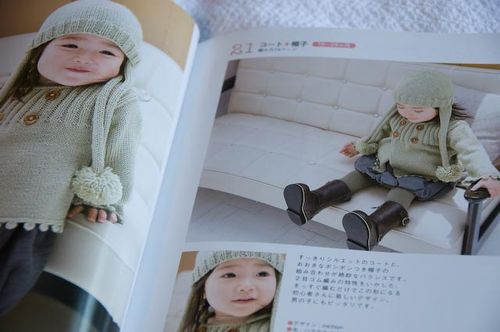 My Japanese is beyond horrible (I took it in high school), but I get the gist, luckily numbers are universal. My friend asked why the Japanese have all the cute stuff.  I don't know, but I agree, they definitely do!
Now pardon me while I go roll around in the Sundara yarn that just showed up on my doorstep. It is too beautiful.