One step back. Today I was busy, well as busy as a pregnant person should get probably. We spent yesterday organizing, and re-arranging all of our rooms. I think I've mention that the front room will now be Bj's office/guest bedroom (well in the future). I managed to cram so many craft supplies in there in the last two years, even though we were living in there and we had our bed and clothes and everything set up. So I've been trying to get everything out, but it's a process: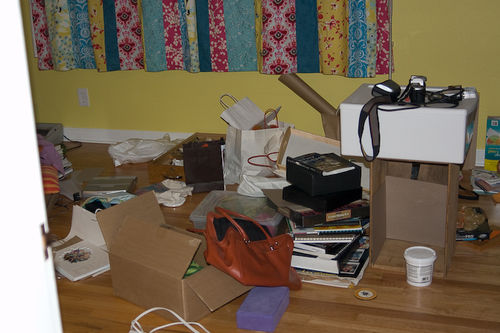 Yikes. Until I get some better storage options I don't know where everything is going to go. For now I'm working with what I've got in the den: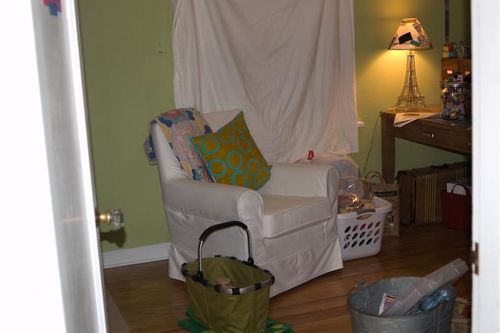 Just a peek, maybe after this weekend I'll have it organized to show off a little bit more. Bj made me a nice rolling thing for my paper to push under the desk, I have the built ins behind the door pretty organized, and I've pulled the old shelf out of the office closet so I'm using that. I really want these Ikea built kitchen built ins. It's a dream right now (a dream that is very clearly sketched along with where everything will go in new cabinets), but maybe some day a reality. I'm really going to have to watch myself with this space because it's also the walkway to the stairs. We'll see how I do.
After all that work I had to have a nice sleep in this morning. Bj was home from work so he got to take the morning shift and let in the construction workers. It was nice to be able to relax. In fact I went right from relaxing to a massage, which was perfect. I'm getting one every week now, and I can not say enough good things about this. If you are pregnant think about it, I don't think there is much better money you can spend in your last month(s). Then I went right to an appointment with my midwife, who we also had over for lunch. I'm telling you all of this so that you will understand how I was too busy to check in on the two guys tiling our old bathroom downstairs.
 I had picked out plain white 2×4 subway tiles, in fact it was something I decided on pretty much before anything else since we knew that bathtub surround was going to have to be replaced. Well I just assumed that they were going to be staggered like bricks… but assuming makes an ass out of you and me, you've heard that right? Bj and I walked into the bathroom and they were about a third up the wall with the tiles all lining up perfectly. I didn't really say anything just walked out. A little bit of time went by and I just kept thinking about it. Bj was running errands and I asked him if he liked it, if he thought that was how it should go. He said he didn't care, but totally picked up on my voice and asked me if I liked it… no I said. It was not how I pictured it. I was thinking maybe I was crazy to think it went that way so I looked it up online and then quick called my other design experts: my mom and Sciarrino, they agreed with me. Bj texted me to please tell them now if I wasn't going to be able to handle it because it was still wet enough to pull down. So I did. I was like, "please don't hate me but…" and explained how I had envisioned it. I just kept saying, "I'm so sorry, I feel so bad, but I just can't live with it like that." They were pretty good sports about it really. I know it would have driven me crazy not to have it like I envisioned (like this but vertical). Oh but I did feel terrible to have day's work end up like this:



I might have to buy a few more tiles, but that I can deal with. It's really one of the only parts of the remodel most people will see. I mean I don't plan on having company come up and hang out in our room or the baby's for the most part. Okay so I'm glad I said something, but man I need to get my big belly and my nose into more business that goes on around here, I'm really slipping!
This evening Sciarrino and I ran a bunch of errands (thanks for hauling me around Sciarrino!). I've got the foam now for the window seat (well Sciarrino does really because the woman at Jo-Ann's did not inspire much confidence in her foam cutting ability, "Look, I'm not going to guarantee this is going to be straight." so she took it home to hack it up with her electric knife). And we found fabric 40% off that is a fabulous green color to cover it with. I can't wait to get it all cuddly up there with pillows and things. Mom I might have to come back for my white ones that are at your house. Look for that update soon (assuming I can still figure out how to cover foam right).